Head coach Park Hang Seo of Vietnam's national football squad has completed the final list of 37 players for the upcoming World Cup 2022 qualifying round in the United Arab Emirates (UAE).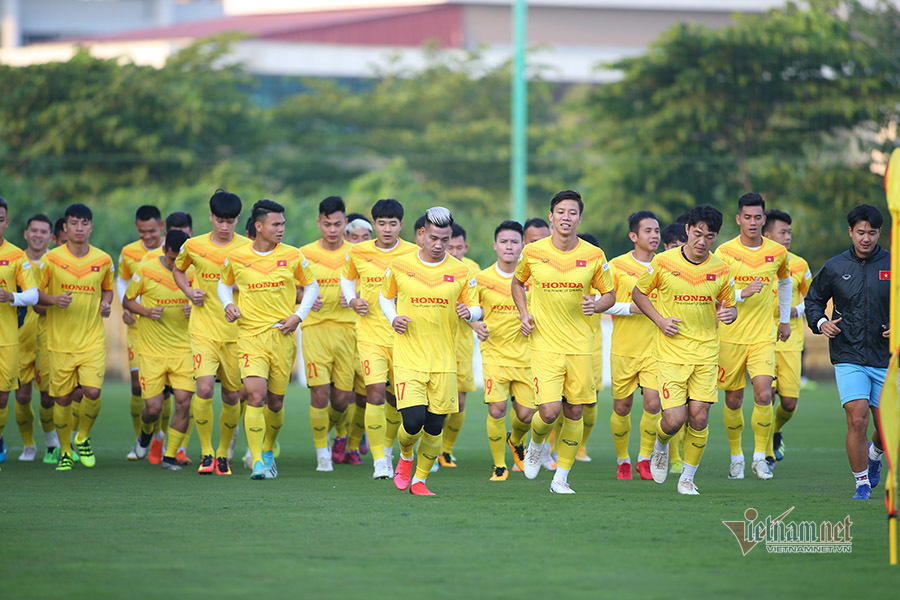 The national football team.
Compared to the previously leaked list, the latest list has some changes. Goalkeeper Dang Van Lam is not named in the list, but rather goalkeeper Pham Van Phong of the Saigon FC. The remaining three goalkeepers are Van Hoang, Van Toan and Tan Truong.
It is said that Dang Van Lam is an exceptional case. He was allowed to join the team late. He will fly straight from Japan to the UAE. That is why his name is not on the list.
The list has two new members: veteran striker Nguyen Anh Duc of Long An FC, who is currently the top scorer of the First Division tournament, with five goals, and defender Doan Van Hau of the Hanoi FC, who is under urgent treatment to recover from surgery.
This time, coach Park Hang Seo still believes in his older players such as Dinh Trong, Duy Manh, Van Thanh, Que Ngoc Hai, Xuan Truong, Trong Hoang, Quang Hai, Tuan Anh, Van Toan, and Cong Phuong, besides some rookies like Van Phong, Van Xuan, and Van Long.
According to the initial plan, the team will group up in Hanoi and practice at the Vietnam Youth Football Training Center from May 10 to 26, then depart to the UAE on May 26 on a special flight.
However, as professional football tournaments have been halted to prevent Covid-19, the team gathered on May 7.
The Vietnam Football Federation (VFF) is trying to arrange a friendly match with Jordan in the UAE.
After five matches in Group G, Vietnam tops the group with 11 points, followed by Malaysia (9 points), Thailand (8 points), the UAE (6 points) and Indonesia (0 points).
Members of the national football team:
- Goalkeepers (3): Bui Tan Truong (Hanoi FC), Pham Van Phong (Saigon FC), Nguyen Van Hoang (Song Lam Nghe An FC), Van Toan (Hai Phong FC)
- Defenders (15): Do Duy Manh, Tran Dinh Trong, Le Van Xuan, Bui Hoang Viet Anh, Nguyen Thanh Chung, Tran Van Kien, Van Hau (Hanoi FC); Vu Van Thanh, Nguyen Phong Hong Duy (Hoang Anh Gia Lai – HAGL FC); Que Ngoc Hai, Bui Tien Dung, Nguyen Trong Hoang, Nguyen Thanh Binh (Viettel FC); Pham Xuan Manh (Song Lam Nghe An – SLNA FC); Ho Tan Tai (Binh Dinh FD); Nguyen Minh Tung (Thanh Hoa FC).
- Midfielders (11): To Van Vu (Binh Duong FC), Pham Duc Huy, Nguyen Quang Hai (Hanoi FC); Nguyen Tuan Anh, Luong Xuan Truong, Tran Minh Vuong (HAGL FC), Nguyen Hoang Duc (Viettel FC); Cao Van Lien (Saigon FC), Ly Cong Hoang Anh (Ha Tinh FC), Do Thanh Thinh (Da Nang FC); Phan Van Duc (SLNA FC).
- Strikers (6): Nguyen Van Toan, Nguyen Cong Phuong (HAGL FC); Nguyen Tien Linh (Binh Duong FC); Phan Van Long, Ha Duc Chinh (Da Nang FC), Nguyen Anh Duc (Long An FC).
On the first day of gathering, all team members were tested for Covid-19. Players from the Song Lam Nghe An FC (SLNA) will join the team later because they are under quarantine as they were F2 (indirect contact) of a Covid-19 patient.
Huy Phong

Goalkeeper Dang Van Lam, who is playing for Cerezo Osaka FC in Japan, will fly from Japan to the United Arab Emirates (UAE) to join the Vietnamese national football team at the 2022 World Cup qualifying round in June.