Pedro Paulo made history with the fastest goal ever in the V.League 1 as Sai Gon FC went on to beat SHB Da Nang 4-1 yesterday.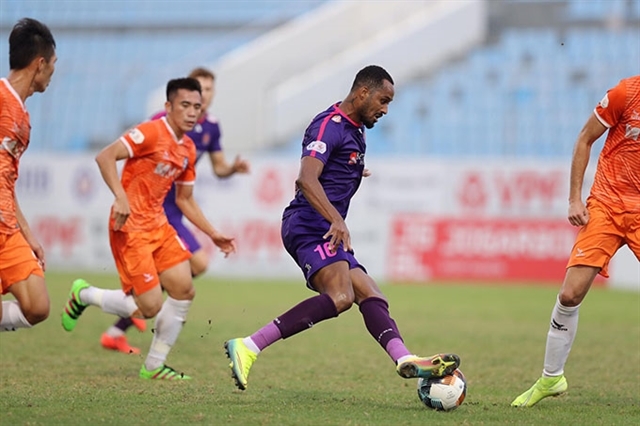 Pedro Paulo of Sài Gòn FC scored the fastest goal of V.League 1 yesterday. Photo bongdaplus.vn
The Brazilian striker needed only 12 seconds to find the back of Đà Nẵng goalkeeper Nguyễn Thanh Bình's net.
Geovane Magno Candido Silveira received the ball from the kickoff and headed off down the right-wing before sending it to Paulo who scored with his first touch.
The previous record belonged to Hoàng Vũ Sam Sơn when he scored in 30 seconds for Hà Nội against Thanh Hoá in 2017.
Sài Gòn have not been affected much when they visited Đà Nẵng yesterday a day after their head coach Nguyễn Hoàng Phúc resigned, just one week into the national premier league. The Hanoian manager could not find a common voice with the club's leaders.
The team flew to Đà Nẵng with their president Vũ Tiến Thành temporally in charge of the coaching board, where they enjoyed a big victory despite being away from home.
The early goal strengthened Đà Nẵng's confidence and they found the net for the second time 31 minutes later through Huỳnh Tấn Tài.
Đà Nẵng's coach, former national striker Lê Huỳnh Đức, tried to adjust his team but the hosts failed to cope with the situation.
Paulo netted for a second time in the 75th minute following a counter-attack and Đà Nẵng conceded a fourth goal five minutes later through Nguyễn Vũ Tín.
Đà Nẵng could only score a consolation on the 89th mark with a header from Nigerian Ismahil Akinade.
It was the second loss for the hosts after they were defeated 1-0 by former champions Becamex Bình Dương last weekend.  The poor leaves them at the bottom of the table.
Sai Gòn meanwhile jumped to second position with four points.
In Quảng Ninh Province, defending champions Hà Nội FC suffered their first loss of the season, going down 3-1 to their hosts and arch rivals.
Quảng Ninh's Jamaican striker Jermie Dwayne Lynch grabbed a brace in the 45th and 84th minutes after Mạc Hồng Quân scored the opener with a beautiful volley nine minutes into the game.
Hà Nội could only narrow the gap with a goal from substitute Papa Ibou Kebe 13 minutes after the interval. The French forward broke the offside trap and chipped the ball over goalkeeper Huỳnh Tấn Linh.
"It was a hard match for Hà Nội. We had to play on a field with poor conditions against a strong team, while we did not have our best players," said assistant coach Nguyễn Công Tuấn of Hà Nội.
"Nobody could win all matches, as you can see in the case of Premier League leading Liverpool. They have dominated the league but are now in difficulty," he said.
"This early loss will also have a positive effect on us (to try harder in the tournament). If we lose in the latter part of the tournament, it would be more dangerous.
"We could not blame the defenders in this defeat. It is a mistake of the whole team. My players will get lessons from this and will be better," said Tuấn.
On the other side, Quảng Ninh assistant coach Nguyễn Quang Hoàn was happy as his team finally beat Hà Nội after many years.
"We deserved to win. The players played with determination and strictly followed tactics. I am really happy with how they performed, especially our foreigners," he said.
HCM City FC jump to the top of the table after beating Thanh Hoá 1-0 in the latest match yesterday.
Nguyễn Xuân Nam was put on the field in the second half and he scored the only goal of the match in additional time.
It was the third time in a row that the super-sub came from the bench and scored.
He has bagged five goals after three matches including two in the domestic league and one at the AFC Cup event.
With two wins, HCM City lead the tournament with six points, two more than second-placed Sài Gòn.
On Saturday, Nam Định beat Hồng Lĩnh Hà Tĩnh 2-1 at the Thiên Trường Stadium. It was Nam Định's first win of the season while Hà Tĩnh suffered the second defeat and they are one place above Đà Nẵng on goal difference.
Earlier, Sông Lam Nghệ An beat Bình Dương 1-0 with the only goal coming from midfielder Phan Văn Đức, who was back in action after more than a year out due to a ligament injury.
V.League 2 fixtures postponed due to COVID-19 fears
The 2020 Vietnamese National Football First League, more commonly known as the V.League 2, season is set to be pushed back as a result of concerns surrounding the novel coronavirus (COVID-19) with a new date yet to be revealed.
The organisers of the tournament announced that the opening match of the V.League 2 season between Khanh Hoa and Long An FC will now not take place on March 14.
The fixture was scheduled to be one part of the first round of V.League 2 matches taking place from March 14 to March 16.
The postponement comes following a request by General Department of Sports and Physical Training to delay all sports tournaments scheduled to take place during March.
At present, there has been no new date set for the start of the V.League 2 season. VNS/VOV