With gyms closed to prevent the spread of the COVID-19 pandemic, many people are exercising at home to stay in shape.
Previously, Nguyen Thu Hong, an editor of the Vietnam News Agency (VNA) Publishing House in Hanoi regularly did yoga at the gym, but now she exercises at home. In the early morning, she does yoga for about 30 minutes.
Hong said that practising yoga has been an indispensable part of her life for more than 10 years.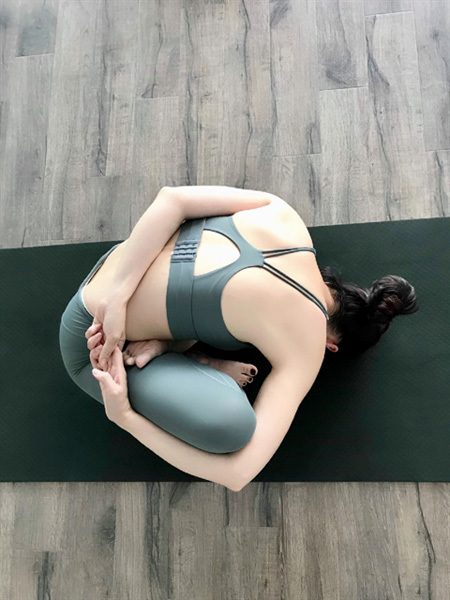 Practicing yoga has been an indispensable sport activity for Nguyen Thu Hong for more than 10 years. — Photo courtesy of Nguyen Thu Hong
"Thanks to regular exercise, I feel my body is always healthy, I sleep well without muscle pain, my body is more flexible and my stamina is better. That's why when the gym is closed I still maintain my daily exercise routine at home," Hong told Việt Nam News.
"Daily exercise is like breathing every day. During this pandemic, exercise is even more necessary to keep the body healthy, active, and strengthen immunity to minimise the risk of the disease."
Hong also trains hard to have a fit body so she can feel confident in her clothes.
"I've been practising for a long time so if I stop training, I feel like I'm missing something. Exercise also helps me to reduce the amount of food I eat. It also helps me reduce stress, making me more optimistic and confident," said Hong.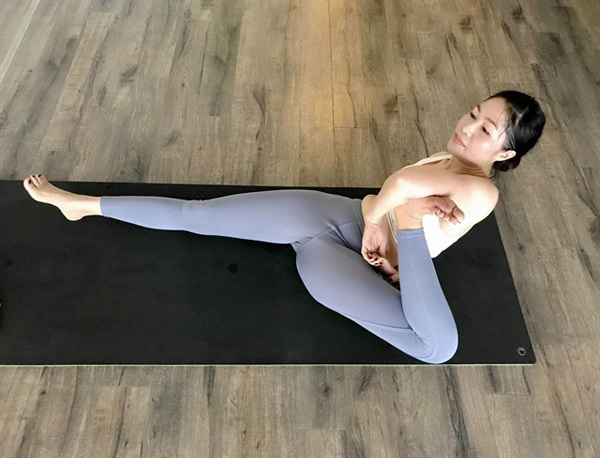 Nguyen Thu Hong trains yoga at her home. — Photo courtesy of Nguyen Thu Hong
As people can't go to gyms, many families have also bought sports equipment such as weights, jump ropes, treadmills, and exercise bikes to turn the living room into a training room for the whole family to exercise in.
Trinh Thuy Quynh, who lives on Ton Duc Thang Street, Hanoi said she enjoys going to the gym, but now she exercises at home with dumbbells.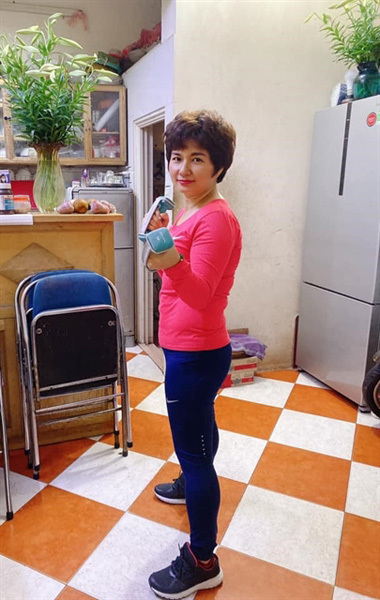 Trinh Thuy Quynh often exercises at home with dumbbells. — Photo courtesy of Trinh Thuy Quynh
Meanwhile, Nguyen Quang Vinh in Ha Dong District bought a treadmill for his five-member family to use.
"To avoid having to contact many people during the pandemic, my family members don't go to the park to exercise as before. I bought a treadmill and placed it in the living room to train together to maintain strength," Vinh told Việt Nam News.
Huynh Kim Nhat, a teacher at Thu Khoa Huan Primary School in Tien Giang Province, said due to the spread of the virus in the province, she rarely goes out and exercises at home to stay healthy.
Nhat said exercising every day not only kills time but also makes her feel better about herself. Nhat said she exercises for about 45 minutes in the afternoon every day.
"The pandemic is a time for us to have the opportunity to look deeply into ourselves, to have time to live slowly and think more positively and do things that sometimes we don't," she said.
"Exercise is also an interesting thing that you should try. Besides, don't forget to add enough nutrients to have a healthy body and always follow the 5K principle, for yourself and the community." 
With HCM City in a social distancing period, many celebrities have tried to lift their fans' spirits by making short videos of their daily routines.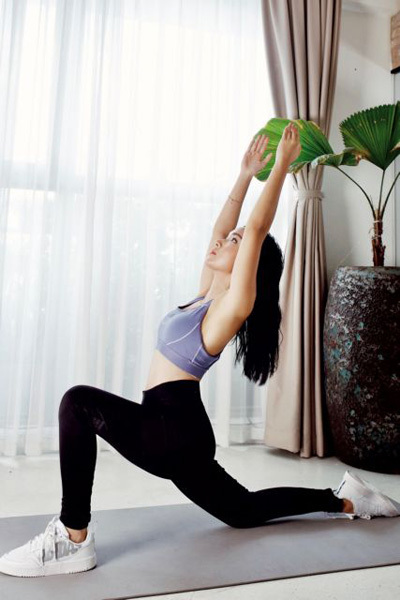 Fashionista Chau Bui practice mostly at home. — Photo courtesy of Chau Bui
For the 23-year-old fashionista Chau Bui, whose full name is Bui Thai Bao Chau, maintaining healthy habits has been important for the last seven years.
"Currently, I train mostly at home. I also diversify my exercises, so that even if I train at home, I won't get bored and keep my interest in training for a long time. Every week, I will have two sessions of EMS (electrical muscle stimulation) training, dance, cardio and HIIT (high-intensity interval training)," Chau told Việt Nam News.
"EMS exercises need specialised equipment, but with dance and cardio at home, no equipment is needed. It is very easy to do. Recently, I posted a video of cardio exercises with music on my YouTube channel, ChauBuiOfficial. Along with the training video is a challenge to practice cardio to encourage people to maintain exercise and increase resistance against the pandemic whether at home or anywhere else," Chau added.
According to Chau, being stuck at home has impacted her work, with video recording and editing difficult due to the limited number of staff she can be in contact with. To ensure safety, Chau and her team minimise the number of people present at her house, with less than five employees the golden rule.
"Of course, I have a solution to live with the pandemic. I consider this to be the ideal time to change and rearrange the living space in my house. It seems that it is also around this time every year that I reset my house space.
"In addition, I also take advantage of not being able to go out as an ideal concentration condition, creating a lot of interesting and new content to deploy in the future. Recently, I have a series called #Quaranstream, with four livestream episodes about health on my Instagram which are very well received by everyone," said Chau.
Chau was one of three Vietnamese women named in the Forbes 30 Under 30 Asia 2021 list in the arts category, has more than 3 million Instagram followers and more than 2 million followers on Facebook. She was also named the most stylish social media personality at the ELLE Style Awards 2019.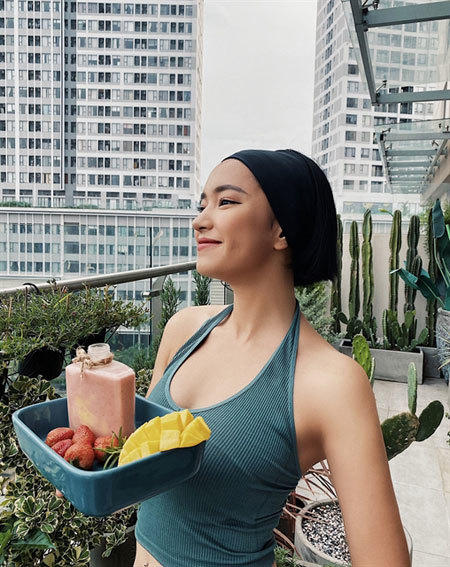 Maintaining health and maintaining healthy habits has always been the favourite of fashionista Chau Bui during the last seven years. — Photo courtesy of Chau Bui
Exercise apps online at home
Many people are exercising with the help of YouTube channels and dance, zumba and yoga exercise courses.
Smartphone apps are also popular among young people for exercise, with the likes of Daily Workouts, Gym Wp, Pro Fitness, Sworkit Lite, Aaptiv and Daily Burn offering free instructions for workouts from basic to advanced levels.
Some apps also measure muscle fatigue, muscle recovery time, weight, measure excess fat and BMI (body mass index) to build science into your workout.
Nguyen Thanh Nhat, the owner of a gym, said that his gym have switched to coaching clients online.
"With the gym closed and no revenue, we have many difficulties. Using the internet to guide people is a way to create a bond between them and us. Hopefully after the pandemic, they will still come to my gym," said Nhat.
Source: Vietnam News

Being stuck indoors all day and night could turn you into a couch potato, especially as all the gyms are closed and people should only being leaving their homes to do essential tasks like grocery shopping. 
Over the past few months, the world has been fighting the COVID-19 pandemic, which has affected the economy and every aspect of human life, including sports and physical exercise.