The COVID-19 pandemic has made the life of performing artists in Vietnam even harder. Many have had to take up extra jobs to earn a living like selling food online, shipping goods or selling insurance.
They are in urgent need of State support to be able to stay in their profession.
Hastily wiping the sweat dripping from her forehead, Nguyen Thuy Duong put boxes of fried spring rolls into bags so that her husband, Hoang Duc Thang, could deliver them to customers for dinner.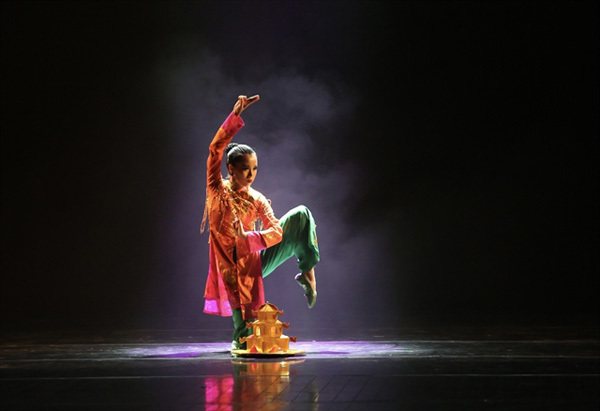 Performing artists long for the days of returning on the stage. VNA/VNS Photo Hoang Trung Hieu
Looking at the couple engrossed in loading their motorbike with boxes of fried spring rolls, you wouldn't think they are top artists of the Vietnam Circus Federation and used to shine on world stages with their silk swinging performances.
Before the ongoing fourth wave of COVID-19 infections in Vietnam that started at the end of April, they spent a lot of time training for their busiest time of the year – summer.
The closure of their workplace, Hanoi Central Circus, following national measures to contain the spread of COVID-19 immediately hit their monthly income. The young couple has had to take up an extra job to make ends meet.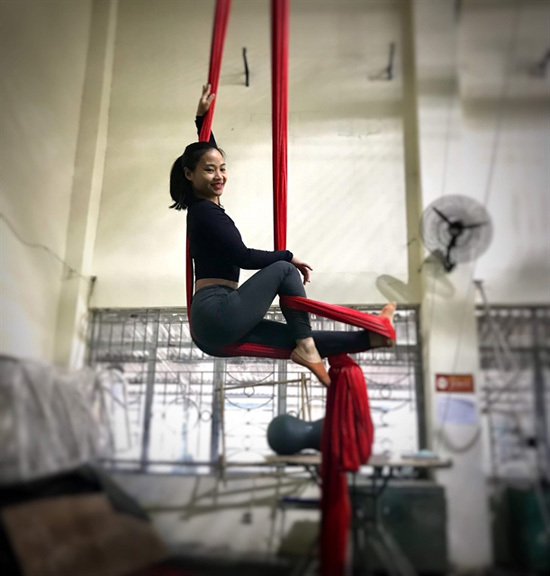 Circus artist Duong Quyen is running an online yoga class to earn extra income. Photo courtesy of the artist.
'Great sadness'
According to the urgent dispatch of the Hanoi authority on April 27, all cultural and art programmes had to be postponed to prevent the spread of the pandemic. 
A series of performances by theatres were stopped, even though the artists had prepared to entertain audiences during the national holidays of April 30 and May 1.
The Vietnam Circus Federation had to cancel its Circus Gala that gathers artists from provinces and cities nationwide.
Tong Toan Thang, deputy director of the federation, said that he and all other circus artists felt great sadness.
"We overcame a very difficult period in 2020. This year, our artists have been very excited to practise for many new projects such as the performance that combines cải lương (reformed opera) and circus Thượng Thiên Thánh Mẫu, the yearly Circus Gala, the Đi Cùng Năm Tháng show that aims to pay tribute to the heroes and martyrs in July and especially, the special performances to entertain the children this summer holiday.
"But when the pandemic suddenly broke out again, all plans had to stop. We felt like we were trying to get up but then were knocked down again," he said.
"I felt so sad and wanted to cry when the pandemic broke out again and I believe that circus artists and performing artists, in general, also felt the same way," Thang said.
He said the sadness came from the artists' regret of being unable to demonstrate their creativity and training over the past year as well as income worries, particularly for those with small children.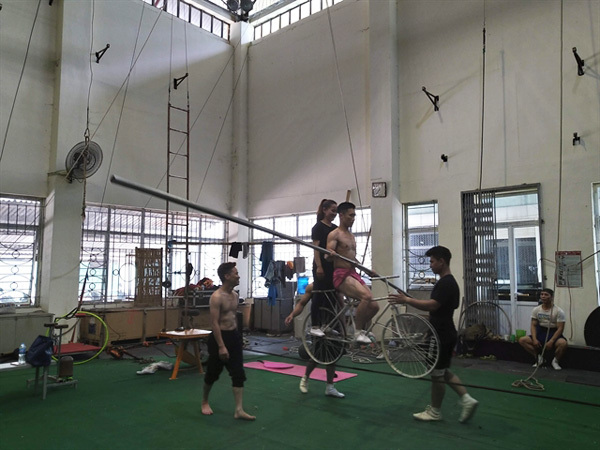 Though the circus has closed, its artists still take turn to practise in order to maintain their professional flexibility. VNA/VNS Photo Minh Thu
The federation authority has encouraged them to continue training to stay in shape, as their skills could fade after just a fortnight without training.
The federation has supported artists by providing free lunches for those with rehearsal schedules.
This idea was also implemented by the Hanoi Drama Theatre during the pandemic in 2020. Nguyen Trung Hieu, director of the theatre, said he greatly sympathised with the artists.
"Currently, the theatre includes mainly 30 artists, in addition to young ones and those with contemporary contracts. Our artists' income largely depends on shows so the cancellation of shows means an immediate drop in their income," he said. 
Struggles
Circus artists are among those whose income has been heavily affected by the COVID-19 pandemic. VNA/VNS Photo Minh Thu
Duong and Thang still train hard every day with other members of the federation. In addition, Duong makes food to sell online to earn extra money to raise their two small children, aged 2 and 11.
"If the pandemic hadn't broken out, our income would be sufficient to cover our daily needs. However, our salary has been lowered at this time of the year, so we have no other choice but to find a part-time job, though we know that it is only a temporary solution and could not improve our family's situation," Duong said.
She makes spring rolls and other dishes to sell online while her husband is in charge of delivery.
"Thang is a hard-working husband who frequently helped me with the housework even before the pandemic. When we receive many orders, he rolls up his sleeves and goes to the kitchen to fry spring rolls for me," she added.
Being in the same profession means they can understand each other's struggles well.
Another couple of the circus federation are Duong Quyen and Le Minh Sinh who are renowned for their double string performance.
Since the closure of their shows, the couple started to sell chickens and fresh vegetables that their parents sent from the countryside. Quyen also runs yoga classes for women online.
"We trained day and night, spending a lot of time preparing for upcoming shows but then we didn't have the chance to perform. We have been overwhelmed with disappointment and also worries about our income," Quyen said.
She added that all circus artists have been struggling to make ends meet as they understand the federation is also encountering difficulties without income and is therefore unable to subsidise all artists.
"However, the leadership of the federation has been very concerned about our lives. We have been provided with free lunch on the days we train while young performers with financial difficulties will be allowed to live in the dormitory of the federation."
Quyen said circus artists have a difficult and short career, but passion for the art inspires them to keep going.
"Taking up a part-time job is just a temporary solution. We always want to present special performances to the audience and make money from our creativity," she said. 
Seeking solutions
In 2020, the Ministry of Culture, Sports and Tourism supported 12 theatres to set up plays and organise performances to attract audiences back to the stage.
This year, the artists hope for similar support from the state management body.
They have also proposed more long-term solutions for performing arts in Vietnam, such as a support package, tax exemption and reduction for performing businesses and a scheme to develop online theatres.
According to artist Pham Ngoc Tuan, director of Vietnam Tuong Theatre, the mechanism could not be changed immediately so it is important to find a timely solution.
"The economy this year is much tougher than last year. After the pandemic, people's lives are also difficult because all industries have been affected. I'm afraid they will not be able to spend money on visiting theatres. We hope the Ministry of Culture and Sports and Tourism helps to remove difficulties in terms of human resources of performing arts," he said.
Agreeing with Tuan, artist Nguyen Xuan Bac, director of the Vietnam Drama Theatre, said theatre managers should pay more attention to artists' lives.
As a solution to deal with closures due to the pandemic, many theatres have concentrated on online performances.
The Vietnam Drama Theatre, for example, has focused on developing YouTube and TikTok channels to broadcast entertainment programmes and reveal behind-the-scenes stories.
The Vietnam Cheo Theatre is expected to premiere famous plays on social networking platforms while the Puppet Theatre and the Circus Federation plan to work with television stations to record performances and broadcast them on TV.
Tran Huong Duong, deputy director of the Performing Arts Department under the Ministry of Culture, said the ministry is working to find specific solutions before holding meetings with theatres.
"I deeply understand the concerns of artists. Not only us but all of society is suffering from a difficult time. Through their work, artists can bring spiritual strength to the masses and therefore they need timely encouragement to continue to pursue their jobs," he said.
Source: Vietnam News

Vietnam might reach the 'finish line' – vaccination and herd immunity – later than Europe and the US by five to six months, but it would prefer to go slowly and carefully.