For 15 years, lecturer and pianist Nguyen Thuy Uyen and her colleagues have held a programme of regular concerts for young audiences in HCM City in which she gives lectures on classical music and provides real-time demonstrations on the stage. 
The music programme on September 28 was expanded to Can Tho. Uyen spoke with Tuổi Trẻ (Youth) newspaper and shared insights about her unique journey.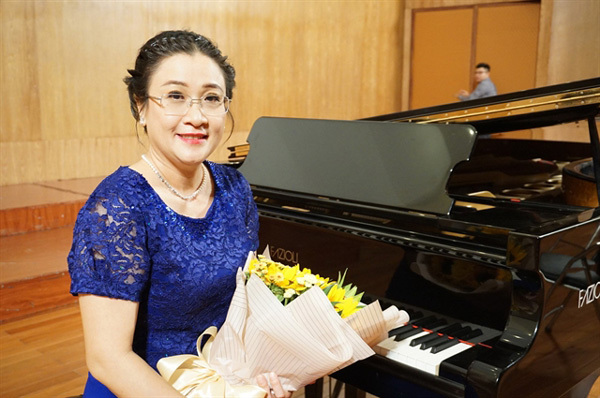 Over the past 15 years, lecturer and pianist Nguyen Thuy Uyen and her colleagues have scheduled music programmes geared toward the young crowd. Photo courtesy of tuoitre.vn

Why did you introduce the programme in Can Tho's Cai Rang District? As a programme co-founder more than 15 years ago, what does the activity mean to you?
The concert on September 18 in Can Tho was not an official concert like the previous ones for young listeners at the HCM City Conservatory of Music. Though having similar content and format like the previous ones, this time the programme was more like a workshop where I mainly shared information about the teaching and studying of piano. I also answered questions sent by local youth.
Being able to play the piano, perform and have a talk with young people makes me happy, especially in places outside HCM City.
The number of people at my show in Can Tho was very limited. While I prepared 30 seats, only 15 people came. I felt disappointed at first but at the end of the session when I asked how many of them would genuinely want to attend a similar concert ever again, I saw 15 hands raised. I was then full of hope again.
Can you describe the beginning of your journey?
The programme initially took off at the Phu Nhuan Cultural House. We borrowed a grand piano from a colleague. My old classmate Nguyet Sa, former head of the HCM City Ballet and Symphony Orchestra (HBSO), stayed up late until 3am to write the introduction for the show. The head of the Guitar Department at the HCM City Conservatory of Music, Thanh Huy, was in charge of auditorium management and the selling of tickets.
All of them joined the programme because of my enthusiasm. We majored in performing arts but ended up as lecturers as we had no place to perform. That was how the first programme was born. We moved to the Labour Culture Palace and later were able to step into the best auditorium at the city's Conservatory of Music.
Despite hardships, my programme gained substantial support from the crowds. What made everything special for me was the number of people that came. At that time, many large shows had very few spectators and there were more performers compared to the number of people in the audiences. However, my show attracted quite a significant crowd.
Maintaining a regular schedule for classical music is already hard, and being able to attract a young audience is even more difficult. So what challenges have you met?
It was difficult since I handled many tasks at the same time. I had to offer lessons and work part-time since my salary was not enough to cover monthly expenditures. I even taught Korean students after school while organising my shows and performing.
It took me months to perform a classical piece that is five to six minutes long. Though I practised three to four hours per day, I found my preparation was not good enough. This explained why many artists who encountered a similar circumstance like mine could not pursue this programme, as they had no time to practise after giving lessons at school.
Organisation of new performances was a real challenge for a lecturer and performer like me. It was like launching a company in which I had to master every role, from being a director to being an executive.
At that time, I had to invite artists, carry out the programme, introduce the show to the public, advertise and sell tickets, among other tasks. Actually, I continue to take care of everything. All of these difficulties became valuable experiences and strengths that I treasure.
Amid those difficulties, I was loved by the audience. Most importantly, I was happy to be able to perform. It made me more confident in the path I had chosen.
I still remember the 15th anniversary programme of "Young Audiences Concert" at the HCM City Conservatory of Music in March. The show brought memorable moments and positive emotions for performers, lecturers and audiences. What is your plan for the programme next time?
My dream is that an arrangement will be made for high school students to visit the conservatory and enjoy a concert specially designed for them. I wish to carry out educational music programmes via regular shows for them since my target audience has always been students.
Unfortunately, many parents do not care about this subject, and school boards are busy with other activities. So even though my programme is a meaningful extracurricular activity, no school has pursued it so far.
Sometimes, I get so upset and ask myself why we are willing to spend so much money on endless desires for material things while abandoning the spiritual world of our children? Their innocent emotions should be nurtured.
What are the things that are important to you and for those who want to continue in this field?
Once we believe in something good and meaningful, we will have the strength to pursue it for a long time. For example, when I believe in the educational value of classical music and how important it is to build the cultural foundation for the youth, I perceive my job in a positive light.
I also believe that if I do not do what I do now, other people will do it. If I do not have a big orchestra, I will go for a smaller one. If I do not have a huge auditorium to perform, I will do it in a smaller one. If I cannot reach a mass audience, at least some young people who care about what I do already make me very happy. VNS

Pianist Pho An My will perform on November 24 at Hanoi Opera House. The recital entitled Tỉnh (Awake) features works by composer Dang Tue Nguyen. My talks about the upcoming concert.

World-renowned French pianist Jean-Yves Thibaudet is set to hold a concert at the Hanoi Opera House on October 23, accompanied by the Sun Symphony Orchestra.