Vietnamese powerlifter Dang Thi Linh Phuong is aiming for a gold medal on home soil at the Para Games to be held in Vietnam later this year.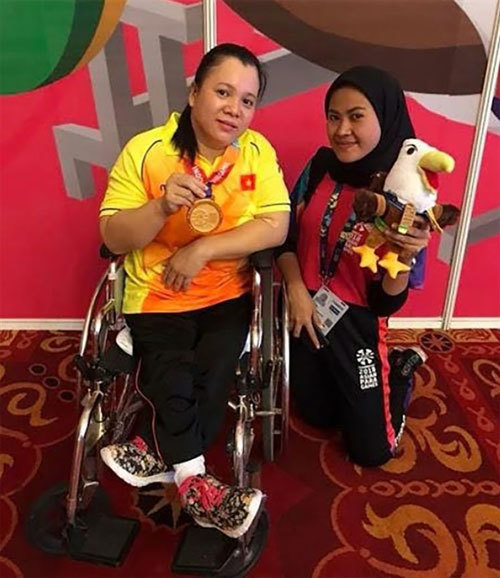 Vietnamese powerlifter Dang Thi Linh Phuong (left) hopes she will take gold medal at the Para Games to be held in Vietnam later this year. Photo thanhnien.vn
Like all athletes, Phuong experienced a very difficult year in 2020. The COVID-19 pandemic caused the Para Games in the Philippines to be postponed twice before being cancelled.
"For the past two years, I was focusing strongly on the Para Games 2019. But then the event had to stop. So my plan was also incomplete. I was very sad," said Phuong.
"Earlier, I quit my work as a nail technician to focus on weightlifting. I couldn't spend all my time in the nail salon. I decided that weightlifting was my main job to earn a living until I couldn't continue to compete any more.
"When the pandemic came, tournaments abroad were postponed and I couldn't compete in any tournaments for a whole year. I was really looking forward to competing. Therefore, I am more determined and wait for the Para Games 2021 to partake in Vietnam as expected," said Phuong.
As events were postponed, Phuong had to find another job to maintain her passion for weightlifting.
"I work part-time, such as selling toothpicks. Although I couldn't earn much, it was enough to help me overcome difficulties in the past year," said Phuong.
Phuong still maintains a scientific diet, nutrition and lifestyle to allow her to achieve peak performance.
"I spend about one hour per day to train with the highest focus. I also maintain the diet of a powerlifter. In the context of the pandemic, training can help us stay healthy," said Phuong.
Having been involved in weightlifting for about 10 years, Phuong has recorded many remarkable achievements.
In the 2018 Asian Para Games, Phuong bagged a gold medal in her favourite category of the 50kg weight class with a lift of 103kg, far above the lift of 84kg by Indian powerlifter Khatun Sakina.
Phuong was also the first Vietnamese woman to win a medal at a Paralympic Games. She won a bronze medal in the women's 50kg class with a lift of 102kg.
In the National Sport Games for People with Disabilities in 2012, she took a gold medal in the 48kg division, while in the 2013 event, she won in the 50kg.
Phuong also stood on the top podium at the Asian Powerlifting Championship in 2013 and Para Games 2014.
In the World Para Powerlifting Championship held in Dubai in 2014, Phuong claimed a gold medal and at present, she doesn't have rivals in Vietnam.
Thanks to all this success, she is tipped to take a gold medal at the upcoming Para Games at home.
"I hope I can get a gold medal at home. That is also my dream and desire. I've gained high results in weightlifting, but being able to sing the Vietnamese national anthem on home turf has a sacred meaning," said Phuong.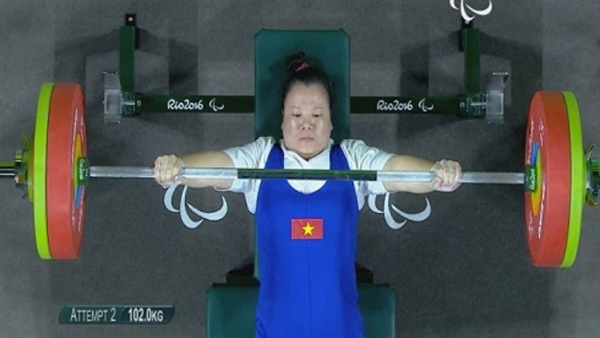 Powerlifter Dang Thi Linh Phuong competes at the Rio Olympics 2016. — Photo vov.vn
Endless efforts
"Eight years ago, it was the first time I received a gold medal and I could not hold back my tears. From that moment, I realised that sport would help me integrate better into this life, overcoming the sadness and loneliness without close relatives by my side," said Phuong.
"Since joining the HCM City team to compete and win medals, my life has become more joyful," Phuong added.
Phuong was born with her legs shrivelled and she was sent to her paternal grandmother to be taken care of.
Since then, Phuong grew up selling street food with her grandmother.
"Lacking the care of my parents from a young age, I felt down, my grandmother was my only relative," said Phuong.
Her grandmother passed away more than 10 years ago and Phuong felt very sad and lonely. She could only overcome her sadness when she had a job at a handicraft workshop and especially when training.
Seeing many colleagues participating in sports competitions at the workshop, Phuong began to learn and liked to train.
Vietnamese powerlifter Dang Thi Linh Phuong (middle) celebrates her gold medal at the Asian Para Games 2018. — Photo thethaovanhoa.vn
In 2011, with the encouragement of coach Nguyen Van Phuc of the national powerlifting team, Phuong decided to get involved in the sport. After a year of training, she took a gold medal at the National Sport Games for People with Disabilities in the 48kg category.
"That first gold medal was a driving force for me to follow this sport until now," said Phuong.
Coach Nguyen Van Phuc said: "In tournaments, Phuong often surprised the coaching staff with her achievements. We appreciate and honour her efforts and responsibilities in the competitions." 
VNS

Vietnam will officially host the 11th Southeast Asian Para Games (ASEAN Para Games 11) in December with 11 sports.