A group of folk music artists have gathered together in a project honouring Vietnam's 18th century masterpiece 'Truyen Kieu' (Tale of Kieu) by celebrated poet Nguyen Du (1765-1820).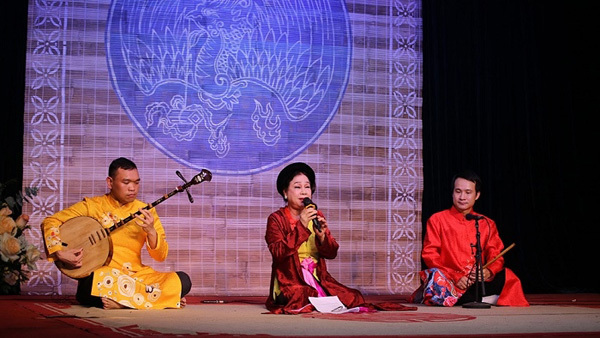 People's Artists Thanh Hoai (centre) reciting an extract from 'The Tale of Kieu'.
Under the project, all 3,254 verses of the epic poem were recited and recorded in a total time of 561 minutes.
The recital featured the beautiful voices of People's Artists Thanh Hoai and Thuy Nga, Meritorious Artist Quoc Khanh, Van Phuong and Thuy Nga, whose performances were accompanied by zitherist Tran Que Huong, instrumentalist Pham Duc Minh, flutist Le Tien Trung, and fiddle player Xuan Hai.
The recordings of the recital were divided into 12 parts with an average length of between 30 to 100 minutes, scheduled to be introduced to viewers via the YouTube Channel 'Folklore Songs and Music' at 8 pm every Tuesday, Thursday and Saturday from April 1 to 24.
The project was initiated by folklore music researcher Nguyen Quang Long, the founder of the YouTube Channel 'Folklore Songs and Music', the aim being to promote the time-honoured value of the 'The Tale of Kieu' as well as the charm of Vietnamese traditional music.
Across 3,254 verses, written in luc bat ("six–eight") meter, the 'Tale of Kieu' is widely regarded as the most significant work of Vietnamese literature.
The poem recounts the life, trials and tribulations of Thuy Kieu, a beautiful and talented young woman, who has to sacrifice herself to save her family.
The masterpiece has been translated into many foreign languages, including Russian, French, English, German, Romanian and Spanish.
Nhan Dan

The series of cultural events themed "Who remembers To Nhu", held in the last three days of October at the Vietnam Women's Museum in Hanoi on the occasion of the 200th death anniversary of great poet

Vietnamese epic The Tale of Kieu will be performed by French artists for the first time in Hanoi tomorrow.