Two men in Quang Tri Province has spent hundreds of millions of VND on ordnance scraps left from the war, hoping to open a war museum or cafe.
52-year-old Tran Cong Chuc has collected bombs and many artillery scraps for decades now.
52-year-old Tran Cong Chuc stores his collection in the yard and around his house. He has collected bombs and many artillery scraps for decades now.
According to Chuc, he grew up by Ben Hai River where was heavily bombed during the war. In 1996, Chuc found many ordnance scraps in the forest and along the river so he brought them home.
"When I saw other people brought them to iron and steel processing workshop as scrap, I thought that gradually, there would not be any left. So I wanted to keep them for future generations," he said.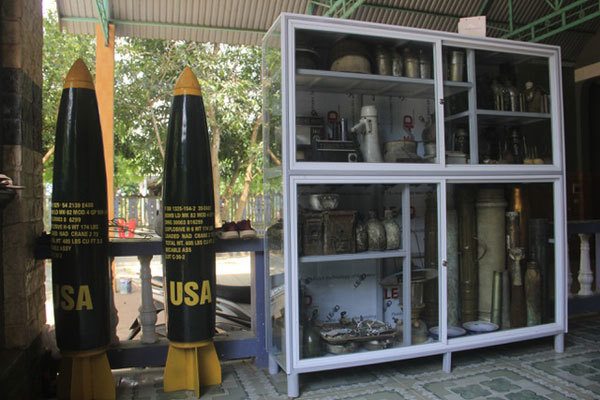 Chuc's collection of war items.
He then started collecting ordnance scrap and his collection later expanded to include other war items. Some items he bought and others were given to him as gifts. Sometimes, he had to hire help and equipment for the job. It took him two days to retrieve a shell out of the forest.

"I have MK84 and MK82 bombs. An MK84 bomb cost me VND16m (USD690)," he said. "As of now, I've spent over VND500m."

After 20 years, his collection has had over 1,000 items. About five to seven years ago, Chuc had wanted to build a small exhibition house and prepared a plot of land near Truong Son War Cemetery.

36-year-old Le Thanh Hanh from Gio Linh District also has a special love for war items and collected over 30 bombs and artillery scraps. Hanh said when he visited Vinh Moc Tunnels and saw all the displayed ammunition, he was impressed and started collecting.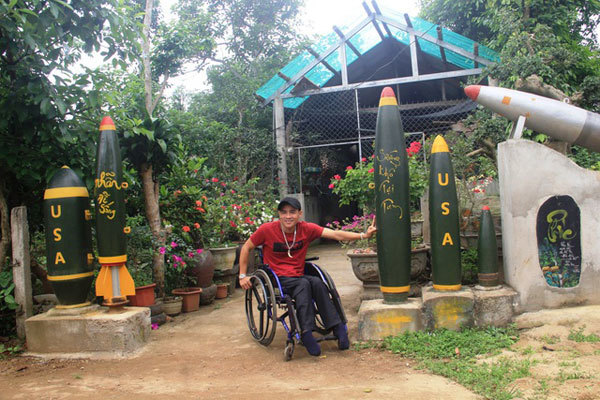 36-year-old Le Thanh Hanh.
"7 years ago, I bought an MK81 bomb from a scrap collector in Cam Lo District. After cleaning and repainting it, I displayed it on our front gate," he said.

As the cost increase with time, Hanh saved up his allowance for disabled people and daily expenses to buy items. According to Hanh, it often takes him two to three days to clean and repaint the bombs.

"I want to open a cafe with the ordnance," he said. "It may help other people understand more about the war and history, especially the children."
Dtinews

Nghe An Museum has opened an exhibition displaying items related to Vietnam's revolutionary wars from July 21 to December on the occasion of the 73rd anniversary of Vietnam's War Invalids and Martyrs Day.

As many as 2,500 military items and garments which originate from around the globe have gone on display at a private history museum located in Vung Tau City, with the collection being owned by 75-year-old Robert Taylor from the UK.