Some Vietnamese rowers have already qualified for this summer's Tokyo Olympics, but that doesn't mean they're overlooking the Southeast Asian (SEA) Games on home turf this winter.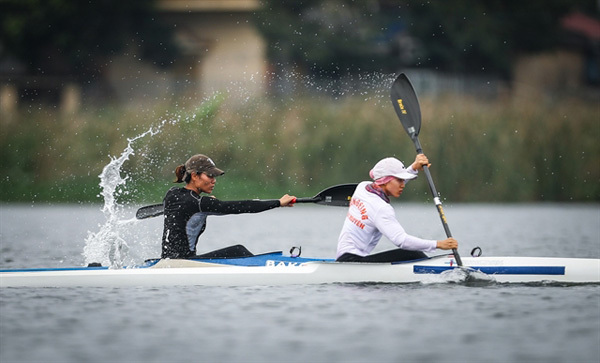 Rowers are practising in Hai Phong. Rowing team plan to dominate 31st SEA Games with at least six gold medals. Photo sport5.vn.
Their target at the 31st SEA Games is six golds after going home titleless two years ago.
"We have made plans since knowing we will host the 31st Games. We want to join hands to organise a successful tournament and make rowing an impressive highlight," said Nguyen Hai Duong, general secretary of the Vietnam Rowing, Canoeing and Sailing Federation.
Duong said the sport has strongly developed in recent years and rowing now takes place in 18 cities and province with more than 300 athletes, compared to just a few in the beginning in 1997.
"In ASEAN, our biggest rivals are Indonesia and Thailand. Indonesia really have potential. They made a deep investment in the sport after hosting the Asian Games in 2018. Meanwhile, Thailand are a long-time powerhouse with their science and technology in sport," said Duong.
"As hosts, we expect to be the best rowing team at the Games with at least six golds. We have made plans in detail in which every member of the coaching staff and athlete has their own duty," he said.
Rowing at the SEA Games will feature eight categories for men and eight for women in Hai Phong. 
Zeroes
Rowing first came to Vietnam in 1997 and people started to build it up from nothing.
As one of the first men involved in the sport, Duong spent time driving around to find the right place for the first rowing hub.
In the early days, the rowing team had to work with rudimentary wooden boats and paddles. Ten years later in 2002, they had the first chance to touch carbon-made equipment as Vietnam was to host the 22nd SEA Games a year later.
"At that time, it was so difficult that we had to rebuild a four-seat boat from two broken two-seat ones with tape and super glue, to serve our training needs," Duong recalled.
This boat was seen by a world rowing and canoeing federation official who said it showed the world the challenges and obstacles that countries faced in their first days of rowing, he said.
"The other and the biggest difficulty was recruitment. People did not know what rowing was. Our scouts had to go to every corner of the country to not only seek but also persuade people to try rowing. When done, we had to start by teaching them how to step safely into the boat and how to hold the paddle the right way. But luckily, we were all united to develop the sport," he said.
Since their first training venue at Hanoi's West Lake, the team now has two better training locations in Thuy Nguyen District's Gia River in Hai Phong and Dong Xanh Dong Nghe Lake in Da Nang. 
Heroes
The first success for Vietnamese rowers was when Nguyen Dang Tuan won the Asian Rowing Championship in China in 2002.
A year later, Vietnamese athletes made a bang with five golds at the SEA Games that they hosted for the first time.
In 2004, Pham Thi Thi became the first Vietnamese rower to compete in the Olympics in Athens.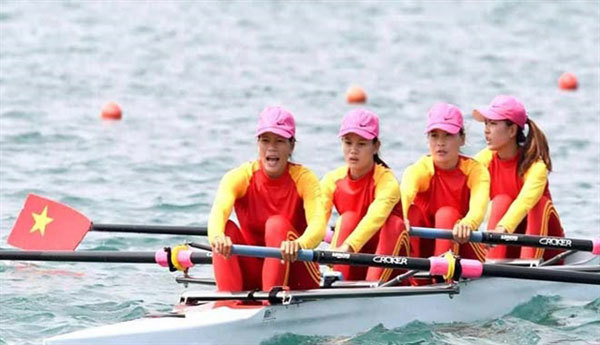 Quartet Ta Thanh Huyen, Luong Thi Thao, Ho Thi Ly and Pham Thi Thao compete at the Asian Games in Indonesia in 2018. Photo 24h.com.vn
Since then, the team have won more than 20 Asian title with the most prestigious the Asian Games title in 2018 in Indonesia by Ta Thanh Huyen, Luong Thi Thao, Ho Thi Ly and Pham Thi Thao.
"It was the first gold of Vietnam and of ASEAN in the Games' history. I was lucky to be a judge at the event and watched them compete. It was really moving to see them on the way to take gold from 200m to the finish. I burst into tears when they crossed the line," said Duong.
"On that day, there were nine finals. China dominated all the categories before Vietnam took the limelight. Our victory also made regional friends jump up to celebrate. It was a triumph for ASEAN. It was a moment of pride."
Rowers have also made their names as Olympic participants. The Tokyo Games will be the fourth edition featuring Vietnamese rowers after 2004, 2012 and 2016.
Prior to 2019, Vietnam's rowers came away from every SEA Games they competed in with gold medals, with the high point in 2015 in Singapore with eight golds.
The 2019 SEA Games was a quiet tournament for Vietnamese athletes. They could only bring home three silvers and one bronze from Manila where all of their strong categories had been removed from the competition by the hosts.
"It is difficult to say it was not a good result because our athletes overcame difficulties to perform their best. Our strong events were not held while the organisers changed the competition from a lake to a bay, which reduced our results because my athletes always train on a lake," said head coach Le Van Quang.
Quang, who guided Dinh Thi Hao and Luong Thi Thao to take a Tokyo Games slot in early May, is working to make sure his athletes thrive at the SEA Games in December.
Despite the COVID-19 pandemic that has sidelined athletes from many events, his athletes have been training hard.
The federation recently started digitising athletes' statistics. All information from recruitment, training, competitions and injuries are updated to improve management and select only the very best for the national team.
"We work online and offline, exchanging exercises programme, results and everything together. We strictly manage athletes' activities to make sure they are at their best at the Games," said Quang.
The 52-year-coach added that international competitions were impossible for his players due to COVID-19 but tournaments among crews of national teams would be organised to test their ability and prepare them for competition.
Olympian-to-be Hao told Việt Nam News: "It is lucky that we are allowed to practice normally. It is tough but I will try my best to be picked for the SEA Games.
"I know I still have some weaknesses but I will work harder for a gold medal this second time".
Meanwhile her teammate Thao said her first task was a berth in the national team before others.
"I was a substitute at the 2019 Games. This year, I want to be in the first team and contribute my ability to help Vietnam win gold," she said.
VNS

Planks, squats and push up. Exhaustion, sweat and boredom.