A ceremony was held in Ho Chi Minh City on November 22 night to see off southern members of the Vietnamese sporting delegation to the 30th Southeast Asian (SEA) Games in the Philippines.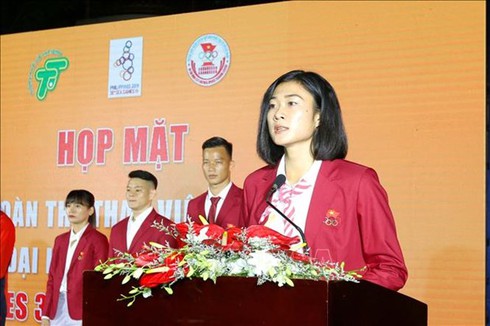 Athlete Le Tu Chinh speaks at the ceremony
Addressing the event, Director of the municipal Department of Culture and Sports  Huynh Thanh Nhan highlighted the strong sport development of Vietnam in general and HCM City in particular in recent years, saying that the sector's achievements at international sports arenas have become the pride of the nation.

Nhan voiced his hope that each member of the delegation will do their utmost at the region's biggest biennial sport event.

On behalf of the delegation, athlete Le Tu Chinh thanked the city's leaders and fans nationwide for their support, and affirmed the determination to do their best at SEA Games 30 in order to bring glory to the country.

According to Deputy General Director of the Vietnam Sports Administration Tran Duc Phan, who is also head of the Vietnamese SEA Games delegation, the delegation comprises 856 members, including 568 athletes competing in 40 sports.

Vietnam set a goal to bring home at least 65 gold medals, particularly gaining excellent achievements in such Olympic sports as track and field, swimming, artistic gymnastics, fencing and wrestling.

SEA Games 30 will officially kick off on November 30 and wrap up on December 12, with the participation of athletes from 11 Southeast Asian nations. About 8,750 athletes will compete in 56 sports. VOV

Vietnam will send a total of 856 members to attend the SEA Games 30, which will be taking place from November 30 to December 11 in the Philippines.

A ceremony to see off the Vietnamese sporting delegation to the 30th Southeast Asian (SEA) Games took place in Hanoi on November 16.