Striker Nguyen Anh Duc played his final match for the national team when Vietnam drew with Thailand on Tuesday night in Hanoi.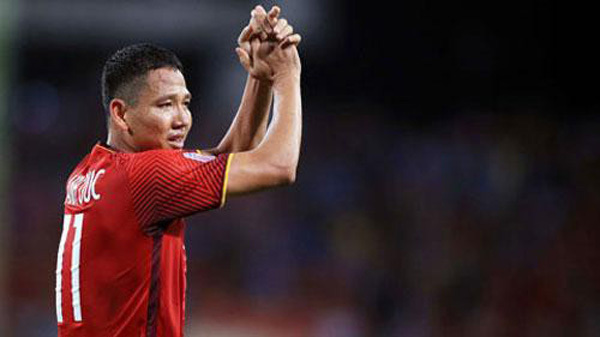 Striker Nguyen Anh Duc retires after last match with the national team on Tuesday. — VNS Photo
The veteran player earlier posted on his Facebook announcing his retirement.
"Every journey has its end. It is my honour to play for the national team together with generations of talented players. In my journey, the team and I have always received strong support, encouragement and love of people. Thank you and I hope the team will get more success in the future," Duc wrote.
After the match on Tuesday, Duc paid tribute to the supporters in My Dinh Stadium and hugged his teammates goodbye.
Previously, Duc planned to retire after the AFF Cup last December. But coach Park Hang-seo still needed him, so he delayed his decision.
However, he suffered a knee injury during the King's Cup in June and has struggled to find his top form since then. He did not play a minute in Vietnam's firs four matches of the 2022 World Cup qualifiers.
Park confirmed the news and said Duc wanted to retire at 34 as he was getting old, his injury had not fully healed and there were young talented players who could replace him.
Park said he still wanted Duc in the team but he had made his decision.
In 14 years playing for the national team, Duc played 36 matches and scored 12 goals.
He won the AFF Cup trophy with the national team in 2018 and scored the winning goal in the final in Hanoi.

Veteran striker Nguyen Anh Duc scored a dramatic stoppage-time winner to give Vietnam a nail-biting 1-0 victory over Thailand in their 2019 King's Cup encounter at Chang Arena in Buriram on June 5 night.

Park Hang-seo yesterday announced the squad for the upcoming King's Cup in Thailand.
VNS