A bronze drum casting contest using traditional crafting methods was launched in Yen Dinh district on April 29 in celebration of the 990th founding anniversary of the north-central province of Thanh Hoa (1029-2019).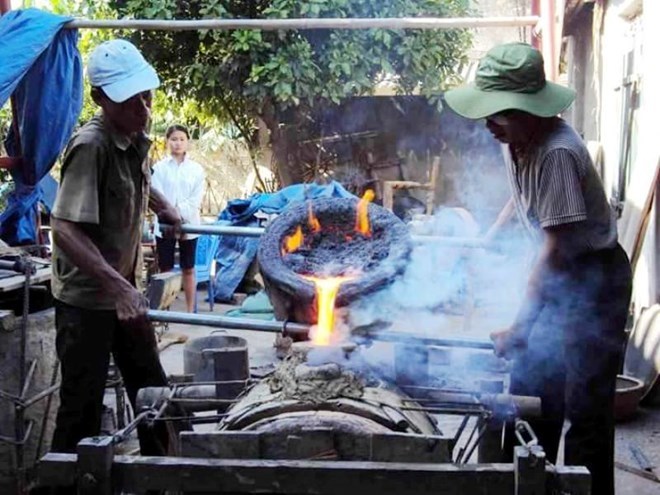 Traditional bronze casting trade of Che village in Thieu Hoa district, Thanh Hoa province
Dozens of artisans and skilled workers from the seven biggest local copper casting centers are participating in the competition.
Five bronze drums are being made according to the Ngo Lu drum version – one of the unique artifacts of the ancient Vietnamese cultural heritage – currently preserved at the Vietnam History Museum.
The drum has a face diameter of 60cm and height of 49cm. Once completed, it will weigh about 60kg.
Artisan Nguyen Minh Tuan said he and his partners had spent one month moulding and creating patterns for the drum.
"Particularly, we spent a lot of time studying carefully the Ngoc Lu drum model, then started working on it", he said.
Chairman of the Thanh Hoa Cultural Heritage and Antiques Association Ho Quang Son said the contest will help promote the traditional trade of bronze casting in Thanh Hoa.
After completion, five drums and two bells made from bronze will be put on display at the celebration day on May 8, he added.-VNA