Vietnamese boxers won by points at the WBO Oriental Youth Title Match 2019 held on Sunday in HCM City.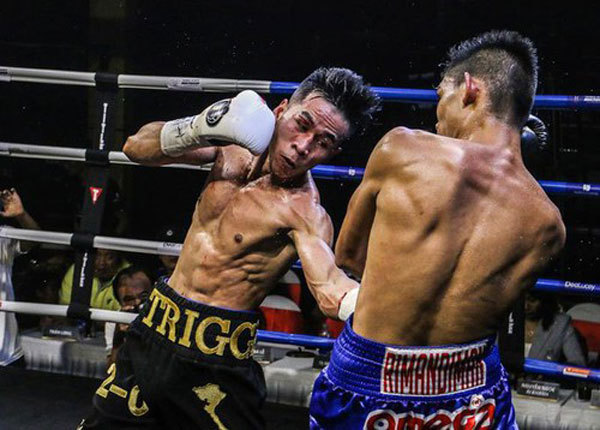 Tran Van Thao (left) lands a punch on Ponciana Remandiman during their match. —Photo nld.com.vn
WBC Asia belt holder Tran Van Thao lengthened his winning streak to 12 after beating Ponciana Remandiman, the national champion of the Philippines in the men's 53.5kg category.
Remandiman is currently the world No 74 in the WBO ranking with 15 professional matches. Prior to this event he was unbeaten for eight matches.
It was Thao's first match after five months because of a leg injury.
He said it was difficult to find Remandiman's weak points because there was no video of the Filipino found since 2016.
Thao and his coaches agreed that it would be a tough match as his rival was strong while the host boxer had not reached his perfect physique.
However, Thao set up an equal match with Remandiman in the early rounds and then dominated in the latter, sending Remandiman combos of straight punches and hooks.
"I am happy but regret a little because I have not showed off my 100 per cent ability. It is just 50 per cent," said Thao.
"I suffered an injury to my eye and received heavy punches in the first rounds. Then I did not perform as well as I could.
"However, after this match, I am confident in my journey on WBO competitions. I hope to take home a WBO belt soon," he said.
In the women's 48kg class, Nguyen Thi Thu Nhi made her fastest win after knocking out Kannika Bangnara of Thailand in 16 seconds.
Nhi, 23, landed 11 punches in a row on Bangnara who did not react but was floored immediately.
It was her third straight win.
Earlier, Dinh Hong Quan beat Tomorn Pitakwattanakul also from Thailand in the men's 67kg by points.
Two other Vietnamese Nguyen Tran Duc Loc and Sam Minh Phat however lost their matches. VNS