Three socially curious artists will share how they explore their love for crafting images to tell stories about social rituals at an artist talk in HCMC next week.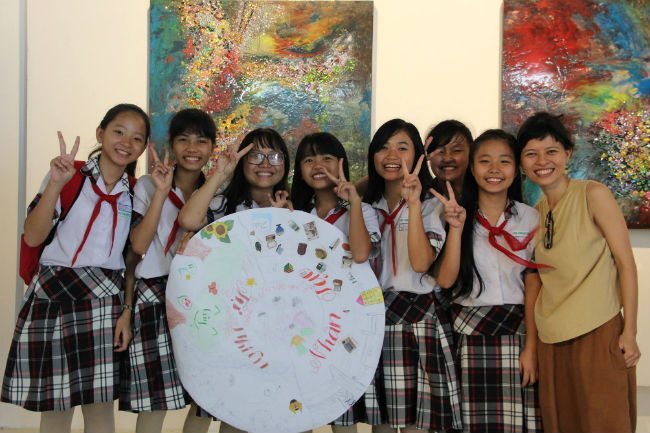 Artist Lena Bui (R) is one of the speakers at the event - PHOTO: COURTESY OF THE FACTORY CONTEMPORARY ARTS CENTRE
Artists Lena Bui, Truong Cong Tung and Tuan Andrew Nguyen will talk about their passion, inspiration, curiosity, field-work, community connection and other practices while implementing their creative projects with the ideas revolving around what is "social".
Through various media such as film, photography, paper, and sound, the artists reflect the contrary nature of the human condition and its impact on our planet.
This is the kick-off event the Re-Aligning the Cosmos project, which is seeking applications from Vietnamese visual artists. The project delves into the relationship between human and nature, culture and climate via the exploration of Vietnam's tradition of respect for five elements – wood, fire, earth, metal and water.
The event will take place at The Factory Contemporary Arts Centre in District 2, HCMC on March 14 with free admission, starting at 4 p.m.
It will be hosted by The Factory's artistic director Zoe Butt in English with Vietnamese translation.
Lena Bui, born in Danang in 1985, is now resident in HCMC. She reflects how intangible aspects of life, such as faith, death and dream, influence behavior and perception. She often relies on drawing and video but is open to other media she perceives as appropriate to a work.
Her works have appeared in a number of solo and group exhibitions, including Foreign Bodies in the UK in 2013, Disrupted Choreographies in France in 2014, Sacred Water in Nepal in 2015, Flat Sunlight in HCMC in 2016, and March Project in UAE in 2018.
Truong Cong Tung was born in the Central Highlands province of Daklak in 1986. His works are often multilayered and consist of material manipulations by nature and humans. They have been featured at many exhibitions in Hong Kong, Bangladesh, Taiwan, South Korea, and Japan.
Born in 1976, Tuan Andrew Nguyen earned a bachelor of fine arts at the University of California, Irvine in 1999 and a master of fine arts degree at The California Institute of the Arts in 2004.
He has received several awards in both film and visual arts, including an Art Matters grant in 2010 and best feature film at VietFilmFest in 2018 for his film "The Island". His works have made their way to several international exhibitions including the Asia Pacific Triennial in 2006, the Whitney Biennial in 2017, and the Sharjah Biennial in 2019. SGT

The Vietnam Fine Arts Exhibition 2020 is scheduled to be held in November, the Department of Fine Arts, Photography and Exhibition has announced.

MUSIC & PERFORMANCES