Vietnam top tennis star Ly Hoang Nam won an impressive victory against the No. 1 seed Yan Bai (China) to book his berth in the final of the ITF World Tour M25 - Hai Dang Cup 2019 on October 5.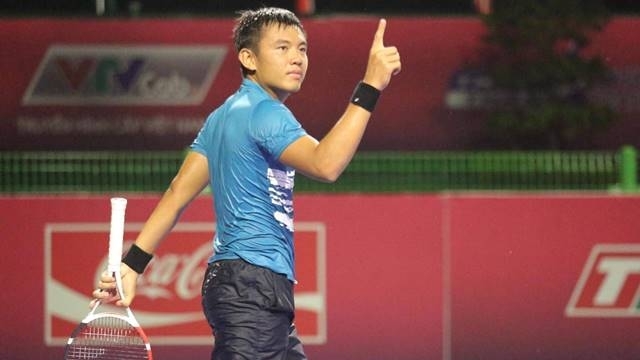 Ly Hoang Nam
In the last semi-final of matchday four at the tournament held in Southern Vietnamese province of Tay Ninh, Nam (world No. 496) met Yan Bai, ranked 224 in ATP rankings. The No. 1 Chinese seed started the match impressively, but could not hold back Nam's advance.
In the first set, Yan Bai took the upper hand to lead 4-0, but after that, the host player understood more about the opponent's style and played more cautiously. Shortening the gap to 2-4, 3-5, and then 5-5, Hoang Nam changed from passive to active, pushing the match into a tie-break series, in which the Tay Ninh native excellently won 7-3.
In set 2, Nam began excitedly to soon lead 4-1. However, Yan Bai showed the class of a player who once ranked 109th in the world and has participated in Grand Slams. The 1989 born won five games in a row to come from behind and beat Nam 6-4 in set 2, thereby levelling the score 1-1 after two sets.
In the deciding third set, Nam showed his determination, but his opponent fought back in the ninth game. However, the cheers of the home fans helped Nam to play impressively in the deciding game which followed to finally win 6-4.
Beating the top seed 2-1 after 2 hours 35 minutes, Hoang Nam progressed to the final of ITF World Tour M25. It is the biggest victory in the career of the 1997 born star as he beat the player ranked 224 in the world.
In the championship match, Nam will meet Daniel Nguyen on Sunday. The Vietnamese American overcame Japan's Zakuri Nishiwaki (No. 863 in ATP rankings) 6-2, 6-3 in the other semi-final earlier. Nhan Dan