The organisers of the V.League 1 have announced the first round of fixtures next weekend will take place behind closed doors.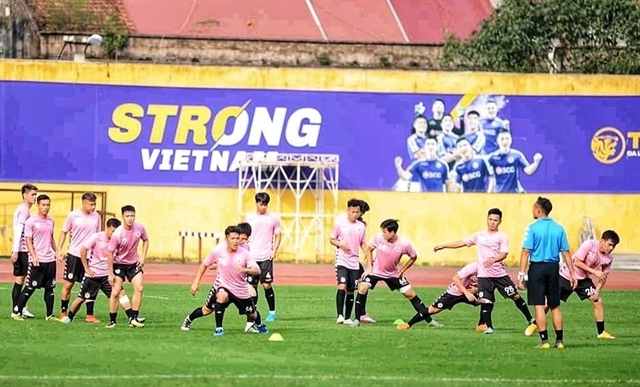 Hà Nội FC players practise at Hàng Đẫy Stadium for the Super Cup match. — Photo vov.vn
 Chairman of the Vietnam Football Joint Stock Company (VPF) Tran Anh Tu told online newspaper VnExpress yesterday the decision to ban spectators had been made to ensure safety amid the ongoing deadly coronavirus outbreak.
He said the VPF would continue to monitor the situation to determine if fans could attend upcoming matches.
The move came after the curtain-raiser National Super Cup faced the same fate.
The match between V.League 1 champions Hà Nội FC and National Cup runners-up HCM City will take place tomorrow at Thống Nhất Stadium in HCM City.
"The Super Cup match will be high-quality and may attract thousands of supporters who have been waiting to see it for a long time," said Lê Xuân Sơn, head of the organising board.
"However, due to fears of spreading COVID-19, we have to put the health of supporters as the top priority in this case. The match will be played without spectators," said Sơn.
"However it will still be live aired on VTV6 to serve people's demand," he said.
He added the organisers may allow up to 100 supporters of each team to attend but they must submit to strict rules and the care of the organisers.
Việt Nam Professional Football Company General Director Trần Anh Tú said it was a decision out of football officials' control and hoped supporters would still enjoy watching the match on TV.
Hà Nội players arrived HCM City yesterday and will have one day to train ahead of the game.
The champions brought their best players including midfielder Nguyễn Quang Hải and defender Trần Đình Trọng, though neither have totally recovered from injuries.
Their chance to play is unclear and will be decided after their last training session today.
Speaking with media, Trọng said his team should keep a close watch on national striker Nguyễn Công Phượng, who scored in both of City's first matches in the AFC Cup.
His teammate Đỗ Hùng Dũng agreed but didn't hesitate to note Phượng's weaknesses.
The national team midfielder said Phượng was a sharp goal hunter and should be in good form after two AFC Cup goals, but sometimes he was too confident and tried to do too much before shooting, making him less potent than he should be.
While Hà Nội have retained most of their team after winning the V.League 1 title last year, HCM City shopped a lot to prepare for the coming season.
Phượng is one of the newcomers. The others include goalkeeper Bùi Tiến Dũng, midfielder Võ Huy Toàn and Brazilian midfielder Alex Lima.
The southern side have ambitious goals for the year and plan to challenge for silverware domestically and in the AFC Cup, with Sunday's match a chance to kick things off with their first-ever Super Cup title.
The winner of the match under FIFA-qualified referee Ngô Duy Lân will receive a trophy and VNĐ300 million while the loser will earn VNĐ 200 million.
After 20 editions of the event, 12 teams have won the Super Cup. Among them, Sông Lam Nghệ An and Becamex Bình Dương have grabbed four each, while Hoàng Anh Gia Lai and Hà Nội have two triumphs. — VNS

VFF and VPF have decided to reschedule V-League round 25 to give the Vietnam national team more time to prepare for World Cup 2022 qualifier.