Park Hang-seo is facing a crisis in Vietnam's defence ahead of the 2022 World Cup qualifying match against Malaysia at the end of this month.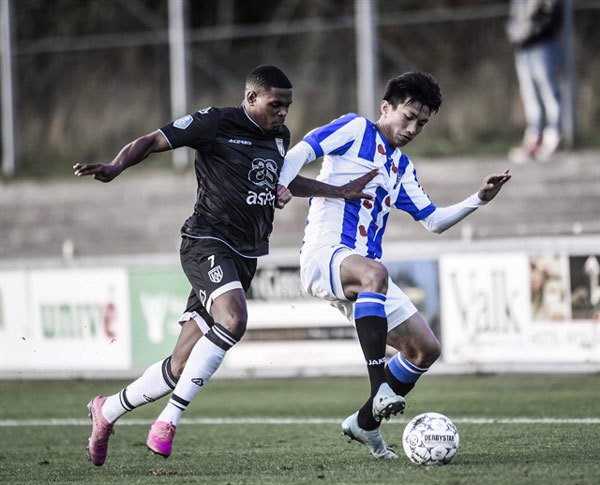 Defender Doan Van Hau (right) has suffered a knee injury, lengthening Park Hang-seo's list of injured players ahead of the 2022 World Cup qualifier on March 31. Photo courtesy of SC Heerenveen
In the latest blow to the South Korean, left-back Doan Van Hau suffered a knee injury when he was playing for SC Heerenveen's Jong Heerenveen during the Dutch tournament for junior teams yesterday.
Hau was injured during a challenge with a player of Jong Wilem II in the 16th minute.
"I tried to take the ball away and my leg was twisted. It is pretty hurt. I have to wait for the doctors to check," Hau said after the game.
The injury to Hau came after his fellow defender Do Duy Manh tore a knee ligament playing for Hanoi FC in the Super Cup final on Sunday.
Hau, who has spent virtually the entirety of his six-month spell in the Netherlands on the bench, needs time to see if he can recover in time for the March 31 match but Manh will definitely miss out and could be facing nine months on the sidelines.
Earlier, Park lost key defenders Tran Dinh Trong and Nguyen Trong Hoang due to suspension. Hoang got two yellow cards in previous matches of the World Cup qualifying campaign while Trong received a needless red card in the Asian U23 Championship in January.
Vietnam also face difficulties in goal.
No 1 goalkeeper Dang Van Lam has been benched for two matches in a row after his Muangthong United lost their first two games in the Thai League. This has never happened to the Vietnamese-Russian since he joined the team last February.
Meanwhile, his substitute Bui Tien Dung, who is the first shot-stopper of the U23 squad, has had a mistake-filled started to the season for club side HCM City FC, with his errors leading to goals in their 3-2 win away to Hougang United FC in the AFC Cup and their 2-1 defeat in the Super Cup to Hanoi on Sunday.
Among the regular starting defence, only captain Que Ngoc Hai and defender Bui Tien Dung are ready for national service. However, they have not played a competitive match since last November.
During coach Park's two-year reign, he has rarely changed his defence except in unavoidable situations.
In 12 matches from the 2019 Asian Cup, the King's Cup and the ongoing qualifiers, the South Korean almost kept the same defence and only brought in Nguyen Phong Hong Duy and Vu Van Thanh for run-outs.
This stability has helped Vietnam have the best defence and lead Group G. However, he must seek suitable replacements now.
Duy and Thanh, both from Hoang Anh Gia Lai, will likely get oportunites to shine, as could Nguyen Thanh Chung and Bui Hoang Viet Anh of Hanoi.
Chung is renowned for his prowess in the air and was a member of the Vietnam squad at the continental U23 tournament and the 30th SEA Games.
Anh first played for Park against the UAE at the Asian U23 tournament. He also replaced Manh in the Super Cup and his coach Chu Dinh Nghiem said he did a perfect job. Earlier, the 20-year-old was skipper of the national U19 squad.
Other players that may get a look-in include Dang Van Toi (Hanoi), Huynh Tan Sinh (Quang Nam) and Nguyen Duc Chien (Viettel) although they lack experienced at the international level.
Park will announce his final squad in the next three weeks and they will gather for training on March 21 in Binh Duong Province.
They will have a friendly match versus Kyrgyzstan at the Go Dau Stadium on March 26 before leaving for Kuala Lumpur.
However, the Asian Football Confederation will work with the world football governing body FIFA this week to discuss the effects of the novel coronavirus outbreak on the qualifying matches, with postponement a possibility. VNS

Vietnamese footballer Doan Van Hau recently played in his third consecutive full match for Jong Heerenveen in the Dutch KNVB Reserve League as the defender greatly contributed to his side's 2-0 win over Jong Venlo.  

Defender Do Duy Manh of Hanoi FC on Monday expressed his regret after suffering a serious knee ligament injury in his side's National Super Cup win on Sunday.