The Vietnam Hockey Festival is moving back to HCM City after being held in the former Hockey Centre in Long An Province for the past several years.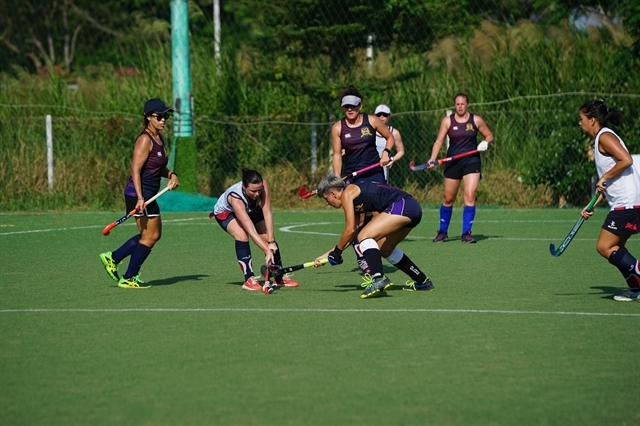 Players compete in the Việt Nam Hockey Festival last year. This year, the event will attract 25 teams from seven countries. — Photo courtesy of the organising board
The 12th edition of the traditional field hockey tournament will take place at Phú Thọ Stadium in HCM City on November 16-17.
A total 25 teams from seven countries and territories will compete. They come from Singapore, UAE, Thailand, Chinese Taipei, Australia, Malaysia and Việt Nam.
President of the HCM City Hockey Federation (HHF), Nguyễn Hà Trường Hải, sais he is happy that this year, eight Vietnamese teams will compete.
"The steady work together with universities and local teams shows a growing number of Vietnamese teams in the tournament each year.
"With the festival, we want to show to everyone hockey is a fun sport, a great work out and brilliant opportunity to network between different countries and cultures," he said.
James Chew, member of the organising board of the Việt Nam Hockey Festival, said he was happy the games could move back to HCM City.
"As good as the hockey facilities in Long An are, playing this competition in the heart of HCM City makes it easier for us and especially interested Vietnamese players to join," Chew said.
All spectators are welcome. There is no entrance fee to watch the matches.
The festival, which is also known as the Việt Nam Hockey Sixes, is an outdoor six-a-side event played on artificial turf pitches, using modified indoor hockey rules.
The Việt Nam Hockey Sixes is endorsed by the Asian Hockey Federation, HCM City Sports Centre and Việt Nam National Olympic Council.
Việt Nam participated in their first ever Hockey World League in April 2016 in Singapore, Southeast Asian (SEA) Games (Yangon) 2013 and SEA Games (Kuala Lumpur) 2017. — VNS