Vietnam lost 2-3 to Russia in the knock-out stage at the FIFA Futsal World Cup 2021 Cup 2021 in Lithuania on September 22.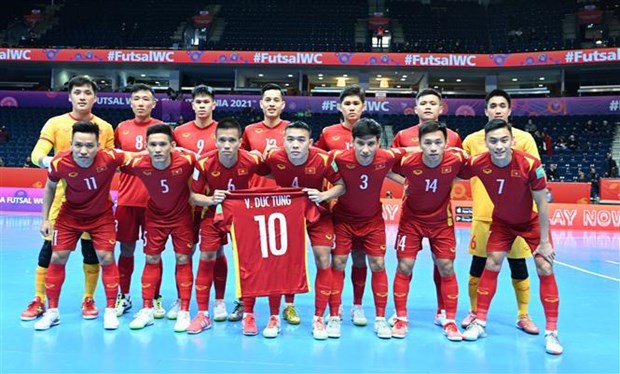 Vietnam loss to Russia in the Futsal World Cup knock-out stage. (Photo: VNA)
In the 11th minute, Robinho opened the score for Russia in a comfortable position.
Seven minutes later, Russia found the net again as Ivan Chishkala finished through the legs of keeper Ho Van Y.
Just a few seconds after conceding, Nguyen Dac Huy narrowed the scoreboard to 1-2.
In the second half, Russia continued to put pressure on Vietnam. In the 30th minute, Chishkala finished in the far corner to score the third goal for Russia.
When it's only six minutes left, Vietnam switched to power-play. In the 39th minute, Pham Duc Hoa won the ball right in Russia's box and quickly took a shot to make it 2-3.
Overall, Vietnam lost 2-3 in the game that they played really well against a much stronger Russia, who finished as runners-up at the last Futsal World Cup 2016 in Colombia.
However, Vietnam have shown how much they have improved, causing many troubles for Russia./.
Source: VNA