Nguyen Tien Minh, Vietnam's top badminton player, endured an early exit at the BWF World Championships which are currently underway in Basel, Switzerland.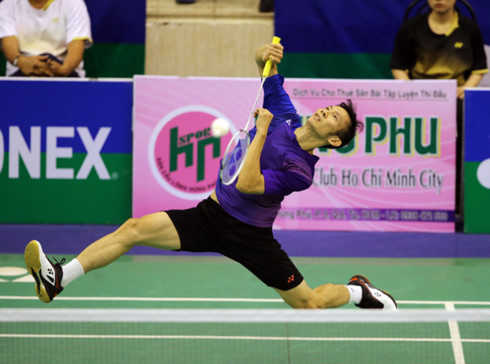 Vietnam's top badminton player Nguyen Tien Minh
During the first round of the men's single event on August 19, Minh, world No.59, faced off against strong Chinese opponent Lin Dan, world No.17.
Things appeared to be going to plan for Tien Minh who successfully controlled the first set and beat Lin Dan 21/16.
The Chinese player upped his game during the second and third set, winning with a score of 21/12.
Due to the disappointing result, Minh has lost his chance to get a ticket to enter the second round.
Elsewhere in the tournament Pham Cao Cuong, World No.105, also suffered a 2-0 defeat at the hands of Kento Momota of Japan, world No.1.
In the women's single event, Vu Thi Trang, world No.72, earned a slot to compete against Line Kjaersfeldt of Denmark, world No.17, after recording a victory 2-0 over Kristin Kuuba.
Meanwhile, Nguyen Thuy Linh, world No.49, is set to take on Lianne Tan of Belgium, world No.50, in the first round with the tie set to take place today.
In the doubles' event, Vietnamese pair Do Tuan Duc and Pham Nhu Thao, world No.55, also secured a ticket to progress to the second round after recording a 2-0 victory over Smiloski and Swierczynska of Poland, world No.58. VOV