Le Quang Liem, the nation's highest ranked chess player, earned a draw during the third match of the ongoing Belt and Road China Hunan International Chess Open 2019 in China.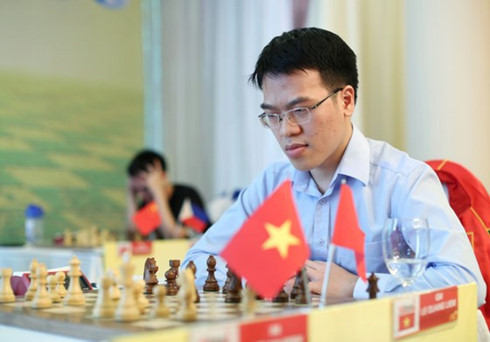 Vietnamese super grandmaster Le Quang Liem
Liem, Elo rating 2713, struggled to find any advantageous openings during his encounter with his Chinese rival, Elo rating 2516, which saw him implement a defensive strategy. The two players agreed that the tie had concluded in a draw after 43 moves.
The result represents the third draw which Liem has taken part in against Chinese opponents, who have an Elo rating of approximately 2500.
Elsewhere, Vietnamese grandmaster Nguyen Ngoc Truong Son, Elo rating 2636, controlled the third game against Surya Ganguly of India, Elo rating 2638, after having the disadvantage of holding the black pawn. Despite this, he was able to hold Surya Ganguly to a draw after 38 moves.
After three matches played at the tournament, only Bulgarian chess player Ivan Cheparinov, Elo rating 2666, has enjoyed three consecutive wins. Truong Son finds himself in Group 2 with 2.5 points along with eight other players.
Son is set to take on Spanish chess grandmaster Vallejo Pons, Elo rating 2687, while Liem will face off against a Chinese-Australian player, Elo rating 2529, in the tournament's fourth round of fixtures, slated for August 1.
The tournament sees both Liem and Son compete in Group A alongside other players with an Elo rating above 2400.
The competition's overall winner will receive a cash prize of US$50,000.
In Group B, female Vietnamese player Pham Le Thao Nguyen has so far earned 3.5 points, ranking 12th.VOV

Vietnamese grandmaster Nguyen Ngoc Truong Son enjoyed a straight-forward victory during the second match of the Belt and Road China Hunan International Chess Open 2019 in China.