Vietnam will send a delegation of 856 members, including 28 officials, 22 physical therapy technician and 803 experts, trainers and athletes, to the upcoming 30th Southeast Asian (SEA) Games in the Philippines.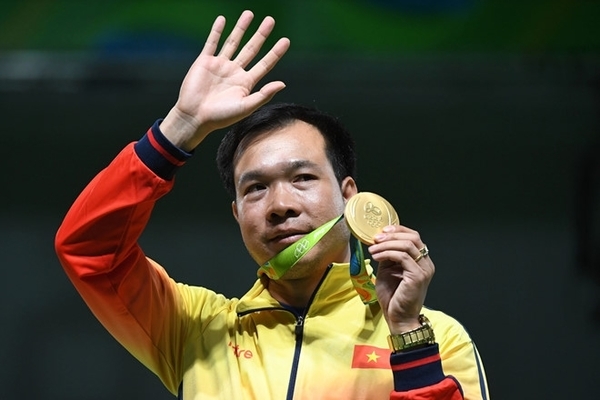 The sport contingent has been established pursuant to the Decision No. 3541/QD-BVHTTDL issued by the Ministry of Culture, Sports and Tourism on October 11, 2019. Accordingly, Tran Duc Phan, Deputy Director of the General Department of Sports and Physical Training, has been appointed as the head of the delegation.
Vietnamese athletes will compete for medals in 43 of the total 56 sport events, including track and field, swimming, shooting, gymnastics, weightlifting, taekwondo, archery, judo, cycling, boxing, karate, wushu, wrestling, pencak silat, petanque, football, volleyball, table tennis, tennis, sepak takraw, billiards, badminton, chess, rowing, canoeing, aerobic, diving, artistic gymnastics, handball, golf, jujitsu, muay, arnis, kurash, dance sport, kick-boxing, bowling, sambo, triathlon (swimming-cycling-running), basketball, eSport and stakeboarding.
The track and field team see the most members with 60, consisting of 46 athletes, with Asian Games champion Bui Thi Thu Thao (long jump) absent from the list due to injuries.
Swimming star Nguyen Thi Anh Vien remains among Vietnam's largest gold-medal hopes in the Philippines. At the previous Games two years ago, Vien swept a sparkling tally of eight gold medals.
In shooting, 2016 Olympics champion Hoang Xuan Vinh continues to shoulder the mission of securing golds for the homeland. Meanwhile, Nguyen Thi That is Vietnam's golden hope in cycling.
The Ministry of Culture, Sports and Tourism has also assigned the gold-medal target to the men's and women's football teams. Earlier, Minister Nguyen Ngoc Thien directed the Vietnam Football Federation to focus all resources in the goal of quenching the country's long-lasting thirst for the SEA Games men's football title.
The 30th SEA Games is scheduled to take place between November 30 and December 11, with the men's football event commencing on November 25. Nhan Dan

Vietnam have been drawn into the "death group" at the upcoming 30th Southeast Asian (SEA) Games in the Philippines, which features the presence of reigning champions Thailand, Indonesia, Laos, Singapore and Brunei.

Following are some of the best wushu taolu artists in Vietnam and the wushu taolu team's preparations for the upcoming SEA Games 30 which will take place in the Philippines in November and December.