Vietnam defeated Australia 2-0 in the opening match of the AFF Futsal Championship in Ho Chi Minh City on October 21.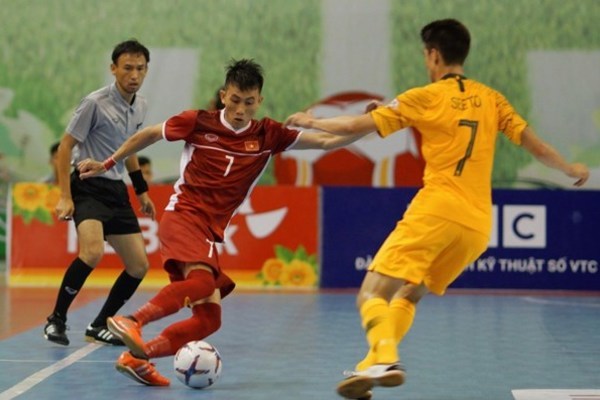 Vietnam (red) defeated Australia 2-0 in the futsal match in HCM City on October 21
Nguyen Manh Dung and Nguyen Minh Tri scored in the second half of a match whichwas dominated by the hosts from the beginning.
The Vietnamese made many chances from the first whistle but couldn't covert.Among them, Chau Doan Phat's header hit the bar while Tri's close-range shotfailed to beat goalkeeper Gavin O'Brien.
In the eight minute of the second half, Dung took the ball from a free-kick andopened the scoring with a long-distance shot.
The Australians pushed the tempo after but they could not breach the Vietnamesedefence.
Tri doubled the score with a penalty in the 37th minute.
It was the first time that Vietnam beat Australia in an official tournament.
In the early match of Group B, Indonesia beat Malaysia 3-2 at Phu ThoGymnasium.
Indonesia will play Vietnam in the next match, which assistant coach KensukeTakahasi said would be a difficult game for the Indonesians as Vietnam have agood coach and experienced players.
In Group A fixture, Myanmar crushed East Timor 6-1 while Thailand trouncedCambodia 12-0.
The regional tournament is a qualifier for the Asian championship in 2020. Itwill wrap up on October 26 with the three top teams gaining berths in thecontinental event.
The Thais have won the regional tournament 13 times in 15 editions. Indonesiaand Australia have on each.
Vietnam's best result is two second-placed finished in 2009 and 2012./.VNA