Three young Vietnamese artists won prizes at the Mnet Asian Music Awards (MAMA) 2020 on Sunday night in Seoul.
Rapper Binz Da Poet was named 'Best Asian Artist Vietnam', while singer Amee was honoured as the 'Best New Asian Artist Vietnam', and Quang Dang won 'Best Choreographer of the Year' at the event that was livestreamed due to the COVID-19 pandemic.
In a short video posted on his Facebook page after winning the award, the rapper known in Việt Nam's underground scene with viral songs such as OK, Gene, So Far, Krazy and Sao Cũng Được (Whatever), said he was thrilled to receive the award.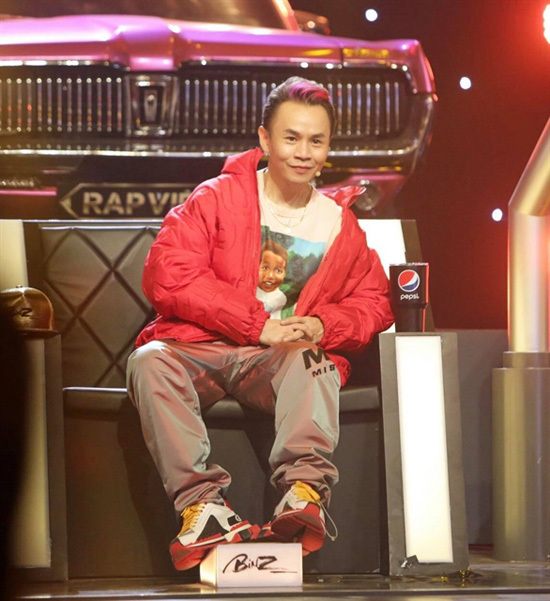 Rapper Binz has been named 'Best Asian Artist Vietnam'. Photo from the Binz da poet Fanpage
"My new top here is right now because only in this very moment we exist and so I could share my wonderful joy with this award with you all around the world," said the rapper.
Binz, whose real name is Le Nguyen Trung Dan, was born in 1988 in the Central Highlands province of Gia Lai. The rapper and producer spent a few years living and working in Texas, US, before coming back to Vietnam in 2008 to join the local music scene.
Binz has had an extremely successful 2020. Alongside his smash hit Bigcityboi topping 67 million views on YouTube alone, the rapper also is one of the coaches of the high-rating Rap Việt – Vietnam's first competitive reality TV show seeking talented rappers.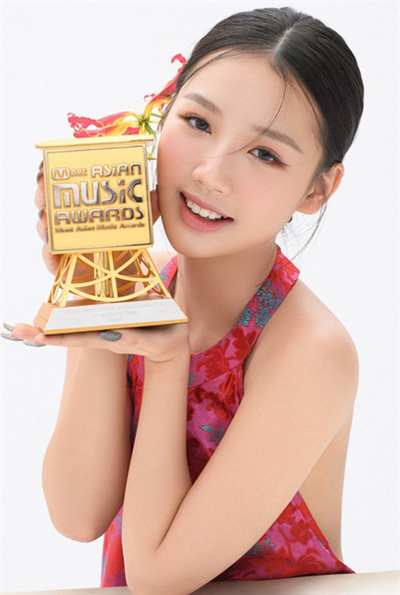 Amee is the youngest Vietnamese artist winning the MAMA award. Photo courtesy of the artist
The 20-year-old Amee is the youngest Vietnamese artist to win a MAMA award.
A Hanoi native, Amee, whose real name is Tran Huyen My, left for HCM City when she was 15 years old to become a singer for St. 319 Entertainment.
The young singer has scored some hits such as Anh Nhà Ở Đâu Thế? (Where Is Your House?), Đen Đá Không Đường (Black Iced Coffee without Sugar) and Sao Anh Chưa Về Nhà? (Why You Don't Come Home Yet). At the Devotion Music Awards 2020 in March, she won 'New Artist of the Year'.  
Wearing an outfit inspired by the traditional bracelet of Vietnamese women, Amee said in a video clip: "I'm happy that my efforts and St. 319 Entertainment have been recognised not only domestically but also overseas. I'm a big fan of K-pop, so for me, the MAMA award is a dream. I am proud to be able to introduce to Asian audiences not only Vietnamese music but also the beauty of its traditional culture."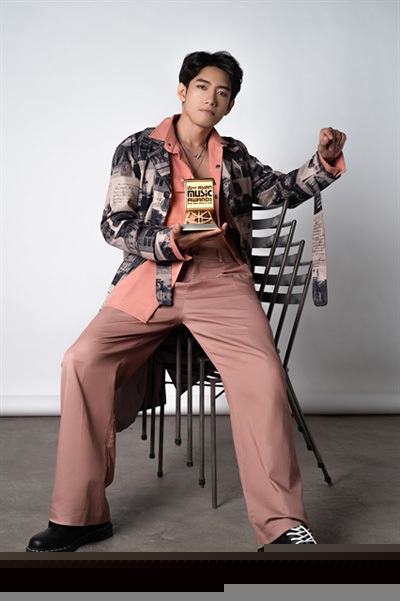 Quang Dang won the 'Best Choreographer of the Year'. Photo courtesy of the artist
The 'Best Choreographer of the Year' award, which was handed out for the first time in the 21 year history of the MAMA, was given to Quang Dang thanks to his dancing together with LifeDance group in the music video Love Note by Binz ft. Min.
"I was very surprised when I was informed that I had won this award, which is the biggest and most honourable I've ever gained in my career. I would like to say thank you to my audience for their love and support and to the LifeDance group who are always by my side to create such beautiful results."
Earlier, in February, the Handwashing song by songwriter Khac Hung and its accompanying dance choreographed by Dang went viral on social media after it was featured on HBO's comedic news show Last Week Tonight, during which host John Oliver called it a "genuine club-banger".
UNICEF also shared Dang's handwashing dance video in a post on March 3, stressing to people that washing their hands with soap and water is one of the first steps in protecting themselves from coronavirus.
Born in 1989, Dang was a member of the Bước Nhảy dance group. In 2012, the dancer was the runner up of So You Think You Can Dance. He has worked with many popular singers in their acts and music videos. The LifeDance group that he founded competed in Asia's Got Talent 2019.
MAMA is an annual prestigious music award initiated by South Korea company Mnet Media in 1999. Since 2009, the awards have been given to 10 artists from 10 nations and territories in Asia. VNS

Young songwriter and singer Jack will be the representative of Vietnam at the MTV Europe Music Awards (EMA) Best Southeast Asia Act 2020 event.

Popular singer Hoang Thuy Linh been named Best Asian Artist Vietnam at the Mnet Asian Music Awards (MAMA) 2019.