Ninh Duc Hoang Long has written his name in Vietnam's opera history by becoming the first Vietnamese tenor to take a main role in a world classical opera on the stage in Europe.
He speaks about his deep passion for opera and his efforts to reach the hearts of both audiences and experts in the field.

Ninh Duc Hoang Long has been called an "opera phenomenon" by local and international experts. Photo courtesy of Ninh Duc Hoang Long's facebook

Ninh Duc Hoang Long has played the role Nemorino in the well-known Italian composer Gaetano Donizetti's L'elisir d'amore opera. He performed with world-famous soprano Erika Miklósa, who played the main female role of Adina, a wealthy young woman in the opera.
L'elisir d'amore (The Elixir of Love) is a comic masterpiece in two acts by Italian composer Gaetano Donizetti that premiered in Milan in the early 19th century. It was an instant success and became Donizetti's most popular opera. The opera has been performed by the Hungarian State Orchestra in Romania and Hungary.
How did you get the chance to play the main role in L'elisir d'amore?
It was such a surprise and joyous that the Hungarian State Opera's director Szilveszter Ókovács, also head of the judge boards of the two contests of the 9th József Simándi International Singing Competition, which I won first prize in, chose me. I never dared to dream about being able to take a supporting role, let alone the main role in the opera. All around me are famous artists who have 20 or 30 years of performing experience, not like me – a new graduate.
The Hungarian State Opera's L'elisir d'amore tour has been held on a large scale in eight cities in Romania with more than 200 big talents. I have performed at four main cities among those.
How do European audiences react to you, an opera singer coming from Asia playing a main role in a classical opera?
During a night show, in one moment, I recognised I was the only Asian among 2,000 Hungarians in the crowd. At first I felt pressure, but later I found out some of them were the people who sent me a lot of love after Hungary's Virtuózok Classical Talent Show 2018. I got back my breath and performed successfully. After the show, many came to congratulate me, and said that when they closed their eyes, they couldn't tell it was a Vietnamese singing in their mother tongue. It was the biggest thanks from them to me.
However, there remain some who don't accept foreign or Asian artists on their stage. Our job is step by step to win their hearts with more hard work.
How significant is taking main role in an opera for an opera singer?
I feel so lucky when opportunities are given to me, a foreign artist.
Taking the role Nemorino in the opera is an important landmark in my professional singing career. It gives me a chance to sing other operas in other theatres, not only in Hungary but across the world.
What are differences between an Asian and a European when singing in an opera?
Many tenors from Asia like South Korea and China have beautiful voices and in my opinion, sometimes their voices are more beautiful than Europeans. Although Vietnamese are weaker in terms of physical strength, but I think we can sing as well as they do.
However, we lack the cultural background for classical art, while operas and classical music are a normal thing for them since they are very young.
You signed up to learn Hungarian at the Balassi Institute in 2013. How challenging was it to learn this new language?
When I first arrived here, I had to study Hungarian language and literature, history and social studies. I learned a lot about Hungary. I got to meet some really nice teachers. I love the country and the people who live here.
You have mentioned before how thankful you are for your teachers. Could you say something about them?
I had some very good teachers at home, too. There is a Vietnamese proverb that says that if you do not polish your precious stones, they will not become beautiful. That is why I moved here. I wanted a new start and soon I began studying with my teachers Atilla Kiss B. and Dalma Cseh. They are the ones giving me a clean slate.
They share their knowledge with me not only about music but also about life. They teach with all their hearts, I could not have done this without them.
What was your first thought when you saw Erika Miklósa crying after your performance in Virtuózok?
When I was singing in front of the judges, I already knew Erika Miklósa was a legend, the famous Queen of the Night. When I saw her crying, I was so happy, because I understood that I had managed to form a connection with her soul. My only fear was that I would forget the lyrics.
Is it tough to perform opera in Hungary?
It's said that very few students can pass the exam to study opera. The Budapest Franz Liszt Academy of Music where I'm studying in the opera master's programme is an example. Every two years, there are only five students who pass the exam to study the opera master's programme at the academy. And not all graduates are invited to perform with the Hungarian State Opera. Selection is very harsh. Sometimes, they get only three among 30 graduates. Hungarian artists are no exception if they are not good enough.
It was so difficult for me to study opera when I first came to Hungary. I had to study again, from zero. Sometimes I wanted to cry because it was so difficult. I had no way but to try my best. If others studied once, I had to study twice or three times as much.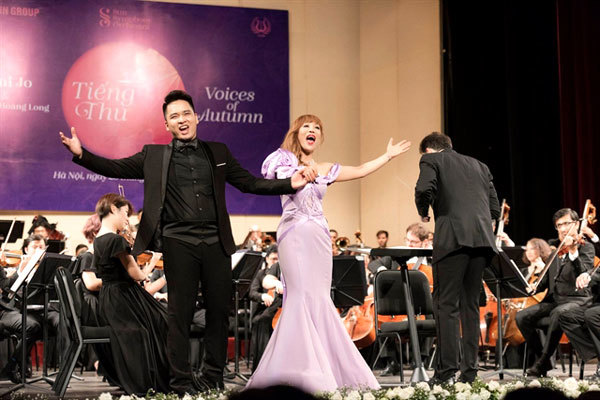 Ninh Duc Hoang Long (left) performs together with Grammy Award-winning soprano, Sumi Jo in Tiếng Thu (Voices of Autumn) in Hanoi Opera House. Photo courtesy of Ninh Đức Hoang Long's facebook
 
How do you feel about winning local and international prizes, and taking the main role in well-known opera in a high-ranking theatre in Hungary?
Actually, I think about other bigger targets to aim for, not the success I have reached. Never measure the height of a mountain until you reach the top. Then you will see how low it was. I remember someone said that.
Will you come back to Vietnam to work?
I think I want to study and work where I can fully develop myself. When I get success, I'll turn back to support and help the next generations.
A friend of mine from South Korea has organised many training courses and awarded scholarships for many South Korean students. I think it's a good way and I'll follow her. 

Vietnamese tenor Ninh Duc Hoang Long (aka Ninh Long or Jancsi Long) was born into a family with art traditions in 1991 in the northern province of Ninh Binh. His father is a poet and playwright and his uncle is a composer. Although his mother doesn't work as a professional singer she possesses a good voice. However, he was not encouraged to pursue art initially. He persuaded his parents to let him sit the entrance exam to the Việt Nam National Music Academy.
Long performed on various local stages since from a very young age, but never thought seriously about singing as a career. Only after being discovered and motivated by teachers at the academy did he find a deep passion for music.
During two years studying at the academy, he achieved good results and scholarships for his talent. With the support of his teacher, People's Artist Trung Kien, he was sent to Hungary in 2013 for more professional training where he joined many shows and won prizes.
In 2016, he won the first prize of Category II (up to 26 years old) at the 9th József Simándi International Singing Competition in Hungary.
In 2017, he appeared in a performance of Bellini: I Puritani at MUPA Palace of Art, Budapest and at the Pecs National Theatre.
In 2018, he won the first prize of Category III (up to 36 years old) at the 9th József Simándi International Singing Competition.
An audience favourite, he was the Age Group winner of Virtuózok Classical Talent Show 2018, Season 4.
He also works part-time as a reporter of Vietnamese Television in Hungary.
He was invited to perform at a meeting between Hungarian Prime Minister Viktor Orbán and Vietnamese General Secretary Nguyen Phu Trong together with his senior delegation at Hungarian Parliament Building in 2018. On the occasion, Hungarian President Janós Áder recognised Long as a citizen of Hungary.
 VNS

The HCM City Ballet Symphony Orchestra and Opera (HBSO) will stage the crime opera Yesterday's Memory at the HCM City Opera House on November 17.

A concert featuring Vietnamese and Japanese talents and the National Symphony and Orchestra (VNSO) will begin on August 9 at the Hanoi Opera House.