The renowned Paris-based violinist Nguyen Huu Nguyen will lead a concert on March 14 in which the HCMC Ballet, Symphony Orchestra and Opera (HBSO) will present chamber and string orchestra music under the general title of Divertimento.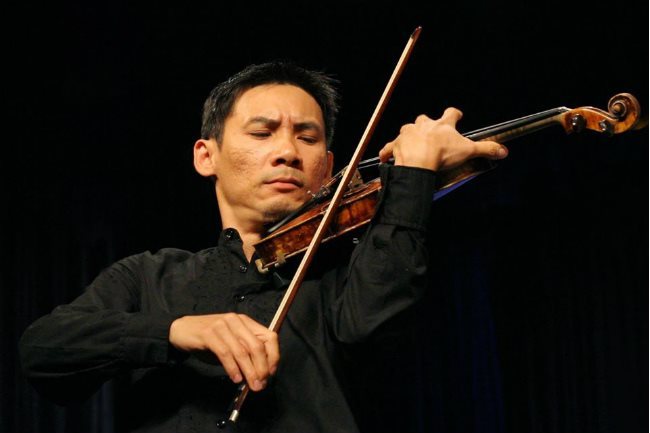 Violinist Nguyen Huu Nguyen - PHOTO: HBSO
The first item will be Mozart's Divertimento in D. This was written when he was only 16 but was already Court Concertmaster to the Prince-Archbishop of Salzburg, Mozart's hometown.
Sometimes referred to as his Salzburg Symphony Number 1, this is one of a set of pieces that could be played either by a string orchestra or (as it will be in Saigon) a string quartet.
Its brilliant virtuosity and inventiveness have earned it the accolade of a "masterpiece of masterpieces."
Next will come a Haydn string quartet. The string quartet has now become the dominant, most prestigious form in chamber music, and its enhanced status began with Joseph Haydn.
After an intermission we will hear Antonio Vivaldi's Concerto for Two Violins, Cello and String Orchestra. The red-haired priest was a native of Venice and composed an enormous amount of music.
One critic has enthused "Exhilarating virtuosity is demanded from all three soloists as they propel this concerto to a decisive conclusion. One can easily hear why Bach was so enamored of this work". Johann Sebastian Bach had transcribed six of the 12 Vivaldi concertos contained in a set entitled L'estro armonico, or Harmonious Inspiration.
The work offers "a unique structure and passionate music to fill it," writes the same critic.
It opens with the three soloists playing alone, with the violins eventually playing a melody which is taken up by the cello. Then follows one of the few full-blown fugues in Vivaldi's instrumental output.
The slow second movement, Largo, is a passionate lament, while the finale is a vigorous movement in "ritornello" form – music that has a recurring or "returning" theme, interspersed by other musical ideas.
Edvard Grieg's Holberg Suite completes the program. It was written in 1884 to commemorate the 200th anniversary of the birth of the Norwegian playwright Ludvig Holberg.
Grieg and Holberg were born in the same town, Bergen, and Grieg originally wrote the suite for solo piano. He performed it himself at the anniversary celebrations. But it was so successful that he made an arrangement for string orchestra, and this is the version we will hear in Saigon.
The work was deliberately composed in an old-fashioned style, that of the 18th century in which Holberg mostly lived. It consists of a prelude, followed by four dances.
Nowadays it could be called "neo-classical", like Prokofiev's First Symphony. The dances are a slow Sarabande, a fast Gavotte, a slow Air, and a fast Rigaudon.
The whole program is being led by Nguyen Huu Nguyen. He will play first violin in the Haydn quartet and doubtless appear prominently elsewhere as well.
Another eminent soloist will be the cellist, Meritorious Artist Nguyen Tan Anh. He will play the cello part in both the Haydn quartet and the Vivaldi concerto.
This, then, is an intensely attractive program, as varied as it is wide-ranging. Tickets are from VND300,000 VND650,000, with a special concession for students of VND80,000. The concert is in the Saigon Opera House and begins at 8 p.m. SGT
Bradley Winterton