The annual Viet Nam Book Day (April 21) kicked off yesterday in Hanoi with various activities at Thong Nhat Park and the National Library.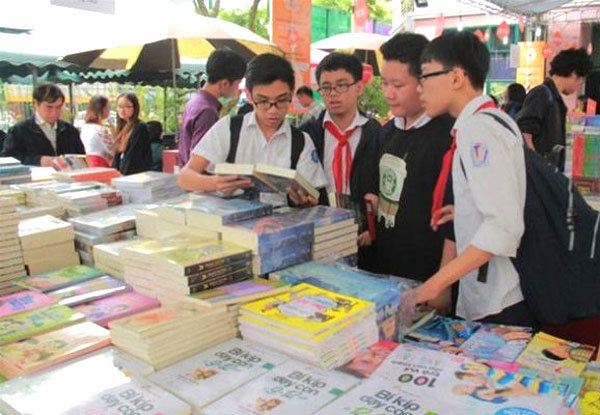 Books fairs tend to attract young readers. Concerned agencies have made many efforts to encourage people to read more. — Photo vtv.vn
A highlight of the day is the 6th Viet Nam Book Festival at Thong Nhat Park between April 18 and 22, gathering 100 book stalls from 37 publishers and 47 distribution units.
An exhibition themed Book – Knowledge Connecting and Development is open to the public at the National Library introducing the latest educational books from domestic publishers.
At the event, readers will be able to meet author and painter Trang Thanh Hien, who will introduce her book titled "Tranh Tết: Nét tinh hoa truyền thống Việt" (Tet Painting – An Essence of Vietnamese Traditions) by Thaiha Books. Guests will also be able to meet Prof Thai Kim Lan, who will launch her book "Mai Này Mưa Tạnh Trong Xuân" (Rain Stop Tomorrow in Spring) by Kim Dong Publishers.
At the library, there will be a painting contest themed Hanoi - City of Peace; a story-telling contest in Vietnamese and English and a fun quiz on authors and books.
A workshop to review five years of Book Day aiming to establish a learning society by the Government was held on April 17, where dozens of participants gave their opinions on measures taken so far and what remains to be done to promote reading culture.
Prof Nguyen An Tiem, from Vietnam's Publishers Association, stressed that the Central Party has paid attention to direct publishers and libraries to create a perfect process to develop reading culture in the country.
"However, people have been more and more worried over the downgrading of this habit," he said.
According to Nguyen Quang Thach, director of the Books for Rural Areas of Viet Nam Programme, efforts by both people and the State have helped change reading culture in rural communities.
"Yet the results are just the foundations of a house," he said. "The whole house means children are able to read books at school, at home; students of all learning levels have the chance to read 50-100 titles per academic year," he said.
"It means that all teachers and parents understand the importance of books to children and encourage them to read and learn from books.
"The house also includes thorough understanding by concerned agencies to improve people's awareness for a Vietnam with humanity and creativeness. It includes efforts by localities in mobilising people to create a reading encouraging ecology in every home, as well as schools in rural and urban areas," Thach said.
Tran Phuong Lan, an official from the Viet Nam National Library, said thanks to the efforts by the whole sector, Vietnam's library system has made more and more contributions to developing people's reading habit.
Lan suggested some solutions including investing more in information infrastructure for the National Library to ensure collecting and preserving digital data.
"The National Library should also enhance research activities, standardise the library profession and apply new technology in the operation of libraries throughout the country," she said.
Nguyen Ngoc Bao, deputy director of the Publishing, Printing and Distribution Department of the Ministry of Information and Communications, said in the past five years, the reading programme initiated by the Government has made basic changes in people's awareness of reading.
"Some 160,000 publications have been sold with 1.9 billion copies on book streets and in stores around the country," he said.
In Hanoi, various initiatives have been applied to promote reading like the Spring Book Street during the Lunar New Year, which has hosted not only talk shows on books but also acted as a cultural hub for locals and tourists.
Hanoi's Education and Training Department and Culture & Sport Department have organised contests to seek Reading Ambassadors in 2016 and 2018, attracting people's attention, he said.
Five years since the first Book Day opened in 2014, 95 per cent of libraries in Hanoi's schools have hosted various exhibitions and all libraries at primary schools have reading spaces outdoors.
According to statistics by the Ministry of Culture, Sports and Tourism, Ministry of Information and Communications and the Ministry of Education and Training, on average a person in Vietnam reads between 0.8 and 4 books each year including text books.
"A survey over the past 20 years conducted in rural areas shows that except families with members who work as teachers, in ordinary families, they scarcely read any books apart from text books and reference books," Thach said.
Since December 2015, the Ministry of Education and Training has developed "book shelf in classroom" models donated by parents at schools in provinces of Thai Binh, Nam Dinh, Dong Thap, and Phu Yen.
There have been 17,000 classroom book shelves in two provinces of Thai Binh and Nam Dinh alone.
During the Lunar New Year, Deputy Prime Minister Vu Duc Dam gave books as gifts instead of lucky money. He also encouraged students to use their lucky money to buy books and give books to friends as New Year gifts.
The Ministry of Information and Communications and Ministry of Public Security have launched a movement to give books as gifts during this year's Lunar New Year.
Thach said that the Ministry of Information and Communications should do frequent surveys to learn the number of books that people read per month, per quarter and per year, as well as the number of books stored at libraries at universities and communities to regulate the number of books equally between urban and rural areas.
VNS