Beating Indonesia to take SEA Games' gold medal after 60 years of waiting, Vietnam National U22 team have got a big bonus.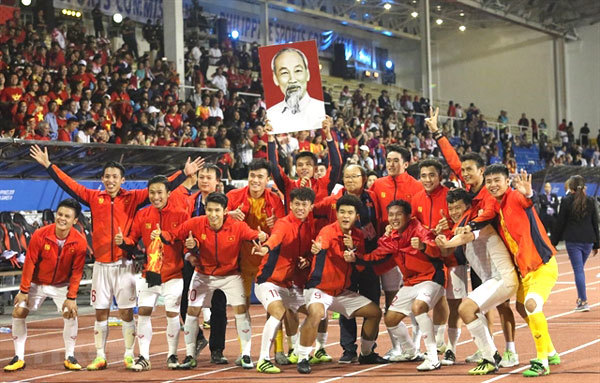 Vietnam national U22 team celebrate winning gold at the SEA Games 30. – VNA/VNS Photo Hoang Linh
Minister of Culture, Sports and Tourism Nguyen Ngoc Thien, Director Le Van Kiem of Long Thanh Golf Development Company, F.I.T Group, Vietcombank each awarded the team VND1 billion (US$43,500).
The Viet Nam Football Federation (VFF) immediately gave the team VND2 billion for the title. Earlier, it also awarded the team VND1 billion for the result of reaching to the semi-finals.
Hung Thinh Group pledged to give the players VND1 billion, coach Park Hang-seo VND200 million as well as the training board VND300 million.
They also grabbed VND1 billion from Metro Star brand name of C.T Group. This enterprise also gave defender Doan Van Hau VND200 million for the first goal in the final.
Meanwhile, Vinamilk gave the team VND500 million.
All the U22 footballers, Vietnam women's football team and the training boards will have free flights for a year from Bamboo Airways.
And this figure is likely to rise in next few days.
The historic SEA Games gold has made dreams of millions of Vietnamese football fans come true, as Vietnam finished second in 1995, 1999, 2003, 2005, 2007 and 2009.
"I want to dedicate this win for the Vietnamese people, the VFF, clubs and lovers of the team," said South Korean coach Park after the match.
"I also want to thank the footballers, training board, ordinances who contribute to the victory of Vietnam. The secret of winning the SEA Games is national spirit," Park added.
Today, U22 Vietnam and the national women's team will return home from Manila.
After two days of rest, U22 Vietnam will leave for the South Korea to train for the final round of AFC U23 Championship 2020 to be held in early January 2020 in Thailand. – VNS

Vietnam won the first-ever Southeast Asian (SEA) Games gold medal after defeating their Indonesian rivals 3-0 in the final match in the Philippines on December 10.

The Vietnamese women's national football team have been awarded a bonus totaling VND2.5 billion following their progression to the final round of the 30th Southeast Asian (SEA) Games 30.