The Vietnamese women's football team have refused an award of VND500 million ($21,739) offered by a local company after being offended by their requirements.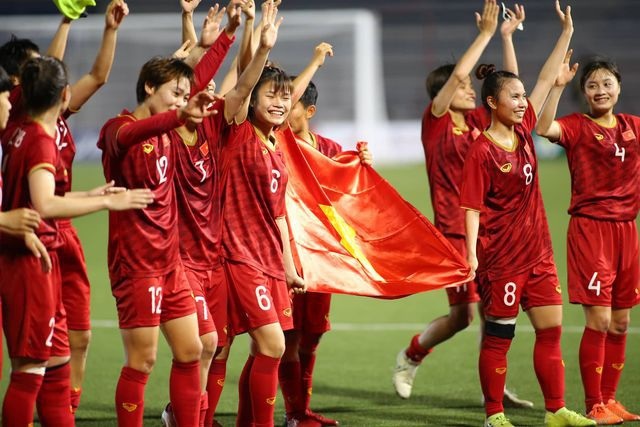 The Vietnamese women's football team at Sea Games 30 in the Philippines
According to the team, they had received VND23.5 billion (USD1.1 million) presented by local football authorities and various enterprises after winning a gold medal at the SEA Games 30.
"All the organisations and individuals who promised to give awards to us for the gold medal sent the money or gifts," head coach Mai Duc Chung said. "We were promised VND24 billion in cash but we refused to receive VND500 million from Duc Giang Chemicals Group due to their demands."
According to the coach, the company required the team to share a list of members who would receive the money before they send.
"We've received lots of bonuses and there have been no problems about how we shared them among team members so far," Chung said. "Everyone knows how much they and other members get and no one has complained or said it was unfair. So we feel hurt when seeing the company's requirements as it seems they doubt us."
The coach said this was the first time the team received such a requirement and they decided to refuse the award from the Duc Giang Group.
Speaking with the media, a representative from Duc Giang Group said that they had the right to know about how their money would be divided.
"We want to know how much coach Chung and each players will receive," he said.
It is said that after being criticised by the public about the requirement, the company tried to contact the football team to send the award but the team refused.
Head coach Mai Duc Chung displayed his sincere gratitude to benefactors and noted that the team were currently putting every effort into preparing for the 2020 Tokyo Olympics.
The Vietnamese women's football team are scheduled to compete in the final qualifying round of the 2020 Tokyo Olympics in the Republic of Korea from February 3-9, 2020. Vietnam has been placed in the same group as Australia, China, Thailand, and Chinese Taipei. Dtinews
Thuy Linh

The national women's football team which competed at the SEA Games 30 enjoyed being recipients of bonuses totaling VND22 billion during a ceremony held on December.

Vietnam's women football team has moved up two spots to rank 32nd globally and sixth in Asia with 1,665 points in the latest FIFA Women's World Rankings, according to the Vietnam Football Federation.