The Saigon Philharmonic Youth Orchestra (SPYO) will celebrate its one-year anniversary with a concert of operatic arias and piano solo featuring internationally acclaimed artists.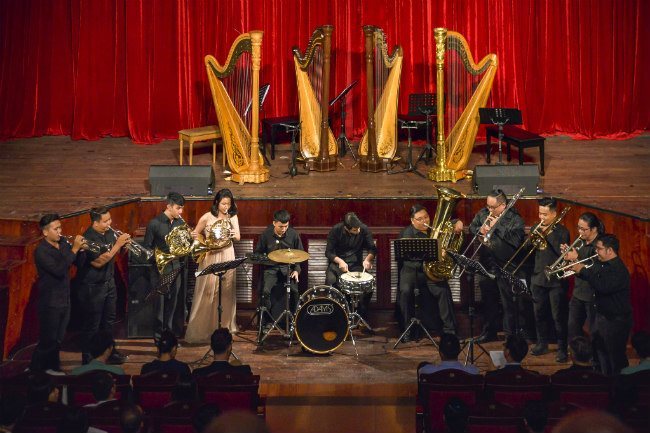 The Saigon Philharmonic Youth Orchestra performs in a concert - PHOTO: COURTESY OF ORGANIZER
Taking place at the HCMC Opera House on December 19, "A Night at the Opera" is the last concert of the orchestra in the country this year, before embarking on their tour across seven cities in Germany.
This is also an important event for the orchestra to connect donors, respected organizations and business leaders in HCMC to witness and contribute to the arts development of the country. By purchasing tickets to the concert, the audience is supporting the upcoming important tour, making dreams come true for the young generation of musicians of SPYO.
The concert will feature opera performances by world-class soloists. For the first time, the audience will enjoy a grandiose musical space of customs and traditions, filled with festivity, with a repertoire spanning from Romantic to Classical eras back in the 19th and 20th century. The concert is inspired by traditional European New Year concert style, which includes operas, instrumental music and piano solo.
The audience will be treated to the world's best-loved arias from operas such as "Die Fledermaus", "La Traviata", and "Lucia di Lammermoor", with the outstanding performances by renowned tenors and sopranos including Christopher Leung, Wesley Lam, Colette Lam, Jessica Ng, and director Leung Siu Kwan Cindy from Hong Kong, under the support of Hong Kong Arts Development Council.
One of the most expected musical pieces in the concert is the Piano Concerto No.2 by S. Rachmaninoff, which will be performed by young talented pianist Ta Quang Vu, who is now a student at the Moscow State Tchaikovsky Conservatory.
Especially, the event welcomes the highly acclaimed conductor Hans Richter, great grandson of Maestro Hans Richter of the 19th century. Together with distinguished soloists from Hong Kong, he will bring a glittering "A Night at the Opera" on stage of the HCMC Opera House.
The SPYO, established with an aim to train the young generation of musicians, gathers music students, young musicians, new graduates and talents from all over the country.
The orchestra has diversified the cultural and art activities in HCMC, contributing to the city's high quality concerts that have been both critically acclaimed and creative, such as Once Upon A Spring, Cinema in Concert, Dau An, Classical Meets Jazz, Hymns of Mother Nature, and A Story Told. SGT
Minh Tam