Vietnamese athlete Hoang Thi Duyen has achieved success at the 2020 Roma Weightlifting World Cup in Italy by winning three gold medals.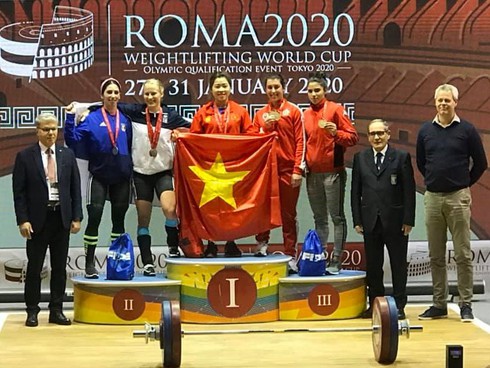 The local girl was competing in the final round of the women's 59kg category in group A on January 29, a category in which she dominated with lifts of 92 kg, 95 kg, and 97 kg.

Duyen continued putting in an outstanding performance in the clean and jerk section with the 24-year-old competitor being able to lift 116kg, three kg more than the athlete in second place.

In total, the Vietnamese athlete successfully lifted 213kg, winning three gold medals in all of her categories in the process. Her success could be seen as she lifted 14kg more than second-place Alemanno from host nation, Italy.

The nation sent five athletes to represent Vietnam at the 2020 Roma Weightlifting World Cup, with the competitors successfully bringing back 10 gold, two silver, and two bronze medals to the country.


Elsewhere, Thach Kim Tuan in the men's 61kg and Nguyen Tran Anh Tuan in the men's 55kg secured three gold medals each.
In the women's 45kg, Khong My Phuong achieved one gold and two silver medals, whilst in the women's 49kg, Vuong Thi Huyen secured two bronze medals. VOV