HCM City's theatres and theatrical producers are preparing for new projects in an aim to attract audiences back to the theatre when the COVID-19 epidemic ends.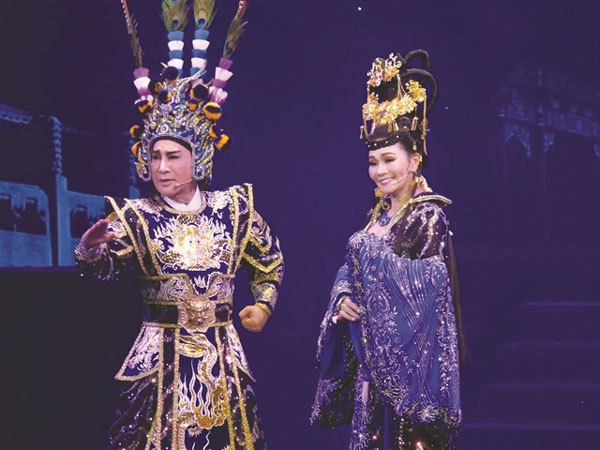 Cải lương star Kim Tu Long performs in his fifth and largest live show Thánh Đường Sân Khấu (Sanctum of Cai Luong) in HCM City in October. Photo courtesy of the artist
The city Department of Culture and Sports in collaboration with the Tran Huu Trang Cải Lương (reformed opera) Theatre is making plans for the annual Trần Hữu Trang Awards.
The award, which was first organised in 1991, is the most prestigious prize in cải lương. It honoured cải lương stars like Kim Tu Long, Vu Linh, Thanh Hang and Thoại My.
This year's awards is planned to open next month, attracting veteran performers like Meritorious Artists Le Tu and Que Tran as coaches.
Phan Quoc Kiet, the theatre's director, said: "Besides Tran Huu Trang Awards, the theatre is preparing to produce two new plays to serve audiences."
The theatre will work with regional private cải lương troupes owned by artists Vu Luan, Chi Linh – Van Ha, People's Artist Thanh Ngan and Meritorious Artist Thoai My to offer free shows to audiences after the epidemic ends.
The theatre has also invited experienced scriptwriter Hoang Song Viet to help to revive series Thắp Sáng Niềm Tin (Light of Hope) series.
The series was launched in 2004 to create opportunities for young performers to demonstrate their talent in new plays reflecting contemporary issues.
Kiet said: "During the break-time due to COVID-19 outbreak, the theatre plans to reorganise the personnel and management department so the work will go smoothly."
Meritorious Artist and theatrical director Hoa Ha is working on two historical cải lương plays Lạc Phủ (Missing Palace) and Hồ Quý Ly, who was the founding emperor of Ho Dynasty reigned from 1400 – 1401.
"While theatres in the city have temporarily closed due to COVID-19 outbreak, I have used my leisure time to research documents and prepare for my new plays," said Ha.
Ha has a degree in theatrical directing at the HCM City University of Cinematography and Theatre in 1981.
She has worked for the Bông Hồng Troupe and performed in plays such as Cô Gái Ngồi Khóc Trên Cây Gãy (A Girl Cries under a Broken Tree) and Tiếng Nổ Lúc O Giờ (Blow at 12am).
In 1987, Ha directed drama play Lôi Vũ (Thunderstorm) for the city-based 5B Theatre, and quickly became one of leading theatrical directors in the south.
She has directed several cải lương plays on historical and contemporary social issues like Thái Hậu Dương Vân Nga (Mother Queen Dương Vân Nga), Chiếc Áo Thiên Nga (Swan-Feather Coat), and Cô Đào Hát (The Songstress).
Cải lương star Kim Tu Long is preparing to bring his fifth and largest live show Thánh Đường Sân Khấu (Sanctum of Cai Luong) to Trưng Vương Theatre in Da Nang later this month.
The show will include 20 extracts from popular plays, such as Gió Lạnh Biên Thùy (Wind Blows through the Border), Đoạn Tình Buồn (Sad Love) and Câu Thơ Yên Ngựa (Poetry and Saddle).
Long's new historical play Lưu Kim Đính (Heroine Luu Kim Dinh) will be performed during the show.
The performance will attract more than 30 other performers, including talented actors Truong Son, Phuong Hang, Phuong Hong Thuy and Vietnamese-American Ngoc Huyen. His wife, actress Trinh Trinh, will also be featured.
Long, 54, said: "I expect my shows will be on schedule and will bring cải lương closer to audiences in Da Nang."
Long's live show Thánh Đường Sân Khấu in October in Hanoi and HCM City received a warm welcome from both critics and audiences. – VNS
Phuong Mai

The fourth part of the web series featuring People's Artist and theatre actress Lệ Thủy, a star of cải lương (reformed opera), has attracted more than 65,000 views on YouTube just one week after its release.  

Two artists from HCM City's cải lương (reformed opera) theatres are competing for 2019's Best Theatre Actress at the Mai Vàng (Golden Apricot) Awards, an annual event launched by Người Lao Động (Labourer) newspaper.