Beyond just expressing someone's personality or marking a milestone in life, the tattoos of artist Tran Thi Bich Ngoc transform scars into works of art.
A graduate of the Faculty of Art Design at the University of Theatre and Cinema, Ngoc, born in 1993 in Hanoi, surprised friends and family when she decided to take on a career as a tattoo artist.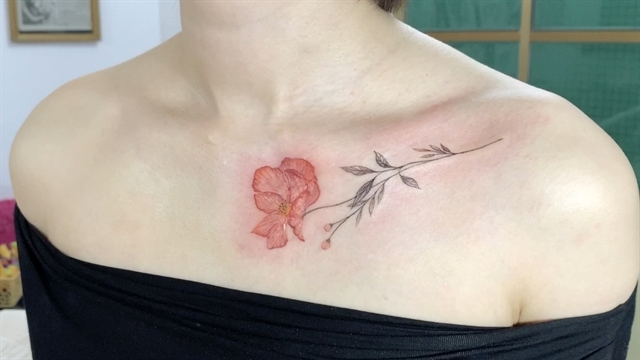 "It really was a blessing. I first became attracted to tattoos when I was in high school, about ten years ago," she said.
"I had no real sense of what they were or how to do them, as they weren't that common in Vietnam. But I searched around on the internet and looked discreetly yet curiously whenever I saw someone who had a tattoo. But I didn't share my interest with anyone."
At college, she immersed herself in the artistic environment and made friends who did likewise, and they were able to share each other's passions and hobbies.
"One of my best friends at college was also keen on tattoos. One day, she called me over and showed me a tattoo machine. We began practising on faux leather and pig skin. She kept a leather sofa she had covered with tattoos. Over time, I became a tattoo artist, but my friend didn't," Ngoc recalled.
"When I started tattooing, at the age of 18 or 19, I trialled different types because I was just so happy to have a customer," she said.
"From that, I began to understand what my passion was. When I drew tattoos to cover scars, people began to see me as a professional artist. I was happy, because almost no one at that time specialised in covering scars with tattoos, as it was new and quite difficult.
"The first time I looked at big scars and considered what to do, their strange shapes made me a little anxious. But I didn't want to disappoint the customer, so tried to find a way to make it work. Gradually, I began to understand the nature of scar tissue and could always come up with a layout and image."
"More people came to me after seeing that I could cover large scars with beautiful tattoos. They believed I could transform their scars into works of art."
To master the art, Ngoc had to learn a great deal.
"Every tattoo is still a challenge, because no two scars are alike," she said.
"I did a lot of research on the different types of scars and the time needed for tattooing. I also have to make sure that the tattoo looks natural, so that people won't realise it's covering up a scar."
Ngoc's magical hands have turned many unsightly scars into beautiful imagery, and her customers are no longer haunted by the memory.
Accountant Truong Thi Thu recalled her own painful experience. "I went to Sam Son Beach in May 2018 with some colleagues and was stung by a jellyfish," she said.
"I was in hospital for 10 days having the wound treated. Six months after that, I had an anti-keloids injection to treat the scar. The wound left a big scar on my leg. I lost my confidence. I used to wear short skirts, but not since the scar.
"I started thinking about getting a tattoo, because the skin was never going to be like it once was. I saw the 'tattoo magician', Ngoc, on TV, so found her number and, after meeting her, decided to go ahead. I feel so confident now I have the tattoo. It feels like the scar has disappeared."
Feedback from customers encouraged Ngoc to pursue a career as a tattoo specialist.
"The greatest reward for me is seeing the feedback on my work," she said.
"I feel so happy when they send me messages later on, saying they have a new life and are no longer obsessed by the scars. They believe their bodies have been adorned with works of art.
"Tattoos don't bring luck or good fortune, but they have a spiritual value for those who have them and they give off positive energy. I've been doing this for a while now, and sometimes feel worn out by it all. But every time I receive a message of thanks from a customer, it's like a 'moral gift' that gives me strength to pursue this path into the future."
VNS

Café Saigon, a contemporary dance featuring HCM City's lifestyle in the mid-20th century, will return to the city's Opera House on August 8.