Mai Ly spends her weekends reading books on gastronomy written by Di Li. It's a long time since when she's been so passionate about reading.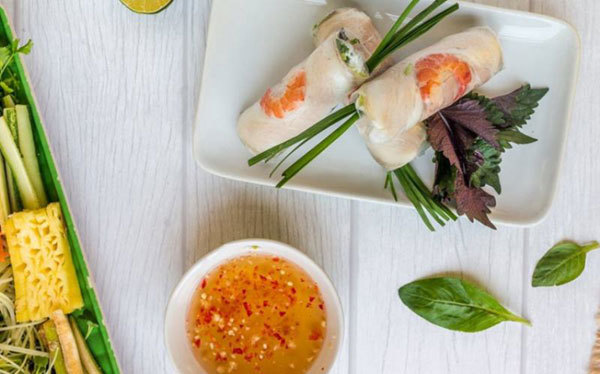 Illustrative image -- File photo
"I used to read a little bit before bed, but the recent books by Di Li make my eyes devour the pages," Ly says.
"Li is my favourite author with crime novels, non-fictional pieces and funny short stories in her repertoire, but this is the first time she has written about her culinary journeys. It's more than food and cooking, the books reflect the culture, tradition and lifestyle of the people where the dishes originate."
Last month, Li released two books containing 107 short stories. Tôi Đã Ăn Cả Cánh Đồng Hoa (I Have Eaten a Flower Field) reflects local cuisine, while Nửa Vòng Trái Đất Uống Một Ly Trà (Halfway Around the World for a Cup of Tea) tells amazing stories of global gastronomy.
Li says writing about cuisine doesn't just mean food, specialities and recipes. Through cuisine, the author provides a "cultural code" for each region and each nation.
"When you travel to a new place, there are three things to do: sightseeing, trying local food and meeting local people. For me food plays an important role in reflecting a culture," says Li.
"That's why the taste of local food linger on my lips and is in my mind as much as the memories and emotions of the landscape and the people."
"Through these stories, I want to reflect the society, culture and lifestyle of the people I visit I believe food is a wonderful bridge between peoples and cultures."
Critic Pham Xuan Nguyen says Li's books marked the return of gastronomic literature.
"In the past, writings about local food in Vietnam attracted many readers, like classic literary works," he says.
"Gastronomic literature in the 20th century highlighted various authors like Nguyen Tuan, Thach Lam, Bang Son, Vu Bang and To Hoai. Their words described food, including the taste, how to cook it, how to enjoy it, and the emotions of the authors."
"These works helped to transfer the culture and lifestyle of Vietnamese people and became an integral part of national literature," says Nguyen.
Nguyen says the stories also expressed the deep love and attachment of the authors to their country.
Regretfully, gastronomic literature has been largely ignored since the end of the 20th century, but now some writers are returning to the subject.
With inspiration from cuisine, many writers have published short stories, itineraries, poems and cartoons.
"It's a good sign that the subject is returning, and we believe gastronomic literature will flourish again," says Nguyen.
A month ago, writer/poet Nguyen Quang Thieu, 60, author of many books, released Mùi Của Ký Ức (Scent of the Past).
The gastronomic essays by Thieu focus on vivid memories of dishes from Chua Village, his homeland, as a representation of the northern countryside's culture.
"While Li's books can be seen as a journey of a young person who goes out to discover the world, Thieu's essays are the return of an old man who finds his way back to his roots," says critic Nguyen.
Thieu says gastronomic literature is an inspiration and genre in many countries, yet in Vietnam not many authors focus on this subject.
"Some writers think cuisine is something small, and it's just about eating and drinking," he says.
"It's not true. For me, cuisine is the art of life, indulgence, culture, memories and many other wonderful things hidden in the food.
"In literature, no subject is smaller than another. The point is how the writers send a message through their work."
Thieu says: "It's unfair when we have literature about the war, education, rural areas and crime, but nothing on gastronomy. Food is a bridge connecting people, a good dish reveals many things and can help many things.
"I agree with Li that food reflects the culture, tradition and history of a nation and a community. Food is useful for promoting the image of a country to the world. The fact is that cuisine is one of the main attractions for tourists in Vietnam."
Painter Dang Hong Quan, co-author of cartoons Lê La Quà Vặt (Streetfood in Hanoi) and Ăn Quà Xuyên Việt (Streetfood Nationwide) released in 2017, appreciates the role of gastronomic literature.
"Readers are always eager to try new things, so gastronomic books can be considered a new dish in the feast," Quan says.
"Telling stories about food through drawings is a good way to attract readers. I mention go-to destinations for street food and signature dishes that people must try when they visit different parts of the country, for example spring rolls in Hanoi, iced coffee in HCM City and sweet dessert in Hue."
After launching the books, Quan and co-author Truong Quy also started a Facebook page named Lê La Quà Vặt as a way to nurture their spiritual child.
"On the page, people still talk about the books and food everyday, review the signature food in places they have visited and suggest the best spots to go to," Quan says.
"It will provide inspiration and material for me to publish more editions of Lê La Quà Vặt," he adds. VNS
Do Huu 

HCM City's District 5 has begun a project called the Cho Lon Food Story to promote the local culinary quintessence and culture.

Food tour has been named the top experience in Vietnam for the first time by renowned travel guide book publisher Lonely Planet.