Equipping localities in climate fight
Being one of the most vulnerable countries to natural disasters and climate change, Vietnam annually suffers from huge losses.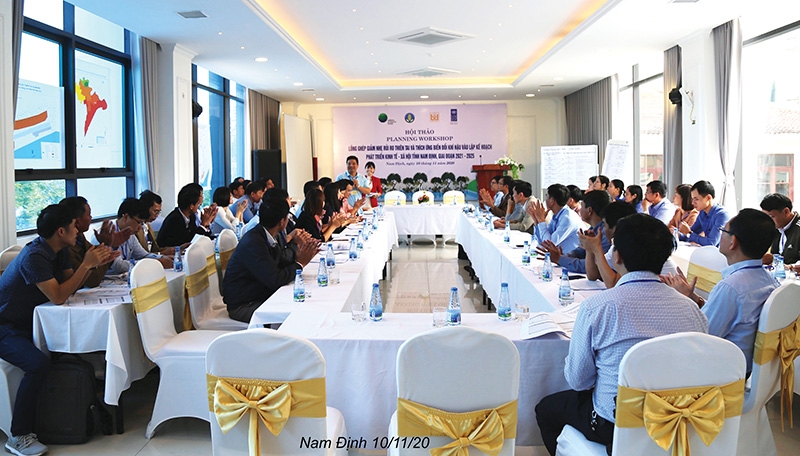 The UNDP-led initiative covers not only climate change adaption but also disaster risk reduction for affected provinces up and down the country
Tropical thunderstorms Linfa, Nangka, Ofel, and Molave hit Vietnam's central region last October, causing devastation and death. By the end of the month, they had killed over 240 people, collapsed and flooded an estimated 243,000 houses, and caused around $1.3 billion in infrastructure damage, according to the Vietnam Disaster Management Authority under the Ministry of Agriculture and Rural Development (MARD).
"Provinces and cities in the central region have experienced two spells of heavy rain with record rainfall. The total rain volume in Ha Tinh, Quang Binh, Quang Tri, and Thua Thien-Hue provinces exceeded the historical toll seen in both 1979 and 1999. Some places recorded rain of up to 800mm per day with total rainfall of more than 3,000mm each period," explained MARD Minister Nguyen Xuan Cuong.
According to the World Bank, the average annual disaster losses are about $2.7 billion, of which 60 per cent are concentrated along the coast.
Major menace
Disaster and climate challenges have become a top priority for policymakers in Vietnam. This is evidenced in national and sector strategies, and these challenges are identified as one of the key pillars of the new national development plan for the next decade. For example, the government adopted the National Climate Change Strategy in 2011 and the Vietnam Green Growth Strategy in 2012, which lay out a vision through to 2050. In addition, the government adopted the Support Programme to Respond to Climate Change for 2016-2020 that supported policy reform, capacity building, and increased investment for prioritised climate change and green growth actions in key sectors, including energy, transport, forestry, and water resource management.
Internationally, the government has also championed the cause of the environment, including at the Paris Climate Conference in 2015.
Climate and disaster risks are now recognised as a direct threat to Vietnam's aspiration to become a high-income economy. Direct and indirect disaster losses are affecting not only the economy's resilience and sustainability, but also its capacity to maintain rapid and inclusive growth.
For instance, rapid infrastructure development in the absence of consideration of disaster and climate risks is leading to rapidly-growing exposure and vulnerabilities to adverse natural events. "With anticipated growth of 265 per cent over the next 10 years, annual average direct disaster losses on the coast alone are expected to grow to $4.2 billion a year," stated a recent World Bank report titled "From COVID-19 to climate change: How Vietnam can become the champion of green recovery".
The report makes clear that development gains could be undermined by the loss of human life; destruction of commercial property, cultivable land, and infrastructure; reduction in agricultural yields and labour productivity; loss of tax revenue; and strained public budgets from spending on relief and reconstruction.
"Vietnam is standing at a crossroads of post-pandemic recovery. It has an opportunity to set itself on a greener, smarter, and more inclusive development path that will bolster resilience to future shocks from both pandemics and climate-related disasters," said Carolyn Turk, World Bank country director for Vietnam.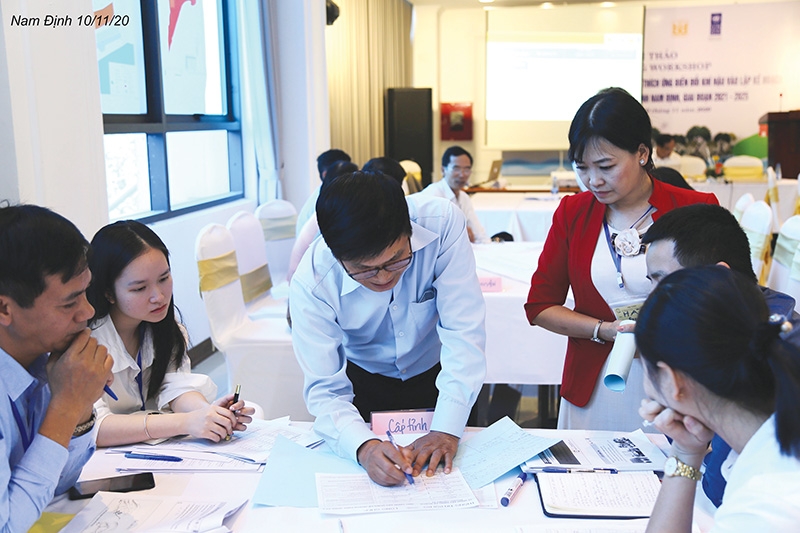 Localities are integrating climate change factors into development strategies at all levels
A fresh initiative
The United Nations Development Programme (UNDP) in Vietnam has collaborated with the Eco-community Development Centre (ECODE) under the Vietnam Union of Science and Technology Associations to initiate an information package on disaster risk reduction and climate change adaptation (DRR-CCA) in seven coastal provinces of Nam Dinh, Thanh Hoa, Quang Binh, Thua Thien-Hue, Quang Nam, Quang Ngai, and Ca Mau, aiming to help the provinces integrate disaster and climate change risk into their socioeconomic development plans.
The programme sits alongside the initiative to improve the resilience of coastal communities to climate change in Vietnam, jointly funded by the UNDP, the Green Climate Fund (GCF), and Vietnam's government.
Specifically, ECODE last week cooperated with the GCF's Project Management Unit in Quang Binh to organise a planning workshop in Dong Hoi city, focusing on integrating DRR-CCA into the province's 5-year Socioeconomic Development Plan for 2021-2025 (SDP). In December, a similar event in Quang Nam also took place.
"In its new SDP 2021-2025, Quang Nam sees climate change adaptation is the responsibility of authorities at all levels, sectors, businesses, and the whole community," said Le Thi Tuyet Hanh, deputy director of Quang Nam Department of Natural Resources and Environment. "The province will integrate climate change factors into development strategies and plans at all levels, sectors, and localities, both in legal documents and in implementation."
Statistics of damage caused by natural disasters in Quang Nam during 2010-2016 showed total economic loss was estimated at around VND4.2 trillion ($182.6 million). Especially in 2020, extreme natural disasters caused great losses worth hundreds of millions of US dollars to Quang Nam, with floods and landslides killing dozens of people.
In another case, Nam Dinh Department of Planning and Investment (DPI), also beset by natural disasters, has also advanced the province's plan on integrating DRR-CCA into its SDP 2021-2025. Under the plan, the provincial People's Committee enacted a directive which must be integrated with DRR-CCA. At that point, the DPI promulgates a related guideline. After that, the plan will be discussed with comments from the Ministry of Planning and Investment. Thereafter it will be submitted to the committee before being implemented by districts which will have to make their own plans of the types including DRR-CCA integration.
According to the GCF-UNDP Project Management Unit, workshops on integrating DRR-CCA into SDPs for 2021-2025 have also been organised in Nam Dinh, Thua Thien-Hue, Quang Ngai, and Ca Mau.
Results showed that so far, about 270 delegates from these provinces have partaken in the events including 300 key planners participating in workshops, and 60 people participating in consultation process – with 30 per cent being women. They are representatives from province, district, and commune levels. "Participants have been equipped with knowledge about impacts of disasters and climate change on all sectors of their localities. Especially, they understand that it is necessary to boost the integration of DRR-CCA in their localities' SDPs," stated a report from the Project Management Unit.
This project has also assessed DRR-CCA for about 330 communes of 35 districts in the seven provinces.
As of late December 2020, five provinces - Nam Dinh, Thua Thien-Hue, Quang Nam, Quang Ngai, and Ca Mau - have completed their drafts on SDPs for 2021-2025.
For example, Ca Mau has integrated DRR-CCA into its plan of the type, with specific targets in some sectors like agriculture and rural development, natural resources and the environment, industry and trade, transport, construction, education and training, and healthcare.
Meanwhile, Thua Thien-Hue has also carried out the same, with DRR-CCA integrated into sectors such as irrigation infrastructure, development of coastal works, and land use planning. Some specific projects involve strengthening 1,180km of irrigation canals, strengthening a section of coast in Thuan An-Tu Hien, preventing landslides at a coastal area of Hai Duong; and constructing an area for shielding ships and boats from storms in Phu Hai area.
Commenting on the benefits of integrating DRR-CCA into strategy and planning, Professor Truong Quang Hoc, an expert on climate change and sustainable development said, "Comprehensive integration will save and increase the efficiency of resources, especially in terms of time as well as funding. Moreover, it increases the quality of climate change adaptation projects and solutions because of investment-focused stakeholder engagement." VIR
Thanh Dat

In the context of the speed of climate change, urbanization is increasing rapidly and complicatedly, human rights violations such as social inequality, discrimination against women and migrants, refugees, extreme poverty... still happen.

HCM City has drafted a long-term plan to combat the detrimental effects of climate change.