Erosion pushes Ca Mau's eastern coast to emergency status

The southernmost province of Ca Mau has declared a status of emergency in the face of serious erosion along its eastern coast and riverbanks.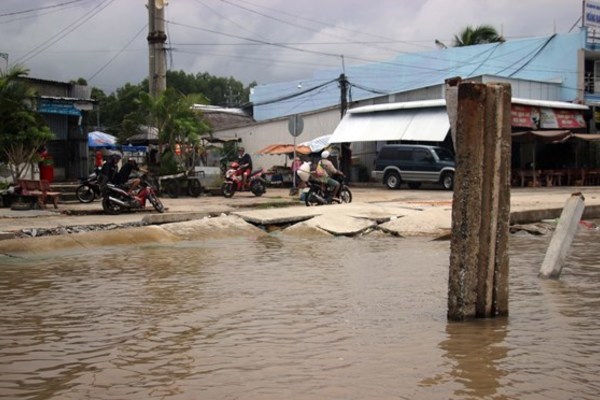 Erosion in Ca Mau province is so serious that even the anti-erosion structure for the area of Dat Mui Market in Ngoc Hien district has been damaged
The provincial People's Committee said on September 20 that more than 25,000 metres of estuaries and coast, and over 1,200 metres of riverbanks are currently in the state of emergency and need urgent settlement.
Chairman of the committee Nguyen Tien Hai has decided on the urgent construction of anti-erosion embankments for the estuaries of Rach Goc and Hoc Nang in Ngoc Hien district, and Ho Gui in Nam Can and Dam Doi districts.
Similar facilities will also be built for several coastline stretches in Ngoc Hien district and for the residential area in Nam Can township of Nam Can district.
Erosion is particularly complicated at present, which is becoming even worse in the ongoing rainy season, threatening residential areas, electricity networks, clinics, schools as well as local protection forests.
Hai has assigned authorities of Nam Can, Ngoc Hien and Dam Doi districts to promote the embankment construction, seal off areas hit hard by and prone to erosion, persuade local residents to evacuate from those zones, and keep a close watch on erosion developments to take timely actions.
Earlier, Ca Mau had also declared a similar status for its western dyke system, which has also been facing severe erosion, to mobilise resources for dyke reinforcement.
Meanwhile, from August 2 to 12, natural disasters caused losses worth more than 51.4 billion VND (2.2 million USD) to Ca Mau. They sank eight boats, pulled down 195 houses and one school, flooded nearly 2,400 houses and devastated more than 143ha of aquatic farming areas. Heavy rains, whirlwinds, tidal surges and big waves at sea also killed one and injured two others.
The provincial People's Committee has proposed the Government to provide Ca Mau with over 40 billion VND in aid to support the efforts in easing natural disaster consequences. It has also asked for financial assistance to build embankments as soon as possible./.VNA