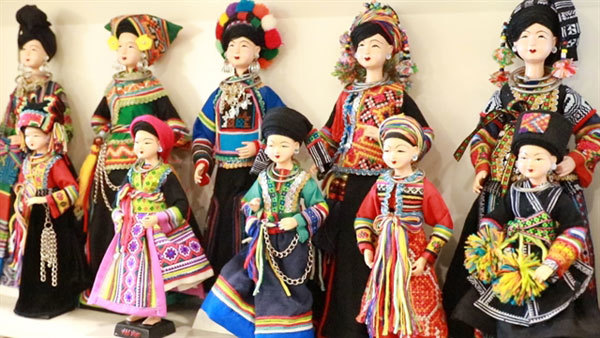 Artist Nguyen Hoang Anh has created a collection of dolls dressed in the traditional clothes of 54 ethnic groups in Vietnam. VNS Photo Bao Hoa
The idea of making the collection came by chance after artist Nguyen Hoang Anh travelled to the northern provinces to find inspirations for his paintings.
"At first, I didn't intend to make the dolls like I am now. But I am an artist, so I usually travel to villages in the northern mountainous province," Anh said.
"My purpose initially was just taking photographs and sketching, but then I had a chance to learn more about the ethnic costumes, so I started to think of miniaturizing the clothes to fit the dolls."
He put more effort and time into making the doll collection after seeing that many dolls in the souvenir stalls were ignored by tourists.
"Instead of dolls covered in dust and piled up on shelves, I want tourists to be attracted to Vietnamese dolls, which carry the traditional spirit of our country, when they visit souvenir shops," Anh said.
Artist Nguyen Hoang Anh's dolls can amaze anyone at first sight because of their brightly coloured outfits and dazzling jewels. VNS Photo Bao Hoa
His dolls amaze anyone at first sight due to their brightly coloured outfits and dazzling jewels.
Anh spent more than two years travelling around northern mountainous villages and researching ethnic costumes and cultures. He saw that each ethnic group had its own cultural characteristics and enthusiastically studied them.
To make a delicate doll, the artist follows many stages. Firstly, he must know the design and fabric of each ethnic costume. Then he makes a composite of the dolls. After that, he shapes and makes up their faces following ethnic characteristics. Crafting their clothes and accompanying accessories such as hats or earrings are the final step. It takes around four to six hours to finish one doll.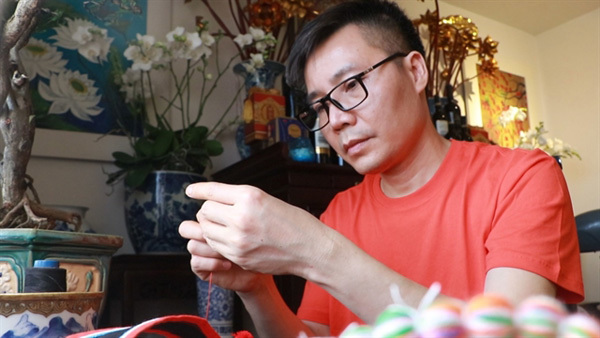 It takes artist Nguyen Hoang Anh four to six hours to finish one doll. VNS Photo Minh Phuong
"Each ethnic group living in our country has its own cultural characteristics and the culture also shows in their traditional costumes," Anh said.
"For example, the Thai costume always has rhombus patterns; Mong clothes always have flower details; and the Dao costume elaborates the concept of the universe and community life using patterns, so they always have mountain or deer patterns.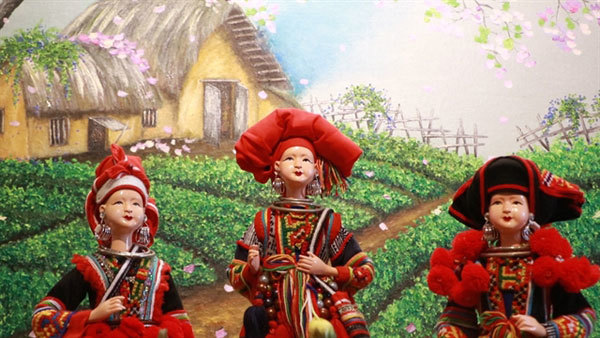 The Dao ethnic costume always elaborates the concept of the universe and the community's life using patterns. VNS Photo Minh Phuong
"The costume of the Si La people also has a story behind it. There are differences in the design, hair and make-up between married women's clothes and young women in their twenties.
"The more I research ethnic costumes the more I feel the urge to learn and know more about them. If we don't deeply understand the culture and tradition of each ethnic group, we will not be able to create the soul of each product."
After two years, he now has 100 traditional Vietnamese miniature creations in his collection. Some of them are displayed on his small apartment's shelves and some sold in souvenir shops at airports.
"Many tourists order my dolls as souvenirs for their friends after they spend time in Vietnam. It is an honour that my efforts are now recognised by international friends," Anh said.
Currently, he designs dolls in two sizes, 25cm and 35cm high. He has created 45 out of 54 ethnic groups' costumes so far. However, the total number of designs will be 60 sets, as each ethnic group is divided into several different branches.
Anh plans to develop his doll collection to both represent Vietnamese multiculture and history, as well as to attract more foreign tourists.
"Foreign tourists tend to research the patterns, details, and materials before they buy the dolls," he said. "So I need to understand more clearly about the cultural value of the outfits I make."
Anh said that his dolls were not just souvenirs, but a bridge to connect foreign visitors with Vietnamese culture.
"I hope that these dolls with Vietnamese spirit will help introduce our country's culture to more international friends." 
Source: Vietnam News

Making handbags for dolls may seem an odd pursuit for a man, but for Nguyen Le Lam Doan it provides him with a stable income from orders as far away as Australia and the US.

A studio located in a small lane on Thuy Khue Street, Hanoi, is making eco-friendly toys from environmentally-friendly material – hemp.