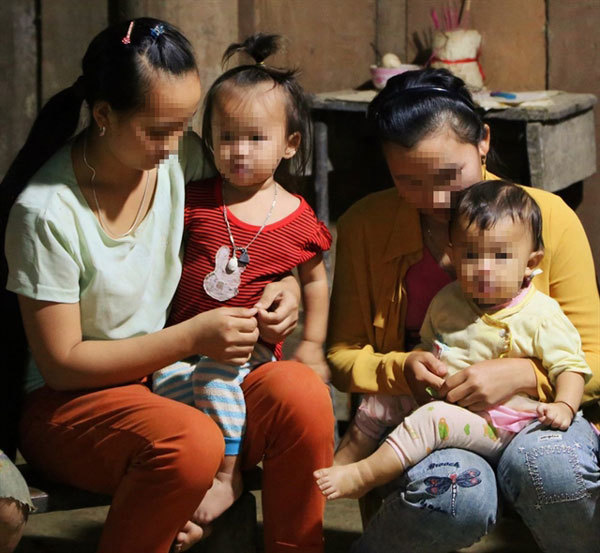 Two young mothers, who got married at the age of 13, hold their daughters in the central province of Nghe An. — Photo tienphong.vn
Xong Y Rau, a H'Mong ethnic minority girl, 16, cares for her four-month-old son in a stilt house in Huoi Tu Commune, Ky Son District, in the central province of Nghe An.
Rau dropped out of secondary school to get married in the spring of 2017 when she was 14 years old and her husband was 16.
She said: "I don't know what becoming someone's wife meant before I get married. I usually thought it was simple."
Now she feels more tired than she ever thought.
In the central province of Quang Binh, Cao Xuan Ch. and Cao Thi V. of the Ruc ethnic minority group in Thuong Hoa Commune are a typical example of an incestuous marriage. The husband is his wife's maternal uncle. They have three children.
Their oldest child died when she was in first grade. The youngest, whose hands are always trembling, weighs only 10 kilograms at the age of four, online newspaper Tiền Phong (Vanguard) reported.
"She cries all the time," V. said, adding that she was not getting any bigger.
Data from the Ethnic Minority Committee in Nghe An Province showed there were 902 child couples married from 2014-18, some even as young as 12.
Huoi Tu Commune is estimated to have 87 child-marriage couples alone, of which 34 were married under the age of 16.
Statistics from Quang Binh Province revealed that 186 child marriages and seven incestuous marriages took place from 2014-18.
Causes, consequences
Nguyen Luong Cuong, head of the Dissemination Office under Quang Binh Province's Ethnic Minority Committee, said the biggest problem was backward traditional practices.
The custom of "stealing a wife" among the H'Mong ethnic minority group was blamed as one of the causes for child marriages, said Vi Quang Banh, a member of judicial staff in Tam Hop Commune, Nghe An Province.
The custom of "stealing a wife" on the first day of the New Year had become disgusting to many people, he said.
Cướp vợ (stealing a wife) is a special H'Mong custom. When a man loves a woman, he must 'steal' her on her darkest night and imprison her without food for 2-3 days. If the woman accepts his proposal, he will then ask her family for permission.
Lack of awareness among local people was also to blame for the situation, Cuong said.
Banh said the parents of child couples told him they had rather allow their children to get married early than seeing them left alone and unmarried.
Some parents also said they let their children to get married early because they had threatened to commit suicide, Banh said.
Tran Xuan Tu, head of On Village, Thuong Hoa Commune, Quang Binh Province, said a lack of economic and cultural exchanges of the Ruc ethnic minority group with other minorities had led to incestuous marriages.
According to UNICEF, child marriage was a violation of children's rights, and had a negative impact on physical growth, health, mental and emotional development, and education opportunities.
It also affected society as a whole since child marriages reinforced a cycle of poverty and perpetuated gender discrimination, illiteracy and malnutrition as well as high infant and maternal mortality rates.
Incest could increase inherited diseases, as can advanced maternal age at conception, which increased chromosomal trisomies such as Down's syndrome, a report by the World Health Organisation said.
Solutions
Both provinces have taken measures following a Government project titled "Reducing child marriage and consanguineous marriage in ethnic-minority areas in 2015-25" to fix the situation.
The goal of the project is to reduce the number of child marriages by 2-3 per cent each year, and the number of consanguineous marriages by 4-5 per cent each year. By 2025, this would basically solve the situation.
However, the project had been less effective than expected, said Lo Thanh Nhat, vice chairman of Tuong Duong District's People's Committee in Nghe An Province.
Dissemination was still the major solution, he added.
There were no sanctions to deal with violations so little impact had been made, he said.
Cuong, head of the Dissemination Office under Quang Binh Province's Ethnic Minority Committee, said the province had already set up a steering committee to implement the project.
Cuong suggested authorised agencies should consider solutions to improve the incomes of ethnic minority people.
"I think it is one of the best solutions because child marriages and incestuous marriages were mainly reported in poor areas," he said.

Pham Thi Hien got married in 2018 when she was 16 years old to a man a year her senior.
VNS