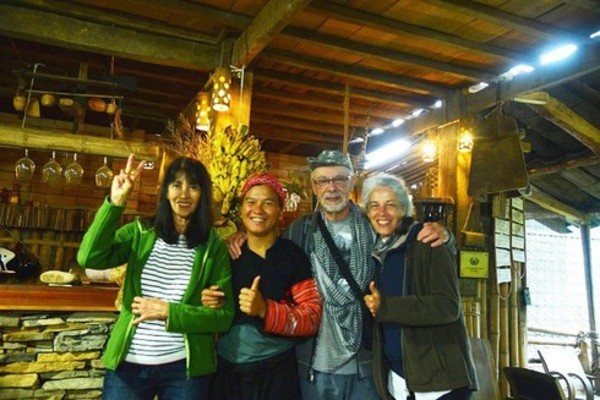 Trang A Chu (second from left) and foreign visitors. (Photo: VOV)
A local man named Trang A Chu has exploited the area's potentials to develop tourism while preserving and promoting local culture.
In 2014, Trang A Chu became the first to transform his farm into a venue for community tourism. Homestay A Chu is now a complex of stilt houses and bungalows.
"I graduated from the University of Food Technology but my job was unstable. As I was interested in Mong panpipes, I thought I would do something with that. I learned to cook and decided to start a tourism business. As my business is growing, I'm now helping other locals to develop community tourism," A Chu said.
With support from travel companies, A Chu's tourism model promoting Mong ethnic's traditions became successful.
A Chu's wife Hang A Sua, said "At first we faced many difficulties getting loans and customers. Gradually, thanks to assistance from travel companies, our business got on track."
Homestay A Chu combines the typical features of Mong stilt houses with modern facilities, making it more comfortable for tourists. The stilt house is roofed with palm leaves decorated with lights. The first floor serves as a bar. A special menu is offered with typical Mong dishes, including Mong chicken, fish, pork, and wild vegetables.
Homestay A Chu at night.
"I like my job because I meet a lot of people. Though this is just a part-time job, I learn a lot from it," said Trang Thi Du, who cooks for Homestay A Chu.  
At Homestay A Chu, tourists get a taste of the local life style, try their hand at farm work, make traditional cakes, and play traditional games.  Tourists can also participate in art exchanges with local youth.
"Homestay A Chu meets Asia-Pacific homestay standards. Food safety and hygiene is assured. The place is ideal for tourists who want to have a cultural experience," a guest said. 
"I feel comfortable here. Bedrooms, gardens, and common spaces are friendly, making visitors feel at home," said another guest.
In the book "Tourism Stories – The Vietnam Edition" issued by the United Nations World Tourism Organization, Homestay A Chu is called a must-visit for ecotourism. VOV

Many homestay owners have suffered from hot development and severe competition.

When Nguyen Van Long was 26 years old, he moved to Nam Bau Islet in the middle of a lake in the southern province of Dong Nai. Nothing unusual about that, but at the time he was the only person there.