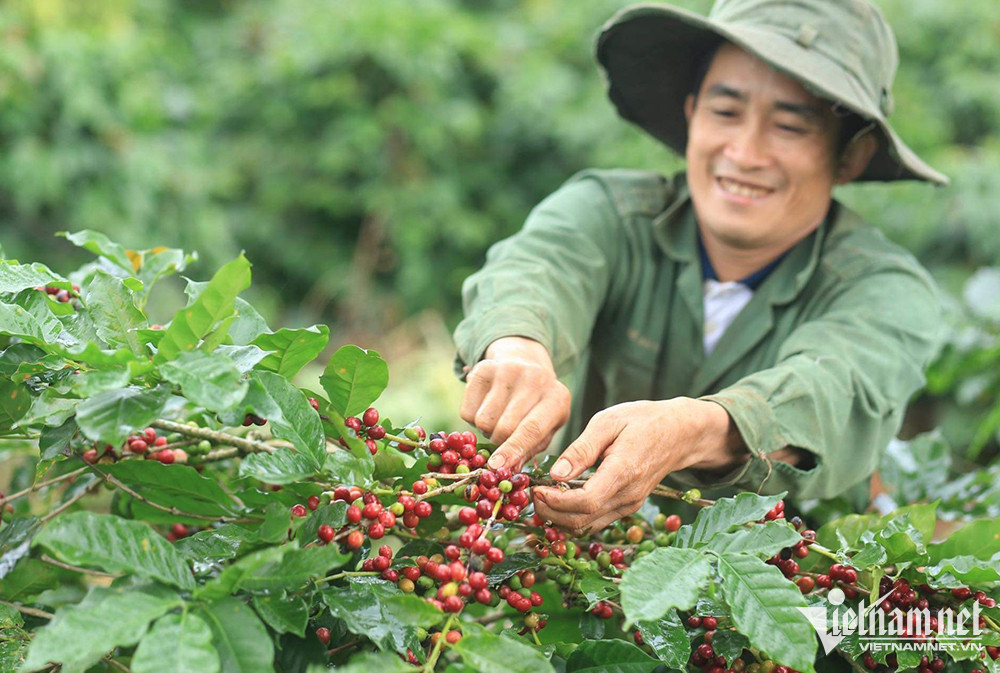 Under EUDR, which aims to prevent the import of products associated with deforestation and forest degradation, 100 percent of Vietnamese farm produce, including coffee, when imported into the EU, must be traced with positioning information (GPS) about the growing garden, which is based on the risk of deforestation that can be confirmed by remote sensing monitoring systems.
EUDR will take effect in December 2024.
Contrary to many other agricultural products which are decreasing sharply in price because of sharp falls in exports, domestic coffee prices have been increasing since early May.
Robusta coffee prices on May 29 rose by VND9,400-9,700 per kilogram compared with April 28 to a new high of VND60,500-61,800 per kilogram.
On June 12, Robusta coffee prices in Lam Dong continued to increase to VND64,400 per kilogram. In Dak Lak and Dak Nong, prices peaked at VND65,000-65,100 per kilogram, while in Gia Lai, prices climbed to VND64,500-64,600 per kilogram.
The prices are believed to be the highest levels so far. The domestic prices have surged by 40 percent compared with the early 2022-2023 crop.
It is estimated that Vietnam exported 165,000 tons of coffee in May 2023, an increase of 15.7 percent, with turnover of $396 million, an increase of 21.8 percent compared with the same period last year.
The average export price of Vietnam was about $2,399 per ton, an increase of 5.3 percent compared with May 2022.
In the first five months of 2023, coffee exports brought revenue of $2.02 billion, up 0.2 percent over the same period last year.
Doan Huu Tue, CEO of My Viet International Group JSC, a big coffee producer and exporter, said some kinds of coffee in Dak Lak have climbed to VND67,000 per kilogram, and he believes the upward trend in prices will continue for many months.
In terms of yield, Vietnam is topping the world, but in terms of export market share, Vietnam is in the second position. However, Vietnam's coffee is mostly Robusta (accounting for 75.5 percent of total coffee export value in 2022), which has prices lower than Arabica coffee.
In the current context of inflation, when people in many countries have tightened their purse strings, consumers are shifting to products with equal quality but lower prices. Vietnam can benefit from the trend with its Robusta coffee.
Coffee output in many countries, including Vietnam, is decreasing, resulting in price increases of raw coffee for processing.
"At this moment, coffee material inventories are just enough to satisfy orders signed earlier. We have to refuse new orders because of the lack of materials," Tue said.
Biggest client imposes new rules
The EU is now the largest coffee export market for Vietnam. It has high demand for coffee and sets increasingly high requirements in quality on imports.
The EC has released EUDR which prohibits importing of farm produce created on land originating from deforestation or degradation after December 31, 2020. Vietnam's coffee is believed to bear a strong impact from the regulation.
Nguyen Do Anh Tuan, director of the International Cooperation Department under the Ministry of Agriculture and Rural Development (MARD), said Vietnam has no other choice than to strictly respect EUDR, because EU imports 60 percent of Vietnam's total coffee output a year.
However, he pointed out that EUDR offers opportunities to Vietnam. If Vietnam strictly observes the regulation, it will lead to green and sustainable production and Vietnam's products will be very competitive in the EU compared with the same products from other countries that cannot adapt to EUDR.
About 70 percent of Vietnam's coffee growing area is not related to forests, 20 percent borders forests, and 10 percent alternates with forests.
Do Ha Nam, deputy chair of the Vietnam Coffee and Cocoa Association (Vicofa), said the coffee price is hovering around VND70,000 per kilogram, the highest level in the last 30 years.
One of the reasons behind the coffee price escalation is climate change, which has led to output and quality decreases. Nam believes that the EUDR regulation shows the EU's responsibility in protecting the global environment.
The EU is a large market and if Vietnam doesn't observe EUDR, this will affect its exports. If Vietnam strictly observes EUDR, it will have a chance to increase its market share.
According to Nam, the total coffee growing area in Vietnam is 680,000 hectares, and most coffee plants are mature. There are 1.2 million coffee-growing households with 0.5 hectare per household. It is difficult to trace every small garden if referring to EUDR regulation.

Tam An