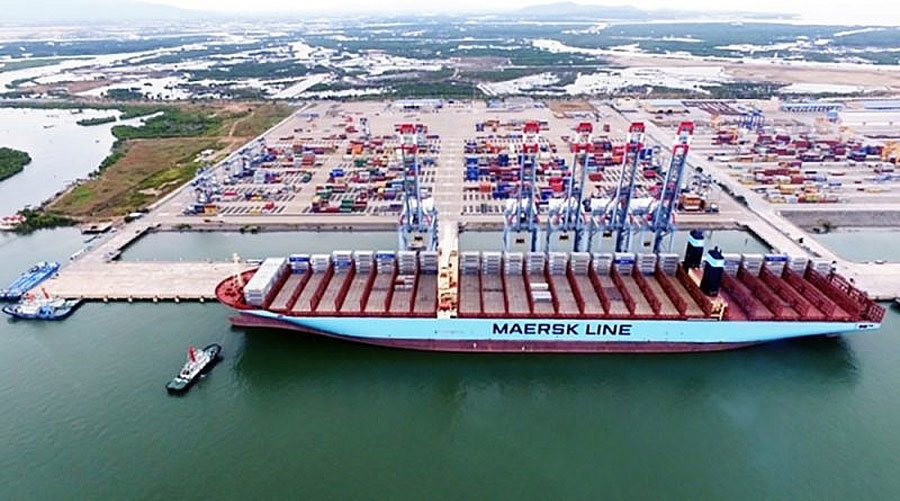 The Ba Ria – Vung Tau provincial People's Committee has sent a report to the Government Office about the Cai Mep Ha Logistics Center project in Phu My.
The report says the project has caught attention from the Netherlands and Belgium. The two countries have sent documents to Prime Minister Nguyen Xuan Phuc, asking the EU-Vietnam investors, including Besix – IPEI (Belgium), Hateco (Vietnam) and Boskalis (the Netherlands), to implement the project.
Phuc, at a recent reception of the Dutch and Belgian Ambassadors to Vietnam and investors from the EU last September, applauded the investors' determination to invest $1 billion in Cai Mep Ha Logistics Center.
The PM has asked the Ba Ria – Vung Tau provincial People's Committee to join forces with the Ministry of Planning and Investment (MPI) to consider the proposal by investors and report related issues to him.
The interest in the large project shows the active reponse of European countries to the EVFTA which took effect on August 1, 2020.
During his working visit to Belgium in 2018, Vietnamese Prime Minister Nguyen Xuan Phuc and Belgian Prime Minister Charles Michel witnessed the signing of an MOU between Hateco Logistics and IPEI N.V on the cooperation of the two sides to study the project.
In 2019, the Dutch Embassy also sent a document recommending cooperation between Vietnam, Belgium and the Netherlands to implement the project. Later, the Belgian Embassy sent a document on Vietnam-Belgium cooperation to develop Cai Mep Ha logistics center.
Reports show that as of early 2020, Vietnam had increased the number of harbors to 34 and expanded harbor areas by 8 times in the last 20 years.
Of these, Cai Mep Port in Phu My, Ba Ria – Vung Tau, is capable of receiving container vessels with tonnage of up to 214,000 tons. Hai Phong Port in the north is capable of receiving vessels with tonnage of up to 132,000 tons.
Vietnam strives to increase the volume of goods to go through the ports to 1.14-1.42 billion tons a year in the time to come. Therefore, it will focus on developing the Hai Phong and Cai Mep Ports to meet international standards.
Most recently, Vietnam received the largest container vessel in the world with tonnage of 214,000 tons and carrying capacity of 18,300 containers, 400 meters long and 59 meters wide, which docked at Cai Mep Port (CMIT) on December 26, 2020.
CMIT has become one of the 20 largest ports in the world capable of receiving large vessels. 
Hai Minh

Despite strong objections among businesses, Ho Chi Minh City will start collecting infrastructure and service fees at seaports from July 2021, triggering concerns over logistics cost increases.

In the next 10 years, VND95.8 trillion will be needed for the development of the logistics sector in HCMC to fulfill the target of contributing 12% to the gross regional domestic product (GRDP) in 2030,