The European Union will take legal action against some member states for failing to police car emission rules, its industry commissioner said on Friday, and is stepping up efforts to seek redress for consumers cheated by Volkswagen (VOWG_p.DE).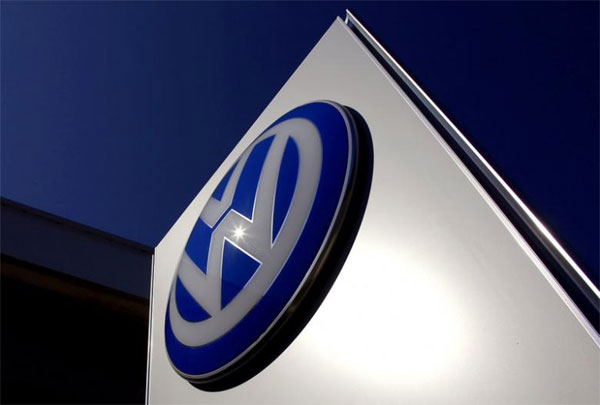 A Volkswagen logo adorns a sign outside a dealership for the German automaker located in the Sydney suburb of Artarmon, Australia, October 3, 2015.
Commissioner Elzbieta Bienkowska told Reuters she "definitely" wants to start formal infringement procedures against "not all and not one" member state for allowing an overshoot in emissions but is still gathering evidence.
"It will be in the next several weeks, a few months from now because we have to complete the evidence," Bienkowska said, declining to name which EU nations would be affected.
"We need a very good legal basis, but I definitely want to start infringements," she said.
The commissioner reiterated calls for the German carmaker to compensate European owners of its diesel cars along the lines of its $15 billion settlement in the United States, saying it was unfair for them to be treated differently due to the different legal system.
Whereas VW has offered U.S. customers compensation for bringing in vehicles to remove cheat software and make them compliant with emissions regulations, in Europe, the carmaker only offers the technical fix.
"It is not enough just to send your cold letters saying 'Please come on this day and we will replace these devices for a new one'," Bienkowska said in an interview.
"Compensation is the noisiest subject, present everywhere, and this is a really important topic."
'DEFEAT DEVICES'
The VW scandal also highlighted an industry-wide disparity between nitrogen oxide (NOx) emissions recorded in regulator-approved laboratory tests and those in everyday use on roads, which is often five times more.
NOx gases contribute to acid rain and respiratory illnesses blamed for hundreds of thousands of deaths globally each year.
Bienkowska said starting in 2019, rules proposed by regulators in the wake of the Dieselgate scandal would curb the widespread use of engine regimes that switch off technology designed to lower tailpipe gases, once cars are in real road conditions. [L8N1523RM]
"We have a lot of such examples, some of them are quite shocking," Bienkowska said.
Under current EU law, the use of "defeat devices" - triggered, for instance, by outside temperatures different to those in indoor testing facilities - are legal if they can be shown to be needed to protect engines rather than cheat tests.
Source: Reuters