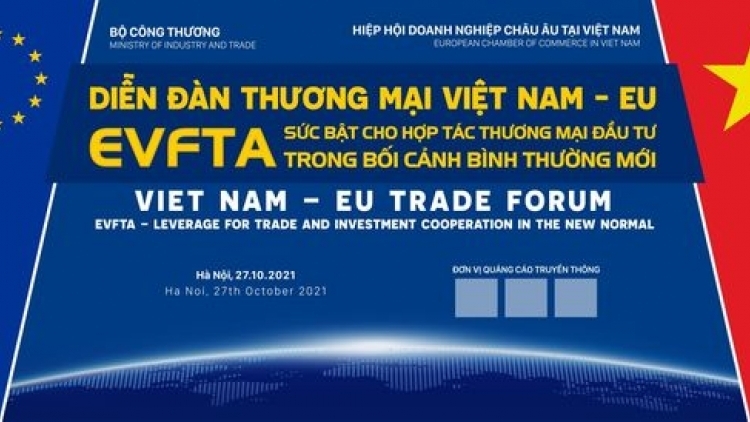 The Vietnam-EU Trade Forum is expected to take place on October 27 in Hanoi to highlight the importance of the EU-Vietnam Free Trade Agreement (EVFTA) which has provided fresh impetus to trade and investment co-operation as the world moves into the new normal situation.
The virtual event is set to be co-hosted by the Ministry of Industry and Trade, the Delegation of the EU to Vietnam, and the European Chamber of Commerce (EuroCham) in Vietnam.
Most notably, the function will serve to connect 14 points of Vietnamese Trade Offices in Europe, while guests will be directly provided with market information whilst receiving support in a bid to strengthen connectivity with partners in the region.
The forum will primarily focus on assessing the economic and trade changes between the nation and the bloc following the enforcement of the EVFTA, the practical effectiveness of taking advantage of the trade deal, while also devising scenarios aimed at restoring and boosting both trade and investment in the new context.
The event also provides an ideal venue in which experts can exchange information and their views on market trends, co-operation prospects, and practical recommendations for businesses in a bid for them to adapt and take full advantage of market opportunities.
According to data compiled by the General Department of Vietnam Customs, the total import-export turnover between the country and the EU enjoyed a surge of 11.9% to US$54.6 billion compared to the same period from last year after the enforcement of the trade deal a one year previously.
Of the figure, export and import turnover increased by 11.3% and 12.4% to reach US$38.48 billion and US$16.16 billion, respectively.
Despite these positive figures, local firms are being advised to fully met the stringent requirements and technical barriers in terms of human health, environment, and sustainable development as a means of taking advantage of the incentives brought about by the EVFTA.
Moreover, domestic businesses are recommended to quickly grasp the situation, proactively adapt and innovate themselves to deeply participate in the restructuring of global supply chains and values.
Source: VOV

The Government has reported to the National Assembly about the implementation of EVFTA (EU-Vietnam FTA) over the last year.