Exam scammers could face years in jail

Eight former educators and police officers implicated in the 2018 national high school examination scam in the northern upland province of Son La could face jail terms of one to 10 years.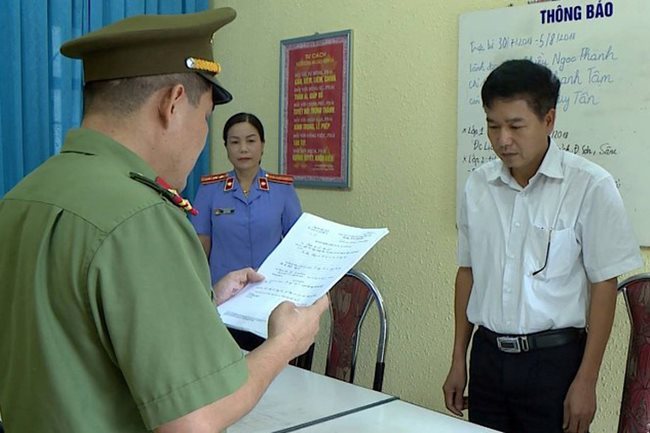 An investigator reads out a decision to initiate legal proceedings against Tran Xuan Yen, then-deputy director of the Department of Education and Training of Son La Province, in 2018 – PHOTO: POLICE
The People's Procuracy of Son La Province recently issued an indictment against these ex-officials for their alleged involvement in the high-profile score manipulation scandal.
The former educators are Tran Xuan Yen, 48, deputy director of the provincial Department of Education and Training; Lo Van Huynh, 54, head of the department's Testing and Quality Assurance Division; Nguyen Thanh Nhan, 53, deputy head of the division; Nguyen Thi Hong Nga, 52, a staff member of the division; Cam Thi Bun Son, 50, deputy head of the department's Political Ideology Division; and Dang Huu Thuy, 55, vice principal of To Hieu High School.
Two former officials of the Internal Political Security Division, under the provincial Police Department, Do Khac Hung, 54, and Dinh Hai Son, were also involved in the case.
The eight individuals were charged with abusing their positions of power while on duty, based on Article 356 of the 2015 Penal Code.
There were strong grounds for believing that these individuals had abused their positions for their own gain and other self-seeking purposes, owing to their family ties and network of friends and colleagues, to collude with each other, according to the procuracy.
They were found to have revised upward the scores of multiple-choice papers and literature papers for a total of 44 candidates.
The procuracy stated that Yen, Huynh, Nga, Bun Son, Thuy and Hai Son had committed their crimes more than twice, which could attract a stiff penalty of five to 10 years' imprisonment.
Meanwhile, Nhan and Hung could face probation for up to three years or one to five years' imprisonment.
Annually held in June, the national high school graduation exam is regarded as a make-or-break event, as the results are used to determine whether a student qualifies for graduation from high school and acts as a placement test for colleges and universities in Vietnam.
The exam requires candidates to undertake mandatory exams in mathematics, literature and a foreign language, such as English, while choosing between natural sciences (physics, chemistry and biology) and social sciences (history, geography and civic education).
Last year, hundreds of exam papers from the three northern mountainous provinces of Ha Giang, Son La and Hoa Binh were found to have been manipulated by officials to alter the scores of students.
As a result, legal proceedings were brought against more than a dozen officials and police officers in the three provinces for their alleged involvement in the exam scam. SGT
Thanh Thom

The Party Committee of northern Ha Giang province has taken disciplinary measures against some senior leaders for committing violations related to the exam cheating scandal in the province last year.  

Some defendants in the exam cheating scandal said that VND1 billion was paid for each 'exam score fabrication'.