Excessive pesticides detected in Chinese produce
The National Agro-Forestry–Fisheries Quality Assurance Department (NAFIQAD) on May 27 issued a warning that 17 batches of fruit and vegetables from China have tested positive for excessive pesticides.
Excessive pesticides detected in Chinese produce
The National Agro-Forestry–Fisheries Quality Assurance Department (NAFIQAD) on May 27 issued a warning that 17 batches of fruit and vegetables from China have tested positive for excessive pesticides.
The NAFIQAD sent a letter to China's General Administration of Quality Supervision, Inspection, and Quarantine (AQSIQ), informing that the plant protection drugs have exceeded the limits allowed by Vietnamese regulations on food safety and hygiene.
To ensure food safety for Vietnamese consumers, NAFIQAD demanded AQSIQ take immediate remedial action to prevent any such future occurrences, determine the cause and timely respond to the NAFIQAD with the results of the investigation.
The fruits and vegetables include lemons, grapes, persimmon, apples, mandarine and orange, carrots and turnip from Chinese companies namely Shenzhen Asia Global logistics, Shanghai Company, Yunnan Tongtai Import and Export Trading, Tongshai Songwei Huge Wave Imports and Exports, Pingxiang Yunshan Trade, Guangxi Pingxiang Tianhui Trade, Guangxi Pingxiang Hexing Trading and Kehou Shunjing Trade respectively.
Ha Tinh returns looted assets back Formosa factory
Police in Ky Anh district, in the central province of Ha Tinh, on May 28 returned assets to the Taiwanese Formosa company, which had been stolen during recent social disorder.
After learning about looting from the factory, which is located in the Vung Ang Economic Zone, Ha Tinh police promptly tracked down places where the illegal trade of the plundered assets would take place and reclaimed the stolen goods. Meanwhile, other thieves returned some of it after an appeal by the police.
As a result, a vast number of the plundered assets, including 17 computer central processing units, 10 computer screens, three photocopy machines, 5.8 tonnes of steel, six industrial-size refrigerators, and 11 motorbikes have been retaken by the local police and handed back to the company.
Representing the aggrieved party, Thai Quoc Duong, head of Formosa's security office, thanked Ha Tinh's law enforcement forces and the Ky Anh police in particular for their swift measures to retrieve the stolen assets and ensure public order at the worksite, which will help the project soon return to its usual operations.
Duong expressed his hope that the local police will continue investigations to recover the remaining lost assets.
The Ha Tinh police will continue searching for extremists and looters and bring them to court.
To date, the provincial police have detained and commenced criminal proceedings against 24 people on charges of looting and destroying assets and disrupting social order in the Forsoma worksite.
The disturbances broke out during workers' rallies in protest of China's illegal placement of its oil rig Haiyang Shiyou – 981 in Vietnam's continental shelf and exclusive economic zone from early May.
Some extremists incited others to destroy the property of foreign firms in some localities as well as of the State, businesses and individuals, and acted against law enforcement officials, disrupting social order and business activities. Thanks to the government's timely interference, most affected companies have returned to work and social order and security has been restored.-
Vietnamese students protest China's illegal acts in East Sea
The Central Committee of Vietnam Students' Association (VSA) has expressed strong objection to China's illegal installation of the Haiyang Shiyou-981 oil rig in Vietnam's continental shelf and exclusive economic zone.
In a statement issued on May 28, the committee said China's move gravely violates international law, especially the 1982 United Nations Convention on the Law of the Sea (UNCLOS) and the Declaration on the Conduct of Parties in the East Sea (DOC) to which China itself is a signatory.
The Vietnam Students' Association demands that China immediately withdraw its rig and escort ships from Vietnam's waters.
It also stressed that Vietnamese students will do their utmost to maintain and further strengthen the friendship between the two countries' students, adding that they always hope for peace in Vietnam, China and all another countries over the world.
Through the statement, the VSA Central Committee called on students in China as well as all over the word to raise their voices to demand China stop its unlawful actions in the East Sea, contributing to maintaining the friendship among nations, and peace, stability and security in the region and the world.
On May 2, China stationed the Haiyang Shiyou-981 oil rig at 15 degrees 29 minutes 58 seconds north latitude and 111 degrees 12 minutes 06 seconds east longitude. The location is 80 nautical miles deep inside Vietnam's exclusive economic zone.
On May 27, China moved the rig to 15 degrees 33 minutes 22 seconds north latitude and 111 degrees 34 minutes 36 seconds east longitude. The new location is 25 nautical miles from Tri Ton Island in Vietnam's Hoang Sa archipelago and 23 nautical miles east-northeast from the old location, still completely within Vietnam's continental shelf. With the move, China has kept on violating Vietnam's sovereign right and jurisdiction.-
Industrial zone workers air their complaints to officials
Ha Noi would improve the investment environment for business and living conditions for workers in industrial and processing zones, said vice-chairman of the municipal People's Committee, Nguyen Ngoc Tuan, yesterday.
At a meeting with nearly 100 workers and trade union officers from eight industrial and processing zones, Tuan listened to the problems businesses and workers were facing.
Most of the difficulties related to a shortage of infrastructure, including housing, schools, hospitals and entertainment areas.
Tran Van Loi, a worker at Ha Noi Asti Electronics Ltd Company in Quang Minh Industrial Zone, said that last year his company arranged accommodation for hundreds of workers at housing blocks in Kim Chung Commune, Dong Anh District.
However, half of them vacated the apartments because they were not up to standard. They said water leaked into the buildings when it rained. On the other hand, there was often a shortage of water, even for toilets.
"This is such a waste because the company had already paid rental for five years," Loi said.
Van Anh, a worker with Canon Viet Nam Ltd Co, called for the construction of a pedestrian bridge across busy Bac Thang Long-Noi Bai expressway to cater to thousands of workers during rush hours.
"It is dangerous to use the pedestrian crossings and they are too far from the factories," she said.
Dinh Quang Duong, a worker with Yamaha Motor Viet Nam Company, said there was an urgent need to build more kindergartens for workers' children.
He said that Bac Thang Long Industrial Zone had about 50,000 female workers and most of them were either mothers or awaiting marriage.
Vice chairman Tuan asked the departments of Construction, Planning and Investment to pay more attention to workers' concerns.
Worker dies from electric shock
A worker died after receiving an electric shock at a construction site in the city's main street yesterday.
The victim, who was identified as Vo Van Canh, 31, touched the exposed power grid when he was pulling a steel bar from the ground to the upper floor of an unfinished building.
A witness said she heard an explosion emanate from the building before seeing the victim lying on the ground.
An ambulance and medical staff were called, but the victim died at the scene.
Police seize rare gibbon, mynah in Dak Nong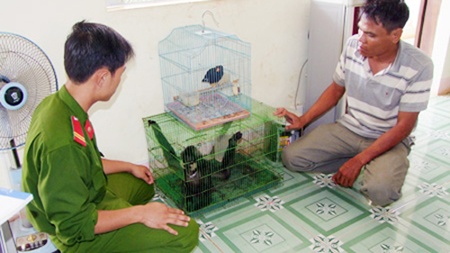 The police in DakRlap District in the Central Highland Province of Dak Nong seized a white-cheeked gibbon and a mynah from a resident after being informed by the local people.
These two creatures, considered highly endangered species in the country, were being kept as domestic pets by the resident, Dang Tuan Anh, in the Dak Ru Commune in the district.
Anh declared that a stranger, known as Cuong only, gave him the gibbon in late April and that he had bought the bird from a vendor in the district.
The police are investigating the case.
CITES further supports Vietnam's wild animal preservation
The Convention on International Trade of Endangered Species of Wild Fauna and Flora (CITES) will provide continued support for Vietnam's preservation and protection of endangered wild animals, and effective implementation of the convention.
CITES Secretary General John Scanlon made the commitment at a meeting with Deputy Prime Minister Hoang Trung Hai in Hanoi on May 28.
Scanlon appreciated Vietnam's CITES implementation efforts, including codification of CITES regulations and the Prime Minister's decree on measures to control and preserve endangered species of fauna and flora.
Deputy PM Hai welcomed Scanlon's first visit to Vietnam and thanked him for his valuable advice about the 20th anniversary of CITES in Vietnam.
He asserted that the Vietnamese Government strictly and responsibly carries out regional and international conventions on the protection of wild fauna and flora. In recent years, Vietnam has made great strides in building a legal system and raising public awareness of wild animal protection.
As an entrepot of wild animal to overseas, Vietnam has directed ministries and localities to accelerate prevention and strictly deal with illegal trading in wild animals and violation of Vietnam and CITES's regulations.
The country will continue to raise management capacity of agencies, improve public awareness, and complete legislation on wild animal protection.
Ministries get tough on illegal pesticides
The ministries of Agriculture and Rural Development and Public Security have been told to clamp down on illegal and dangerous farm pesticides smuggled across the border with China, ordered by Deputy Prime Minister Nguyen Xuan Phuc.
Counterfeit pesticides often destroy crops, causing losses to farmers and creating food shortages and food safety problems.
Statistics from the Vietnam Environment Administration show that the country imported about 70,000-100,000 tonnes of pesticide a year in the past three years.
However, the amount illegally smuggled across the border is reported to be increasing.
Phuc asked the agriculture ministry to review legal documents controlling the management of weed and bug killers. The review is expected to be completed by the third quarter of this year.
Phuc also told the ministry and the Ministry of Finance to help localities build warehouses to store seized pesticides.
He ordered People's Committees to ensure residents living near the border do not illegally transport or sell fake pesticides.
The committees will be asked to teach farmers how to distinguish genuine pesticides from fake.
In 2011, the Department of Plant Protection reported that inspectors had found thousands of violations in the importation and sale of pesticides.
At the time, Professor Bui Ba Bong, Deputy Minister of Agriculture and Rural Development said fake and low-quality products have not only slowed the growth of the farming industry, but also reduced farmers' incomes.
Bong said the Government and the ministry have set penalties for the purchase and circulation of fake products, but these will be increased if they are found to be ineffective.
CIAT launches strategy to achieve food security
The International Centre for Tropical Agriculture (CIAT) yesterday launched its new global research strategy for the 2014-20 period in Ha Noi.
The strategy aims to strengthen food security and bioefficiency in tropical countries, including Viet Nam.
It defines three objectives which are central for creating upward spirals of sustainable growth: to make affordable high-quality food readily available to the rural and urban poor by boosting agriculture productivity and enhancing the nutritional quality of staple crops; to promote rural income growth by making smallholder farming more competitive and market-oriented through improved agricultural value chains; and to provide the means to develop more intensive and competitive agriculture in an environmental friendly manner.
Under the strategy, in the coming years, CIAT will continue to concentrate on developing more resilient and productive crop varieties, including common beans, cassava, tropical forages and rice, the four vital crops in the tropical and subtropical areas.
CIAT Director General Ruben Echeverria said that tropical countries face many challenges during their economic growth, including urbanisation and environmental pollution, and added that the improvement of crops and sustainable agriculture could help address the challenges.
CIAT emphasised the importance of cassava, animal feed and sustainable soil management in achieving bioefficiency in Asia.
According to CIAT, cassava is the third-most important food crop in the tropical region and also serves as livestock feed and industrial raw material.
About eight million rural households across Southeast Asia depend on the annual production of about 75 million tons of cassava grown in four million hectares.
In Viet Nam last year, cassava and related products brought an export value of US$1.13 million.
Head of Viet Nam Academy of Agriculture Sciences, Nguyen Van Bo said that cassava was earlier blamed for soil degradation.
However, if it is grown with the right techniques, it is able to adapt to the changing climate and generate more income for farmers, because it can be used as animal feed and as raw material for bio-energy and pharmaceutical industries.
"Science and technology are an important factor in helping improve the farmers income," he said, calling for further scientific cooperation between Viet Nam and its international partners.
The CIATs new strategy is expected to promote cooperation in developingmore resilient and productive varieties and technology transfer.
Ca Mau attempts to shore up dykes
About 80 per cent of the eastern and western sea dykes in the southern province of Ca Mau, which are nearly 200km in length, had subsided, according to the provincial People's Committee, and more than 40km had slipped away.
Most of the rivers and canal systems in the province were also in bad repair, and a 1.3km stretch of the canal in Nam Can Town's residential quarter was seriously damaged.
The districts of Dam Doi and Nam Can saw banks split at 10 spots along 220m of canal and rivers on May 18, 19 and 20, causing dozens of houses to sink. Total losses were estimated at more than VND2 billion (US$95,200).
Tran Quoc Nam, deputy director of the Ca Mau Water Resources Department, said that local authorities had asked residents to move away from dangerous areas.
Fixing the damage to the eastern and western sea dykes was difficult due to strong waves and winds, he said.
In an effort to prevent further damage, rocks had been laid along the dykes, but strong waves had swept them away.
Since 2009, the province has invested about VND150 billion ($7.1 million) on repairs to its sea defences, but continuous battering from the elements has taken its toll.
The province did not have enough funds to repair all the dykes, said Nam.
Authorities there plan to ask the Ministry of Agriculture and Rural Development and the Government for financial support to build a 6.4km embankment to protect the western sea dykes, estimated at about VND3 trillion ($142.8 million).
Pests destroy hectares of star anise
A pest called Oides leucomeleana Pic has devastated thousands of hectares of star anise trees in northern mountainous Lang Son Province in the last four years.
The provincial Plant Protection Department said it lacked effective measures to kill the pests. As a result, more than 1,300 hectares of trees were destroyed.
Star anise is one of the province's key agricultural export products. There are more than 33,000 hectares of trees, resulting in annual turnover of VND600-700 billion (US$28.5 million-33.3 million).
The pest first appeared in Van Quan and Cao Loc districts, where 250-350 pests living in each tree have destroyed 900 hectares of star anise.
Lang Van Nhat, a resident of Van Quan District's Lung Cung Commune, was able to harvest four tonnes of star anise from his 320 trees before the pests came. Now the garden is seriously damaged and many trees have only bare branches.
Nhat said the pests only came out at night and were hard to detect, as they built their nests on the wet ground but climbed up trees when they grew up.
About 100 pests could devour all the flowers and leaves on a tree in one night, he said.
Head of the provincial department Hoang Van Day said that the department had tried many different methods to prevent the pests from spreading, with little success.
Since February, the department had guided district plant protection stations to spray two tonnes of chemicals and more than ten tonnes of additional powder on star anise gardens to exterminate the bug. However, these chemicals were only effective in cold weather.
The department also used another kind of chemical on 300 hectares of trees in Van Quan District. After four days, the number of bugs in each tree decreased by 50 to 100.
The department recommends that farmers continue spraying the chemicals every one or two weeks.
Green campaign launched in HCM City
The fifth annual "Green Consumption Campaign", which seeks to improve people's awareness of environment protection, was launched on May 28 in HCM City.
The campaign will call on people to consume more environmental friendly products and encourage businesses to increase their responsibility towards the community and the environment.
According to the organizers, seven projects on environmental protection have been carried out in the city this year, with the participation of more than 1,000 volunteers.
A new feature of this year's campaign is a project that instructs households in Tan Phu District to classify different types of solid garbage, said Nguyen Thanh Ngan, chief volunteer coordinator of the campaign.
More than 90% of households in the district have committed to maintain "green residential quarters".
Nguyen Thanh Nhan, deputy director of Saigon Co.op, said sales of green products had increased strongly at Co-op Mart supermarket during the campaign.
For this year, the supermarket chain will set aside a total of VND23.5 billion (US$1.1 million), six time higher than last year, to implement six promotion programmes under its green consumption month from June 7-22.
During the period, customers will have a chance to buy green products at cheaper prices, and receive gifts if they use environmentally-friendly bags and others, Nhan said.
A ceremony will be held at the co.opmart Binh Trieu on June 7 to officially kick off the "Green Consumtion Campaign 2014", which is co-organised by Saigon Giai Phong (Liberated Saigon) newspaper, the HCM City Department of Industry and Trade, and Saigon Co.op.
Dengue fever to be eradicated worldwide
Fifty domestic and foreign scientists are seeking solutions for wiping out dengue fever at an annual conference in NhaTrang City from May 28-31.
In an opening speech, Deputy Minister of Health Nguyen Thanh Long noted in Vietnam, dengue fever is an increasing threat to public health. The virus is prevalent during July and October, and approximately 100,000 people are infected with dengue fever every year, including around 100 fatalities.
Vietnam is very interested in preventative measures against dengue fever in order to effectively reduce the incidence and mortality rates, he said.
Within the framework of the conference, scientists updated the results of a field study which was conducted in Australia, Vietnam and Indonesia.
They said that the project will also be rolled out in other countries including Brazil, Colombia, and China.
Prof. Scott Oneill, Director of the Eliminate Dengue research project, revealed that Aedes aegypt mosquitoes carrying Wolbachia bacteria will be released in a number of countries suffering dengue fever throughout the year, in order to assess viral resistance in mosquito species.
Vietnam officially released Aedes aegypti mosquitoes on Tri Nguyen Island, 2km off NhaTrang city in Khanh Hoa province in April 2013.
The Eliminate Dengue research project is a non-profit international collaboration between Vietnam, Australia, Indonesia, Colombia, China, the UK, Singapore, and the US.
Friendship medals and orders conferred to Russian teachers
State Vice President Nguyen Thi Doan on May 27 presented two collectives and 15 teachers from Moscow State University of Geodesy and Cartography (MIIGAiK) with friendship medals and orders.
Speaking at the event, Ha Minh Hoa, Director of Vietnam Institute of Geodesy and Cartography Director Ha Minh Hoa under the Ministry of Natural Resources and Environment highlighted the valuable support of teachers from MIIGAiK in training human resources and developing geodesy and cartography in Vietnam.
Hoa expressed hope that the university will continue to help Vietnam train staff and strengthen the efficiency of cooperation with Vietnam's research institutes.
Representatives from collectives and individuals expressed their great honour to receive the noble awards in recognition of their contribution to the cause of training and education and developing geodesy and cartography in Vietnam.
World youth federation's joint managing council meets in Vietnam
The Ho Chi Minh Communist Youth Union is hosting a conference of the joint managing council of the World Federation of Democratic Youth (WFDY) from May 27-31, reflecting the country's contributions to the world's democratic, progressive youth movements.
The conference is attended by about 60 delegates from more than 20 countries and 30 organisations.
Addressing the event, First Secretary of the Ho Chi Minh Communist Youth Union Central Committee said the Vietnam youth union will continue making effective contributions to WFDY's activities and will always be a reliable friend, comrade and partner of the federation's member organisations.
Delegates focused their discussions on the political report, key issues of member organisations and future activities of the federation. They are expected to approve the conference's political resolution and the federation's budget.
Also at the event, the Ho Chi Minh Communist Youth Union reported to the participants developments relating to China's illegal placement of its drilling rig deep inside the exclusive economic zone and continental shelf of Vietnam.
It called on the federation and all progressive democratic youth in the world to show support and solidarity with the Vietnamese people in the struggle for safeguarding the national sovereignty and territorial integrity as well as national construction and defence.
Annalucia Vermunt from the New Zealand Socialist Youth Organisation said China's act caused instability in the region and proposed that the conference issue a statement to condemn China's act.
On this occasion, the delegations of youth unions from Cuba, the Democratic People's Republic of Korea and Russia make working visits to Vietnam within the framework of their bilateral cooperation agreements with the Ho Chi Minh Communist Youth Union.
Agriculture, husbandry expanding on Spratly Archipelago
The Ministry of Agriculture and Rural Development (MARD) plans to expand crop planting and livestock herding to serve the needs of soldiers and people around Truong Sa (Spratly) Archipelago, the Communist Party of Vietnam (CPV) Online Newspaper reported.
According to the newspaper, the plants and animals, which have been studied for adaptability to the environment of the archipelago, are expected to be brought there during the upcoming working visit by MARD officials.
The mission is to be led by its Deputy Minister Tran Thanh Nam to the Truong Sa district of the central province of Khanh Hoa and DK1 frame-house.
One of the important objectives of the trip is to study and assess the efficiency of the project on a pilot basis, specifically the production of selected plants and animals on Truong Sa Archipelago.
From the survey's results, the working delegation will consider expanding the model across all of the islands of the archipelago.
This investment in the models and projects aims to raise the spiritual and material lives of soldiers and people on the islands.
According to Deputy Minister Nam, under the project, two main constructions, including grass-houses for vegetable planting and pilot raising of animals and poultry will be built.
Viettel provides free internet access to all schools
All educational institutions across the country, from pre-schools to universities, will be connected with internet by fibre optic infrastructure provided free of charge by military-run telecom group, Viettel.
This is one of the important contents in an agreement between the group and the Ministry of Education and Training signed in Hanoi on May 28.
The agreement is a continuation of a programme to provide schools with internet access which has been implemented from 2008 to 2013. To date, Viettel has provided internet connections to nearly 30,600 educational institutions across the nation, with 81% of those using broadband internet services.
Under the new agreement, by 2015, 100% of educational institutions in the country from elementary to tertiary education level will have access to the internet via optic fibre cable systems.
Viettel will also co-ordinate with the Ministry of Education and Training to boost comprehensive IT application from central to local level and among the education and training sector.
Since 2010, Vietnam has been listed among the top ASEAN countries, with a high level of internet connectivity in its education and training sector. It is estimated that over 25 million Vietnamese teachers and students have access to the internet.
VNN/VNA/VNS/VOV/SGGP/ND