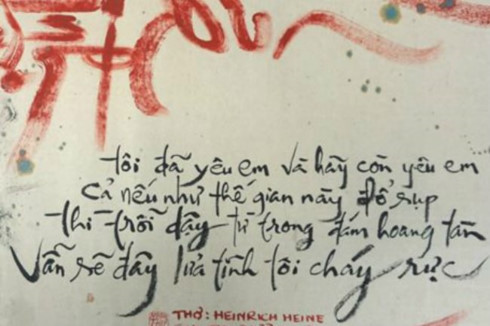 A calligraphy work by Ngau Thu featuring Heinrich Heine's poem - Photo: Courtesy of organizer
Heinrich Heine's "Lyrical Intermezzo", translated by Chu Thu Phuong, is one of calligrapher Ngau Thu's sources of inspiration during his long time working with the art of language.
The calligrapher selected seven poems written by Heine from 1822 to 1823 and breathed new life into the old versions. In his calligraphy, Ngau Thu literally spelled out Heine's highly pictorial and metaphorical language, using traditional papers such as do and xuyen, combined with Chinese ink.
Ngau Thu enriches and pays homage to Heine's poetry by injecting his own personal perspectives. The calligrapher dedicates his art both to one of Germany's most established poets and a centuries-old Vietnamese craft.
Ngau Thu, whose real name is Nguyen Thanh Tung, lives in Hanoi and has been working with calligraphy since he was a teenager. In 2006, he began to study calligraphy in HCMC and graduated from the Faculty of Literature at the HCMC University of Education in 2010.
Driven by his passion and appreciation for cultural traditions, Ngau Thu decided to study calligraphy so he could design and preserve it for modern life.
Heinrich Heine (1797 – 1856) was a German poet, playwright, journalist, essayist, and literary critic.
He is best known outside Germany for his lyric poetry, a formal type of poetry expressing personal emotions or feelings, which was set to music in the form of art songs by composers such as Robert Schumann, Franz Schubert, Felix Mendelssohn, Fanny Mendelssohn, Hugo Wolf and Johannes Brahms. SGT