Exhibition highlights boundary between humans and nature
An exhibition entitled Equilibrium is being held by the Asia Culture Centre (ACC) with a focus on the increasingly pertinent issues of climate change and environmentalism in relation to peace, the theme of the ACC this year.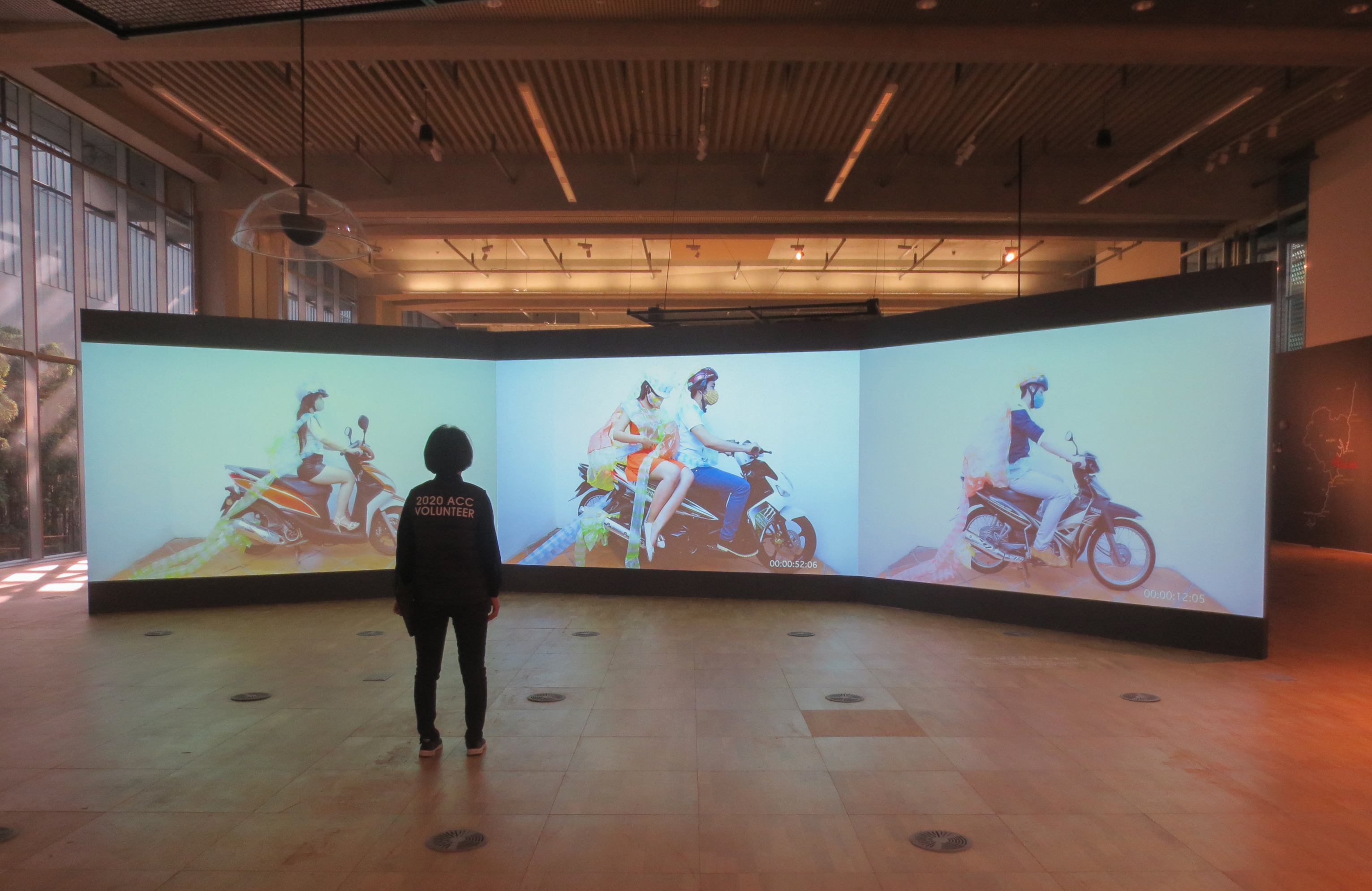 An exhibition entitled Equilibrium is held by the Asia Culture Centre from November 20, 2020 to March 14, 2021.
Equilibrium means a state of balance among different species in an ecosystem in terms of their types and numbers. The exhibition examines human actions to maintain ecological balance on the boundary between humans and nature. In particular, it provides a glimpse into the memories of the participating artists regarding their surroundings.
Rather than serving as an environmentalist statement, the featured works present bits of sound and images from the artists' surroundings, and highlight their social, political, and historic contexts.
To this end, the exhibition matches and compares works from artists from different Asian countries to discover their common features and foster a sense of empathy among Asian countries that will ultimately lead to peaceful coexistence and solidarity.

The exhibition is displaying works by 11 artists from some Asian countries including South Korea, Taiwan, Indonesia and Vietnam.

Artist UuDam Tran Nguyen from Vietnam brought his Serpents' Tails project to the exhibition. It includes a video and huge installation of inflatable artwork that has been exhibited in many museums of the world.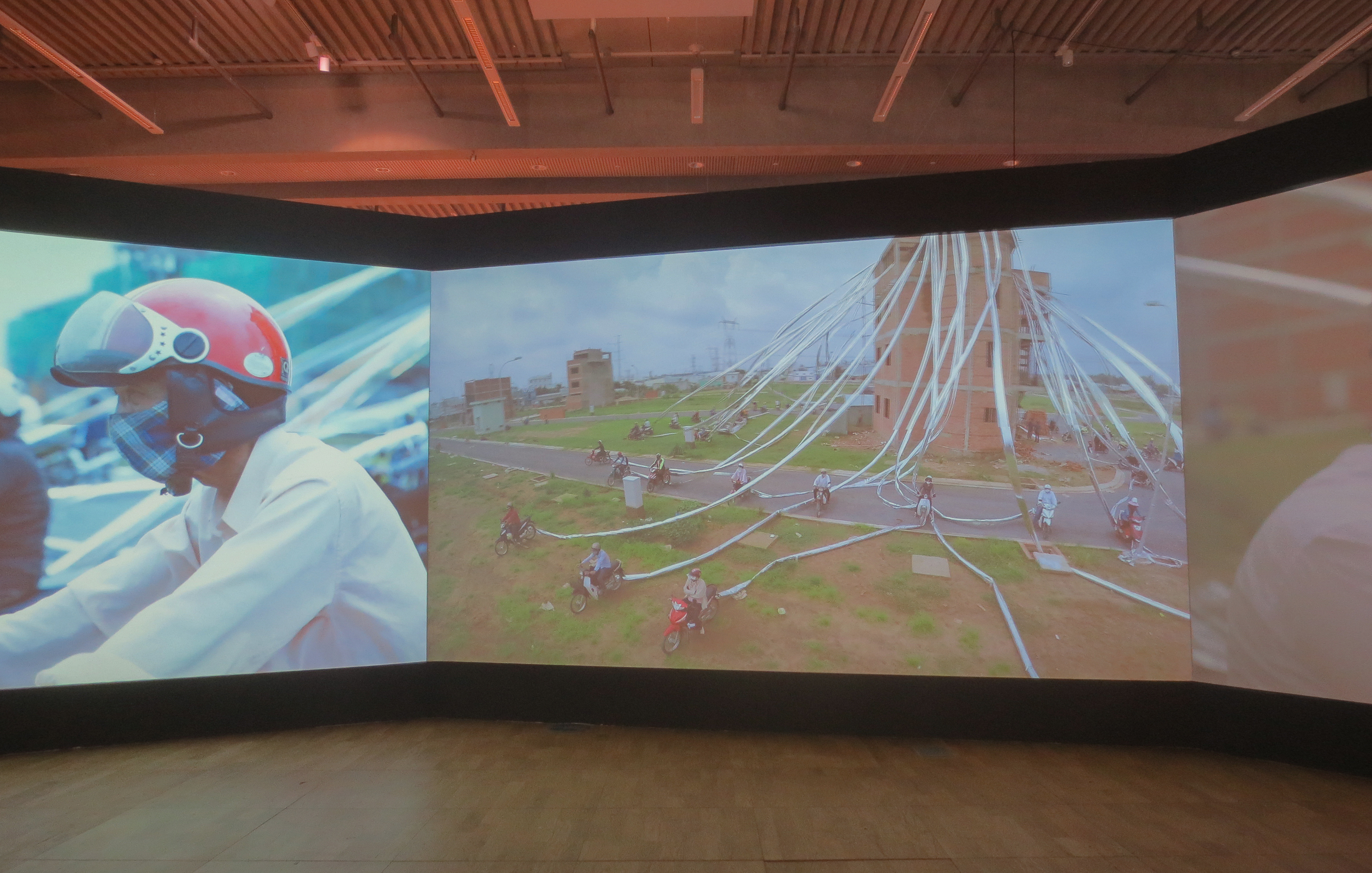 Serpents' Tails project by Vietnamese artist UuDam Tran Nguyen is displayed at the exhibition.
According to the artist, Serpents' Tails originally was made up of eight components including three videos, seven light boxes, and five large-scale installations. They include one large installation with 20 motorcycles and hundreds of hand-made inflatable sculptures, Breath installation with 900 inflatable sculptures, Two Elephants in the Room inflatable sculptures, and a Rainbow Canopy. This exhibition at ACC includes these three videos with the installation Two Elephants in the Room.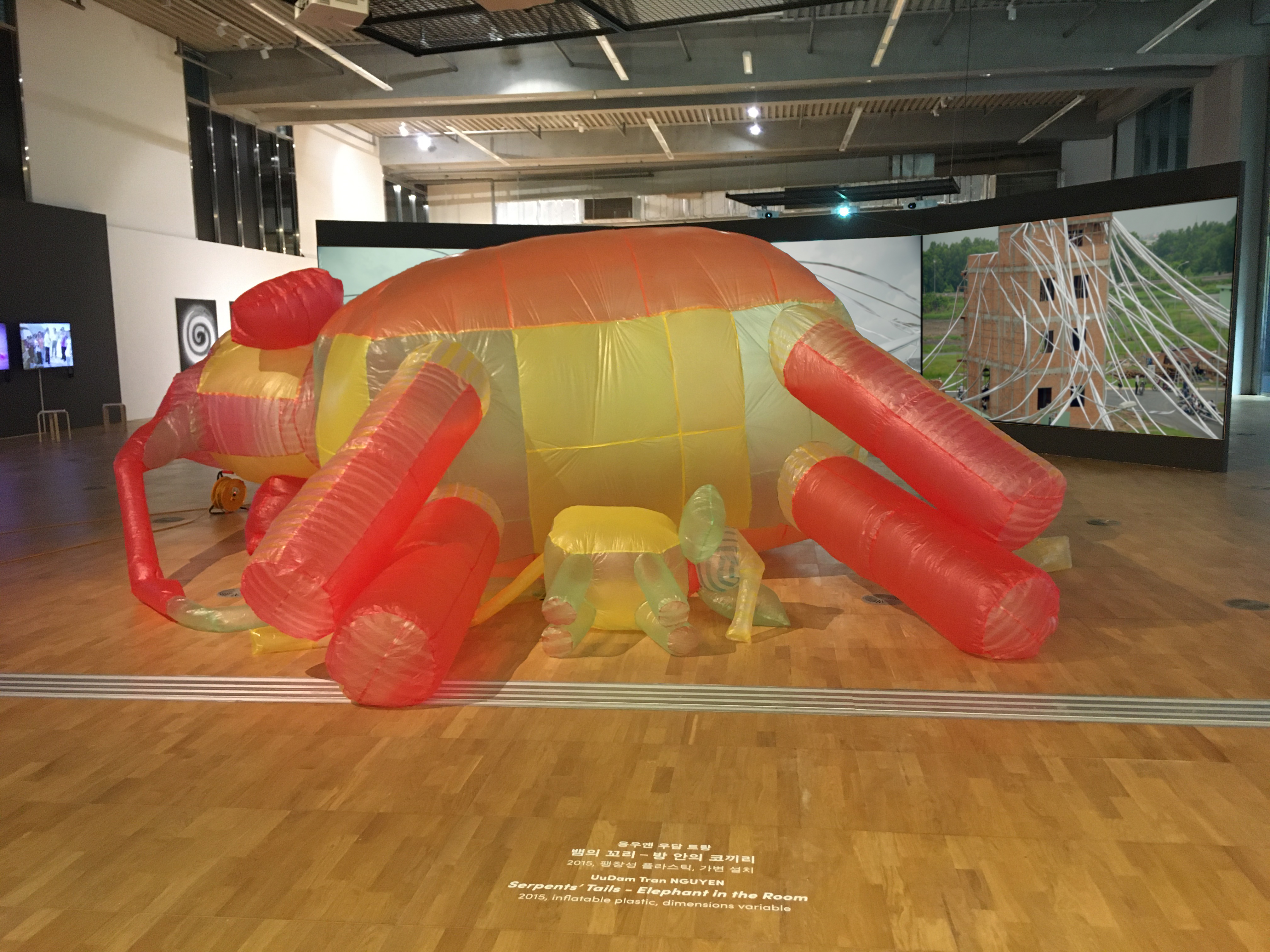 Talking about his project, UuDam said that he has a lot of concerns about the destruction of the environment.

"As I made the three video Serpents' Tails, they have become more about environmental issues," he said. "The Two Elephants In The Room are addressing hard problems we try not to acknowledge. Environmental destruction and plastic trash are big growing problems."
The artist said that he received the invitation from ACC in February when Covid-19 news was still captivating the world.
"The curator said it would be meaningful if my artwork was introduced in South Korea on a public interest level in order to make an opportunity to rethink about our environmental issues connected with historical and political concerns," he said, adding that he was pleasantly surprised to see ACC to do such a big show during a time of pandemic.

"It will be a great debut of Serpents' Tails in South Korea," he shared. "Curator Young Ah is interested in my films which focused on mythologies and the environmental issues in Ho Chi Minh City where I live."

The exhibition Equilibrium is now open in Gwangju, South Korea until March 14, 2021.
The Asia Culture Center is an international arts and cultural exchange organization that produces new, future-oriented results through the convergence of Asia's past and present arts and culture with innovative ideas and beliefs. ACC contributes to the advancement of mutual understanding and cooperative growth with different Asian countries through exchange, education, research, and other efforts with regard to Asian culture. Dtinews