Exhibition shows remarkable contemporary artists

As many as 69 paintings by 64 artists nationwide are on display at an exhibition in Hanoi featuring highlights of the contemporary fine arts of the country.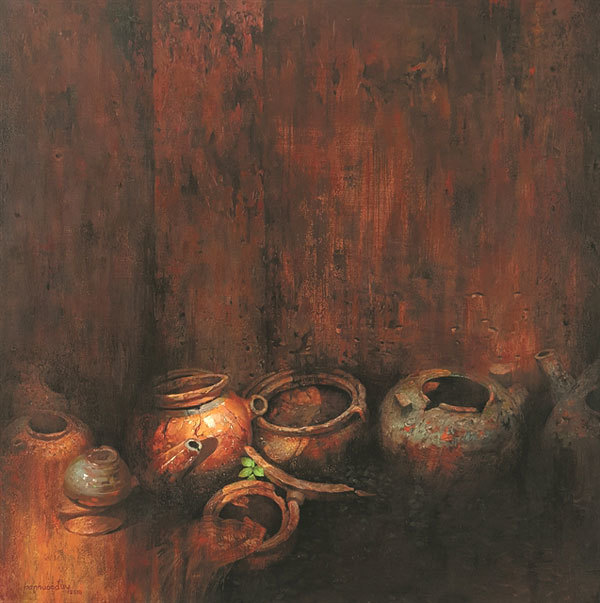 Originated from Soli, lacquer, 90cm by 90 cm by Ha Phuoc Duy.

The exhibition Viet Art Now is a result of the project with the same name initiated by painters Pham Ha Hai, Nguyen Binh Chuong and Pham An Hai.
They founded a Facebook page called Viet Art Now gathering remarkable artists of the country. It's a rendezvous of the artists to exchange and share idea and passion for art. It also hosts exhibitions and auctions with the aim to promote the national fine arts and support the artists.
"Viet Art Now is a notable web page but can easily become out-of-date when a lot of new methods of displaying and introducing art are mushrooming, and if it lacks updates, the participation of talents and real economic efficiency," said critic Phan Cam Thuong.
"This is also a pathway for all forms of art activities in this era, though art it is necessary and there are always enthusiastic pioneering artists.
"An online page for art is also supported by technology in order to introduce creations beyond 2D and 3D and create multi-dimensional spaces, rather than paintings on surfaces only."
Thuong said the paintings displayed at the exhibition are varied in subjects and materials reflecting clearly artists' styles.

Lời Thương Ta Ngỏ (Messages), ink on silk painting, 60cm by 150cm by Tran Thi Thu.

Apart from three initiators of Viet Art Now, the exhibition also features artists who are currently active and productive such as Doan Xuan Tang, Nguyen Truong Linh, Ta Dinh Khiem, Khong Do Duy and Tran Thi Thu.
"The paintings reflect the serious working process of the artists and the trends of the national fine arts," said Thuong.
Painter Thu who is known for inks on fabric and dying technique of the ethnic people brought to the exhibition two silk paintings Lời Thương Ta Ngỏ (Messages).
With red as the main colour, she wants to depict the culture of ethnic people.
"I was impressed by the colours on costumes of ethnic women in the northern mountainous region," said Thu.
The exhibition will run until December 8 at Chọn Auction House, 63 Ham Long Street, Hanoi. — VNS

The Vietnam – Republic of Korea (RoK) Contemporary Art Exchange Exhibition themed "Different yet similar, similar yet different" is due to take place at the Vietnam Fine Arts Museum and the Korean Cultural Centre in Hanoi from December 3-14.

Fifteen artists from Japan, South Korea, Switzerland, Germany, Myanmar, and Vietnam will showcase some of their artworks at a group exhibition at VICAS art studio in Hanoi from November 24 to December 8.

An exhibition featuring 81 fine artworks from 19 representative Asian artists opened in Hanoi on November 5 with the Deputy Minister of Culture, Sports and Tourism Ta Quang Dong in attendance.