Oscar winning documentary filmmaker to give a lecture in Hanoi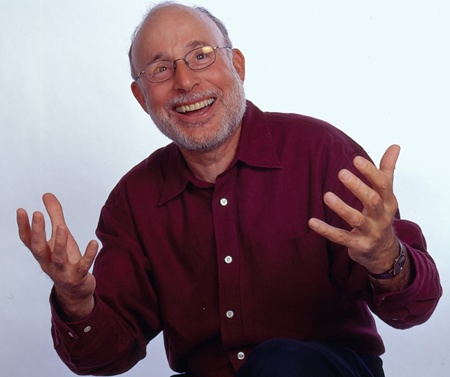 Oscar winning documentary filmmaker Mark Jonathan Harris will give a lecture on the craft to cinema students at the Centre for Assistance and Development of Movie Talents in Ha Noi this Friday.
The lecture, which will start at 8.30am at 51 Tran Hung Dao Street, is part of a three-day master class on making documentaries.
After graduating from Harvard College, Harris started his professional career as a reporter for the City News Bureau of Chicago, covering crime.
Within a year he moved on to reporting national news for Associated Press and then to television, where he started making documentary films for the King Broadcasting Co. stations in Portland, Oregon, and Seattle, Washington.
Harris's award-winning early films document some of the most important and contentious political issues of the 60s. Huelga! is a portrait of Cesar Chavez's United Farmworkers Union and the first year of the union's historic Delano grape strike.
The Redwoods presents the Sierra Club's successful case for establishing a Redwoods National Park. The Foreigners explores the work of a group of Peace Corps volunteers confronting the contradictions of US foreign policy as they try to bring about social change in Colombia.
In recent years Harris has focused on producing. He produced the award-winning Darfur Now and executive produced two other high profile documentary features, Spirit of the Marathon and Living in Emergency – stories of Doctors Without Borders.
Since 1983 he has taught filmmaking at the School of Cinematic Arts at the University of Southern California, where he is a Distinguished Professor. From 1990-96 he was the chair of Film and TV Production.
RoK ginseng to be displayed in Hanoi
A ginseng exhibition of the Republic of Korea (RoK), entitled "Korean Ginseng World Tour in Vietnam ", will take place in Hanoi on November 1-3.
Organised by the RoK's Embassy, the RoK Cultural Centre in Vietnam and the Department of Food Security under the Vietnam's Health Ministry, the exhibition, the second of its kind in Vietnam, will cover activities relating to culture, health and cuisine in order.
Apart from enjoying dishes with ingredient from ginseng and being provided with medical treatment and consultancy by Korean practitioners, visitors are invited to attend a workshop on ginseng and health.
A direct meeting will be organised during the exhibition to help both countries' businesses expand their linkage.
The first exhibition was held in Vietnam last year, attracting 25,000 visitors.
Traditional Vietnamese puppetry troupe tours China, Chile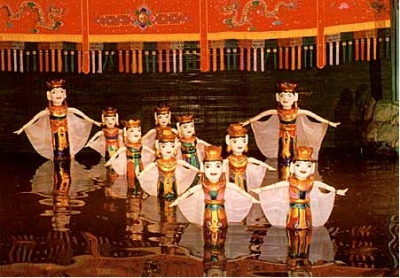 The Vietnam Puppetry Theatre (VPT) has successfully concluded tours in China and Chile to introduce the country's traditional puppetry to international friends around the world.
At a press briefing in Hanoi on October 23, Meritorious Artist Nguyen Tien Dung, vice director of the VPT, reported that the Vietnamese artists had taken part in the 2013 China - ASEAN Theatre Festival from August 28 to September 2 in Nanning city, Guangxi, China, at the invitation of the Nanning Ethnic Minority Culture and Arts Institute.
The festival's opening performance, entitled 'Rhythm of the Homeland', made a fine impression on the organisers and audiences alike, Dung said, adding that the performance was arranged around a number of traditional folk songs that reflect the soul and personality displayed by Vietnamese people in their daily lives. The puppeteer's skillful hands seemed to bring the inanimate puppets to life, delighting and surprising the audience, he noted.
Despite heavy rain, the Vietnamese artist's enthusiastic performance kept every seat in the theatre occupied. The VPT was awarded the festival's audience prize.
Continuing its quest to promote traditional Vietnamese puppetry abroad, the VPT put on more than 20 water puppet performances from September 27 to October 6 at the theatre in O'Higgins Park, the largest park in the capital city of Santiago, Chile.
According to VPT Director Ngo Thanh Thuy, it was the first time that Vietnam's water puppetry has been introduced to a South American country. The Chilean audiences particularly enjoyed the unique Vietnamese art form.
During the ten-day tour in Chile, the Vietnamese artists worked very hard to put and were always on the move. Nonetheless, the sound of applause and the warm welcome given by audiences at all their performances seemed to fortify and inspire the artists to complete their task of promoting traditional puppetry to international friends, Thuy added.
Charismatic Canadian conductor to perform in Hanoi
Charismatic Canadian conductor Charles Olivieri-Munroe and young talented trumpeter Manuel Blanco will travel to Hanoi for the Toyota Concert 2013 that will take place at the Opera House in Hanoi on November 5.
The 16th annual music show will present to music lovers various delicate melodies of world classical works and symphonic masterpieces from Eastern European music to Piazzolla performed by the North Czech Philharmonic Teplice and talented Vietnamese violinist Nguyen Huu Nguyen.
Violinist Nguyen Huu Nguyen has performed in many European countries and won several international prizes, such as the first prize of Group B in Hanoi's National Autumn Music Contest in 1990, gold medal of Boulogne Billancourt Conservatory in France in 1996 and several prizes of chamber music contests in Paris in 1999, 2000, 2001.
So far, Toyota Classics Concerts have been successful and become one of the most expected music events of the year. The event not only makes contributions to Vietnamese cultural development but also creates an opportunity for local music students and teachers to learn via performances of world-famous orchestras.
All proceeds of the concert will go to the 'Toyota Scholarship for Vietnamese young music talents'.
VN-Indian cultures in collaboration
A series of cultural activities and art performances to mark the Viet Nam-India People's Friendship Festival started in Da Nang yesterday.
The central city is hosting the festival along with Ha Noi and HCM City. The event aims to promote friendship and cultural exchange between Viet Nam and India.
"The Viet Nam-India relationship has existed for a long time. Many cultural and art performances have been organised by the two countries in recent years. The festival will strengthen this long relationship and friendship," said Huynh Duc Truong, chairman of the city's Union of Friendship Organisations, at a seminar on Viet Nam-India cultural relations yesterday.
Held at the Da Nang Museum of Cham Sculpture, the seminar focused on the ancient relationship between the two countries.
The Champa civilisation ruled Central Viet Nam from the 7th-13th centuries and was strongly influenced by Indian culture. Museum director Vo Van Thang explained that Cham towers in the central region were architecturally similar to some temples in India.
Sanskrit inscriptions found at My Son Sanctuary in central Quang Nam Province date back even earlier, to the 4th century, said Vietnamese researcher Tran Ky Phuong.
Devi Prasad Tripathi, head of India's delegation, said the relationship of Viet Nam and India was formed in peace.
He said he was honoured to visit the Da Nang Museum of Cham Sculpture and see objects from the Champa Kingdom.
"Sound wizard" Vu Nhat Tan takes over Manzi
Viet Nam's "best sound wizard" Vu Nhat Tan will dominate the stage at the Manzi Art Space tonight.
The artist will work his magic fingers and mind and treat audiences to a night of chill-out music with experimental piano.
Tan, one of the pioneering Vietnamese experimental sound artists and electronic musicians, has collaborated with various local and international artists. He has performed at many festivals throughout Europe, Australia and the US. He teamed up with other French artists last week to perform at the experimental music programme Siestes Electronique (Electronic Naps) in Ha Noi's Thong Nhat Park.
Tonight's show is free and will start at 8pm at 14 Phan Huy Ich Street.
Storytelling event focuses on fright night
Halloween is the main topic for the third Hanoi Slam, a story-telling event that will take place at Son Tinh LoungeBar on October 30.
Storytellers will share some of their most fearful moments and the courage they found to keep fighting. Topics can be anything from the traffic in Ha Noi to meeting the coolest girl in school. As previous Slam events have shown, anything is possible and nothing can be predicted.
In the spirit of Halloween, the audiences are invited to dress up, with prizes offered for the best-dressed man, lady and couple.
The event will take place at 31 Xuan Dieu Street, Tay Ho District from 8pm. All door proceeds will support Humanitarian Services for the Children of Vietnam (HSCV).
Thought-provoking picture puts Mong in the spotlight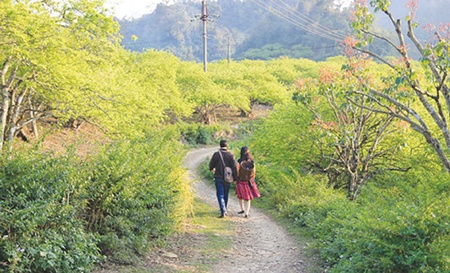 A feature film on the culture and lifestyle of the ethnic Mong people living in Viet Nam's northwest region will be screened next week.
The work, titled Va Anh Se Tro Lai (So I'll Be Back), is directed by young talent Dinh Tuan Vu, a graduate of the Ha Noi Theatre and Cinematography University.
Based on a screenplay by Trinh Luu Dieu Thuy, it is about the life and love of Su – a Mong woman who lives in a small village in Moc Chau District of Son La Province.
The film recounts Su's time as a young girl in her affair with Nicky – a harmonica artist, who visits Moc Chau to find a new source of inspiration.
The film's 24-year-old director Vu, said he and his staff chose Thuy's screenplay because few films had done so.
"Mong people in our work are fiercely independent and rich in their culture, art, religion, family life and martial history. They are distinguished by traditional costumes featuring colourful patterns of fruits, vegetables, and animals."
"We wanted to spotlight the Mong people and their culture, lifestyle, and traditional art," he said.
Vu said his crew travelled around Lao Cai and then in Son La Province.
They captured beautiful scenes of Moc Chau and Sapa in Spring when peach blossoms were in bloom.
Amateur artisans from local traditional art troupes were also featured in the film.
The film will be shown at MegaStar cinemas – one of the country's leading cinema and distribution groups.
There are nearly 900,000 Mong people in the northwest region, mostly in the provinces of Lao Cai and Son La.
They live in different groups and are easily recognised by the way they dress and their traditions.
The Black Mong are best known for their handicraft and their traditional indigo blue dress, while Flower Mong wear colourful clothes.
The Mong celebrate their New Year's festival from November 30 to December 5 of the lunar calendar.
During the festival, in traditional Mong clothes, they show off their talent in singing and dancing featuring their religion, traditional customs and art.
Through their shows, Mong youth can improve their knowledge about traditional culture and art.
At the festival, local residents and visitors can take part in music and singing programmes, traditional games and sports competitions launched by the local authorities.
HCM City to celebrate spooky season with circus
A Halloween party called Enchanting Circus will be held at the Saigon Exhibition and Convention Centre this Saturday.
The party will feature zombie and fire dance performances, motorcycle stunts, as well as a costume competition. Twelve popular DJs from Viet Nam and the UK will mix music during the show.
Prizes will be given for outstanding Halloween costumes.
The party will open from 3pm till late at 799 Nguyen Van Linh Boulevard in District 7. For tickets, please visit www.eventbrite.com.
Saigon Outcast holds charity music concert
The Saigon Outcast bar in District 2 will organise an outdoor concert called The Clown this Saturday to raise funds for The Smile Charity.
Three bands – Danger From Deers, Multiflex and Zodiac, as well as DJ Leo will perform at the event which will include a barbeque, body painting and tattoo services, a shop selling costumes and masks, and a lucky draw.
Participants are recommended to wear black, red and white casual clothes. The event will take place from 5pm to 10.30pm. The bar is at 188/1 Nguyen Van Huong Street.
Expat theatre group toasts decade of success
Saigon Players, an English language theatre group, will present a comedy and a film screening at McSorley's Ale House to celebrate its 10th anniversary.
The Life Cycle of Saigon is a cabaret-style comedy featuring images of traffic in the city, which will be staged on Friday and Saturday. All profit from two shows will be donated to Saigon Helmet Awareness and Helping Hand Saigon.
Popular Halloween movie The Rocky Horror Picture Show, released in 1975, will be screened on November 1-2 at 4, Thao Dien Street in District 2.
The comedy and the film screening will begin at 7pm.
Hotel Equatorial presents French delicacies
Hotel Equatorial will host a two-night culinary event called Balade en France on Friday and Saturday.
The event will present traditional French dishes and desserts like raclette, fish soup and creme brulee, paired with wine from different areas, including Bordeaux, Cotes du Rhone, South-west, Languedoc and Loire.
It will include live music, a fashion show, a dance show, a sand painting workshop, lucky draws and games for children.
The hotel is located at 242 Tran Binh Trong Street in District 5.
Vietnam to host 'Asia-Pacific TV Song Festival 2013'
Many outstanding singers and music bands from 15 countries and territories will participate in the 'Asia-Pacific TV Song Festival 2013' which will be hosted by Vietnam, according to an announcement made by Vietnam Television (VTV).
The program will have the 'Sistar' Korean music band, who will perform the song 'Give it to me' with classical style and beautiful dancing. There will also be other well-known music bands from Sri, Lanka, China, Australia and famous solo artists from Iran, Hong Kong (China), Japan, Kyrgyzstan, Afghanistan, Singapore, Thailand, Brunei, Malaysia and Indonesia. Vietnam will be the host country.
Singer Van Mai Huong and 'Ngu Cung' rock band will represent Vietnam and will perform two songs 'La em do'(That's me) and 'Cao Nguyen da' (Highland Stone).
The 'Asia-Pacific TV Song Festival' will take place at the Opera House in Hanoi and broadcast live on VTV1 Channel on the evening of October 26.
Vietnamese photographers win gold medals at Int'l Artistic Photo Contest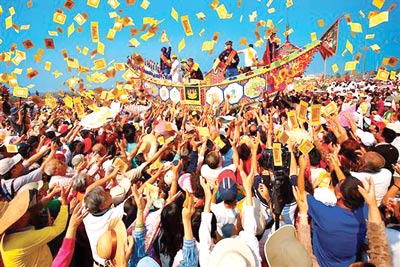 Vietnamese photographers won three gold medals at the 7th International Artistic Photo Contest hosted by the Vietnam Association of Photographic Artists and sponsored by the International Federation of Photographic Art (FIAP).
Organizers received 15,360 entries from 1,427 amateur and professional photographers across the world covering four themes--open photo, portrait, travel, and nature.
Of the 48 prizes awarded to the finalists for color and monochrome images, gold medals went to photographer Leif Alveen (Denmark) for 'Jet between buildings'; photographer Ngo Thanh Binh (Vietnam) for 'Fishing in the rain'; photographer Dang Van No (Vietnam) for 'The Co Tu Kid'; Les Forrester (UK) for 'From Russia with Love'; photographer Fan Hui Ling (Taiwan-China) for 'Prosperity' and 'Honey lovers'; Nguyen A (Vietnam) for 'Dong Ky- My Hometown Festival'; and photographer Eero Hauta-aho (Finland) for 'Short Runway'.
The organizers selected 665 of the best images to exhibit and print in book form. The awards ceremony and opening of the exhibition will be held in Hanoi in late November.
Photo contest honors outstanding Vietnamese women
A photo contest honoring Vietnamese women throughout the country seen through the eyes of journalists has been launched by the Vietnam Journalists' Association (VJA), Nguoi Lam Bao Magazine and Diageo Vietnam Ltd.
This year's theme 'Vietnamese women through eyes of journalists' aims to honor women who have overcome obstacles in life, strived to study and work, built a happy family life and contributed to community development.
Submissions of video clips, TV reports, and writings of maximum 1,000 words enclosed with photos can be sent to Nguoi Lam Bao Magazine at 226/23 Le Van Sy Street in Tan Binh District or at Email ID: cuocthivephunuvn@gmail.com
Source: VNS/VNA/SGGP/Nhan Dan