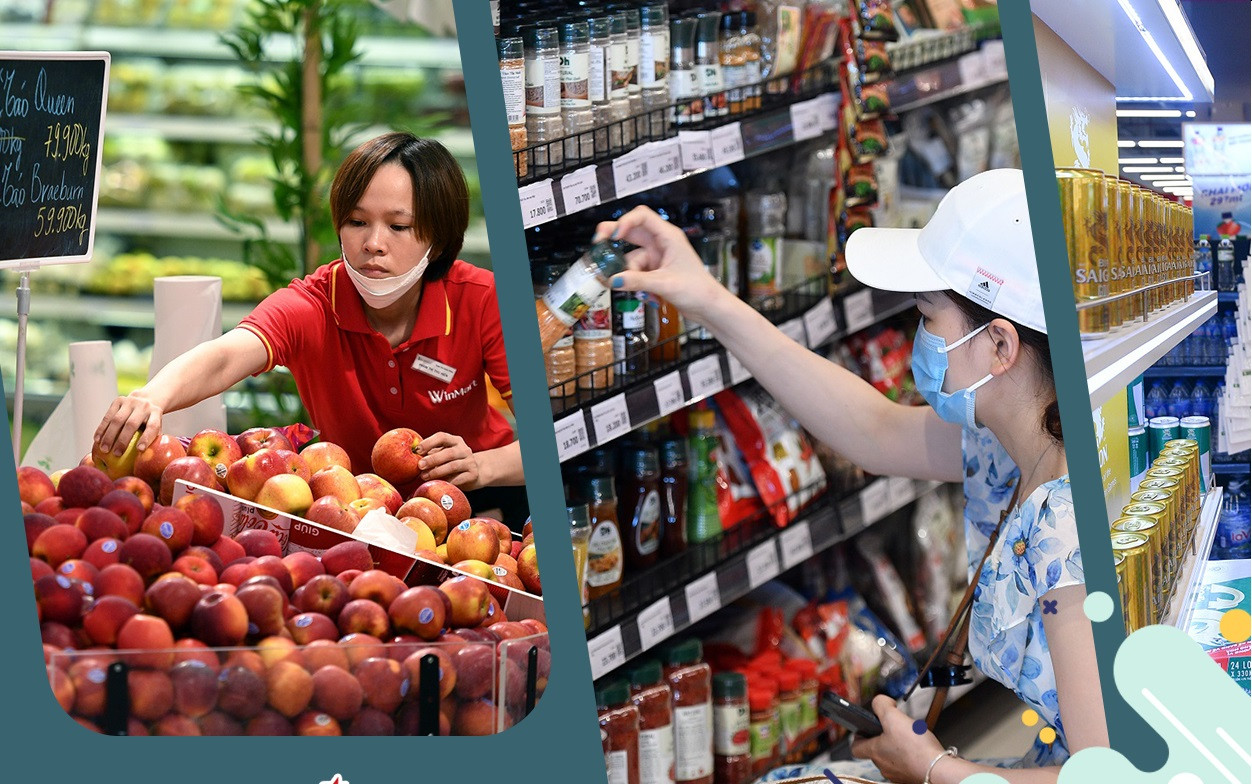 When assessing Vietnam's inflation in 2022, Dr. Vu Sy Cuong from the Academy of Finance said that tax reduction support packages, especially VAT, excise tax and the environmental protection tax on petrol has kept Vietnam's inflation below 4% while other countries are facing high inflation.
But Cuong said that inflation risk is still present with high prices from all input factors, so the simultaneous use of both expansionary fiscal policy and expansionary monetary policy will create pressure on prices.
It is necessary to closely monitor price movements and aggregate demand to promptly adjust policies when necessary.
Mr. Cuong is not the only one worried about inflation. Most of the recent studies by leading economic experts have noted an undercurrent of inflation in Vietnam.
Presentations at the recent 2022 Socio-Economic Forum, which was attended by the National Assembly Chairman and the Prime Minister, focused on the issue of inflation.
Data compiled by Dr. Vu Van Chien from the Ho Chi Minh National Academy of Politics shows that in the first eight months of the year the consumer price index (CPI) increased by 3.6% compared to December last year.
There are still four months remaining in the year and the ability to keep inflation below 4% as planned is unlikely to be realized.
Notably, "cost-push" inflation has and will likely have a great influence on the inflation index in coming months and in 2023 as well as following years.
Dr. Pham Hong Chuong, Dr. To Trung Thanh and a research team from the National Economics University completed a fairly detailed study of Vietnam's inflation.
"Although the inflation rate in Vietnam since 2015 has been low and below the harmful threshold to economic activity, the risk of inflationary risks for Vietnam is present," the research team assessed.
Vietnam is still a country with a low growth rate of M2 money supply and a very high M2/GDP ratio compared to other countries in the region.
In the long term, when economic growth is below potential, resources are not used efficiently, and money supply increases affect medium to long-term inflation.
Credit/GDP data also show that Vietnam currently has a higher ratio than other countries in the region. In addition, the impact of the loosening monetary-fiscal policy in 2020-2021 will become more obvious in following years and put pressure on prices.
Dr. Le Van Chien from the Ho Chi Minh National Academy of Politics noted that risk of inflation is high due to pressure from both the world economy and domestic economy.
Inflation has risen in most developed countries, causing the US, Canada and the EU to raise savings interest rates to prevent price increases.
The high prices of raw materials and input materials, especially petrol and oil prices, will affect the general prices of Vietnam, making the risk of "imported inflation" unavoidable.
Domestically, the need to increase personal spending and the need for investment capital to restore businesses after the pandemic have put great pressure on prices of goods and services.
The State Bank of Vietnam faces a difficult choice between inflation control and credit growth for economic recovery.
Regarding the international market, the research team of National Economics University said that high inflation in major economies has caused a risk of "inflation import" and a sharp increase in gasoline and raw material prices, leading to the possibility of "cost-push" inflation for the economy.
Thus, the big challenge for monetary policy management is from the rebounding trend of inflation.
"Although the CPI may not rise to too risky levels, it is also an obstacle that makes it difficult for the State Bank of Vietnam to be aggressive in cutting more interest rates," the research team said.
Dr. Vu Van Chien said it is necessary to set long-term goals and sustainable development as a basis for setting guidelines and policies.
Vietnam should not sacrifice macroeconomic stability for immediate growth.
Macroeconomic stability is about creating conditions that promote investment for growth improvement in the long run.
To stabilize the macro-economy, the most important thing is to maintain low inflation. When prices are stable, production costs, including wages, will not change much, so business owners can maintain a stable number of jobs, and employment fluctuations are minimized.
Also, if inflation is low, the value of the local currency is stable, and the exchange rate is more stable, creating conditions to maintain a more balanced trade balance.
Low inflation also means that monetary policy is usually tighter, so the budget deficit is also under less pressure to increase.
Experts from the National Economics University recommended that the Government cautiously implement an expansionary monetary and fiscal policy so that aggregate demand increases in the short term but not cause high inflation in the medium and long term.
Luong Bang